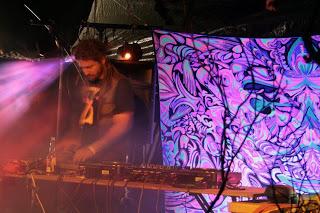 By Lee Bemrose
"Dark psy for me is the ultimate dancefloor music. The drive and power it has is perfect for long energetic dancefloor sessions. It is music that is not about social interaction or standing around bopping away with a beer in your hand, but about full trance experience. It really allows me to go deep inside myself, leave my mind behind and lead with my soul."
Several years ago I struck up a conversation with a random person on a dancefloor in Sydney. Her name was Kobie, and she was the DJ's girlfriend. The DJ was playing a live set of dark psy.
The girl's name is still Kobie, she is still Rory's girlfriend, but since then they have relocated to Byron Bay, Rory has released numerous tracks as well as his own album, Revolved, and together Rory and Kobie have brought baby Arlo into the world.
What were you doing before you sat down to answer these questions?

I was just walking around my property picking dandelion flowers to prepare for a floral wine. Oh, and dealing with a teething baby.


When did you adopt the name Satori, and what were your reasons for doing it?

I first came across the concept of Satori while reading a book about Zen Buddhism, at the same time my partner was reading a fantasy novel where the main character was named Satori. In Zen Buddhism, satori refers to the experience of

Kensho

, or seeing into one's true nature. It is often translated as a sudden, momentary glimpse of enlightenment.

This was the idea I wanted to convey through my music. I love the way that dancing for hours in the middle of the bush can help you work through things and can lead to many little awakenings and I really needed to help facilitate that for others through my music.


Are you a Buddhist?

No. I have had interest in religions but purely out of curiosity. I would consider myself agnostic; I don't think anyone really has all the answers. I would actually be happy if all religion was wiped from the earth tomorrow and we just started from scratch, simply living in harmony with each other and nature. We seem to have a real need to be told what to think and it would be great if we could collectively rise above that and start thinking for ourselves.


You moved from Sydney to the far north NSW coast a couple of years ago. What prompted that move?
I was working in Sydney as a gardener, it was real heavy labor type work, and I decided I wanted more from life than that. I wanted to go and study something, so I decided to study Medicinal Science with the goal to be an Osteopath. There are only three schools in Australia that teach Osteopathy, two are in Melbourne and the other is in Lismore. Originally I was going to go to Melbourne because I just love that city and having spent four years there I was missing it. But Sydney kind of wore me out, it's such a fast paced life living in a city and both Kobie and I decided we wanted a shift in the pace, so we chose to come to the northern rivers. 


How are you finding life up there?
I love it! We live on a few acres in the hills behind Byron Bay, we have 10 chickens, an orchard and vege garden. There are koalas in our backyard, echidnas, all sorts of snakes, bandicoots and possums. We have views over the Nightcap Ranges which is home to some of the most magical pristine pockets of wilderness I have ever seen. It is an amazing place to live. It's hard when it comes to earning a living though, not much work here. But that's all right if you can live cheaply and don't have any vices.What's the doof scene like up there right now?There has been some serious trouble at doofs in this region for the last few years. Basically there is nothing for young kids to do around here so they go to doofs. It's amazing how young the crowds are up here. The violence is a big problem. There has been a lot of stabbings, lots of robberies and lots of predatory behavior. It has kind of become too much. I mean, an AK47 was pulled out at a new years party in 2011/12!
I wouldn't feel safe taking my family to most doofs in this region, but there are exceptions and lately I have heard some good things have been happening, so there is still hope. Everything goes in cycles and I hope it returns to the once loving party scene it was.
You've had a recent addition to the family. Do you manage to get out to party or play much at the moment?

I am still taking a few bookings to play, but that is really the only time I get out to doofs these days. I am really looking forward to taking Arlo (my son) to a party. I think his first one will be Moontopia in QLD at the end of this year.


How has being a new father affected your production output? Do you still produce as much as you did before fatherhood?

Surprisingly I have written some of my best music since he was born. It's all written late at night with headphones on, but I think my output is still the same, if not better than before he was born. It's hard to juggle uni, a family, and an artistic pursuit but with some good time management it can be done. You have to really use your time wisely when you have a child so if anything it has made me more productive overall.


I hear Arlo gets into your dark psy. Is he still into it?

Ha! Yes, he loves it. He can be screaming wildly and I'll put on the fastest, most crazy darkpsy I can find and he just zones right out. If I put on prog he screams louder. Definitely not a fan of prog.


What other styles of music does he react to and what are those reactions?

I sat down with him one day just after he was born and started running through styles of music. He likes melodic psy, stuff like Talpa, and he really likes folk music. He seemed to be a bit spun out by jazz, I put on some Miles Davis and he started to look around with a strange expression and act all scattered. But most other styles really calm him down these days. He is a natural music lover! It's been a real buzz watching a human hear music for the first time.


What other styles of music are you into, both for listening pleasure and production?

I'm a big jazz fan. I love moody, psychedelic jazz like Yusef Lateef or Rashan Roland Kirk. I also really love folk music. Artists like Nick Drake, Arlo Guthrie (my sons' namesake) and Neil Young. There is a heap of great music coming out of the U.S under the Neo-Folk banner that has been exciting me lately, bands like Bowerbirds, Iron & Wine and Andrew Bird. But pretty much any genre has its gold and I can appreciate any style as long as it is made with creativity.


Why does dark psy do it for you more than other styles of music?

Dark psy for me is the ultimate dancefloor music. The drive and power it has is perfect for long energetic dancefloor sessions. It is music that is not about social interaction or standing around bopping away with a beer in your hand, but about full trance experience. It really allows me to go deep inside myself, leave my mind behind and lead with my soul. It's all about balance though, I really feel the need for the melodic side of psy after a good night stomp.


When did your love affair with music begin and what brought it about?

I was immersed in music from birth. My father has this amazing record collection, lots of old jazz, blues and rock. I grew up listening to some really obscure music from the 60s and I became obsessed with those records. I remember sitting there reading the covers and memorising the artists. That music from my early years was such an important part of my life. I don't understand people who don't like music. In fact I don't trust people who tell me they don't like music.


Judging from some recent comments from you, I would assume that you're a bit jaded with the psytrance scene. Is that a correct assumption?

It is I guess. I feel it has lost a lot of its original intention. It seems to be more about getting messy these days. It used to be about the cathartic experience the music could facilitate. It was primal. The music has become a bit stale for me, I don't see much innovation in the Australian psytrance scene. We seem to like dubstep and glitch hop a bit too much as well. But there are still parties that I feel are getting it right and I still love getting out and having a weekend at a doof, just got to pick the right ones these days.

You've put on many parties in the past. Any intentions of doing it again in the future?

There has been talk with a friend of throwing one up here to try and combat the lack of anything experimental and psychedelic. I hope it comes about.


What occupies your time when you are not making music? I think you are studying and making booze and cheese, correct?

Correct. I have been making cheese, and trying my hand at brewing beer and wine. Study takes up a lot of my time but when I can I try to get out into nature and do a bit of bush walking and camping. I am also very keen on growing vegies, and I have a bonsai collection so gardening also takes up a bit of my time.


We've had a few robust discussions about conspiracy theories and the state of the world. I'm curious about how you feel about bringing a new human into the world given the state it's in.

For many years I was adamant I would not have a child because I saw the world as hopeless. I thought bringing a child into this world would be cruel. But then I started seeing friends have children and watching them raise very conscious, aware children made me realize that the world's hope lies in the hand of the next generation and the best thing I could do for the world was to instil my child with the knowledge of how to live in harmony with nature and all Earth's inhabitants.I am actually very hopeful about the state of the world right now. I see revolution happening everywhere. It is an exciting time to be alive.


When writers write or painters paint, it's often to express certain feelings or convey certain messages. Music can do the same, but it can also be more abstract. It can be more an ornamental thing, the stuff we dance to. What does music mean to you? What motivates you to make music?

Music is life for me, I couldn't imagine existence without it. It can give me energy, bring me to tears or lull me to sleep. Certain songs can transport me through time to a place I once stood, or to a future I can envision. I have always used music creation as a way to tell my story and release my creative essence. I just feel a real need to write music and I don't think it will ever stop.


I like listening to the occasional track of yours, but for the dancefloor it's too fast for me. Are you ever tempted by less BPMs?

I try to write slower psytrance occasionally, but the tempo always creeps up to about 170 bpm. Whenever I write any other style of psy it's not long before it has transformed into superfast darkpsy. I'm not sure why that is.


And as I finish writing that question I'm listening to one of your chill tracks, Peace Of Mind. Love it. Do you make many chill tunes?

Yes, I have been experimenting making some slower, more abstract tunes. I want to create a kind of lush, cinematic, dreamy deep techno project sometime in the future.


As a creator of good music, how much do you hate dubstep? Or are you one of those misguided people who thinks dubstep is good? Not being biased here, I just... yeah, biased as hell. I just don't get dubstep.

Haha! I'm with you there, not a fan of dubstep. I dislike glitch hop even more. There is some stuff I like that would be more in the 'bass music' genre, like Burial or Marina Faib, but generally I cannot stand dubstep.


Do you get out on the dancefloor yourself? Who do you like to dance to?

Yes, I love dancing. If I am at a party I will spend 90% of the time on the dancefloor if the tunes are good. Music-wise I like intelligent programming. I have had amazing dance experiences to international artists like Kindzadza, Penta, Electrypnose, and Kashyyk.

On the local front Dark Nebula never disappoints.


What are your plans for the future, both musically and personally?

I am currently writing my second album, and have a couple of compilation releases planned for the next few months. I hope to keep building my music career and get overseas at some point to perform. want to finish my degree and see where that takes me. I want to spend as much quality time being in love with my girlfriend Kobie and my son Arlo. I want to re-connect with nature, and build towards a self-sustaining future for my family. And I want to be happy and live a simple life amongst the trees.