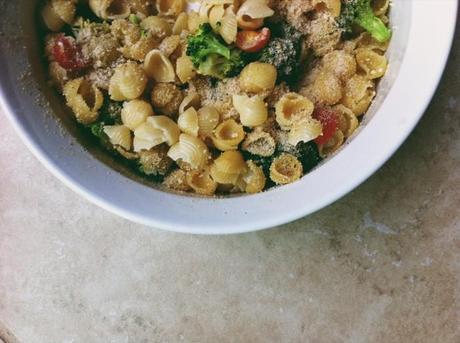 Do you ever just throw a few ingredients in a baking dish, and hope it turns out okay? That's what I did last night, and it was de-licious, if I do say so myself. The best part? This recipe has only six ingredients!
-One box Trader Joe's organic shells and white cheddar mac n cheese
-Three tablespoons nonfat milk
-One cup broccoli florets
-One cup cherry tomatoes, halved (got mine from the backyard)
-Sprinkle of breadcrumbs
-Sprinkle of parmesan cheese
Directions: Heat oven to 350 degrees. Cook the macaroni and cheese according to box instructions. Pour into baking dish and mix in broccoli and tomatoes, before sprinkling breadcrumbs and parmesan cheese on the top. Bake for 10 minutes and serve with a chunk of Trader Joe's Walnut Levain artisan bread. Easy peasy.
Happy weekend!