Some say that " growing pains" are a figment of imagination. For me they were real and very physically aching. I remember coming down stairs, having been woken by these excruciating pains in my legs - like a toothache, a nagging ache with no let up. These were definitely not what my imagination conjured up.
At fourteen years of age I was very active. Deeply into ice skating for advancement and competition. I was working towards Bronze figures and inter Silver free skating plus my partner and I were to be the first pair skaters to represent the club and try for Bronze pairs. My practice regime was physically demanding...entailing weekend mornings, after school evenings...and I was even allowed an afternoon off school on a Wednesday to go to the rink, as it was not used for public skating at that time.
I also had off ice training, that in those days was not so vigorous as it is today...I had a few basic ballet lessons in deportment, balance and arm positions. At school I had use of the gymnasium at lunchtimes and could use the trampoline also. My coach also used me to illustrate lifts ...to my rather bemused young partner who was NOT expected to try them with me. Our first lifts were really my jumping from one hand to another - but that's all that was expected of us at this stage.
My other hobbies too were physical. Hillwalking and hosteling, cycling, roller skating and then just general playing (when I had time).
  However, suddenly I grew 6" in six months ..I shot up. Everyone thought I was going to be really tall like my Dad (he was just 6'). And I ached...I don't know if it was the physical muscular activity that caused it or this sudden growth spurt. I overtook my partner so the pair skating was abandoned;(Michael never caught me up ). My coach thought this was even more wonderful, as now I was nearer his height but only weighed five and a half stone, so he could lift me with one hand way above his head (my mother hated it), but he never dropped me.
  Then just as suddenly I stopped growing at 5'3". That was it ! No towering brunette! No lofty young lady. My growing pains were over...or at least the physical ones were.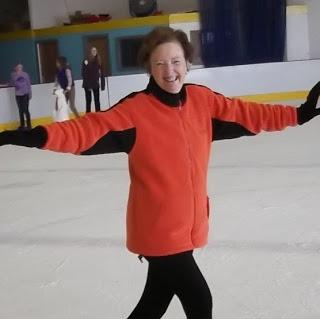 Next on the agenda , as all teenagers experience, were the emotional growing pains. They were just as tough. Choosing the correct path for a career, taking exams, waiting for results. Making friends...breaking friends. Trying new things -- a summer job, a new hairdo, a fashion statement gone wrong, wearing makeup. Trying to be grown up. Meeting boys, going on dates, falling in and out of 'love'. Yes. The emotional growing pains caused aches and heartaches, alike.
 Today's two poems are about early love...not first love (that memory still makes me weep..but I was 'only sixteen'). They were written months apart about the same relationship...a distance romance...  
For my love
.    26/11/68
   And as the miles between us slowly stretch on through the dark night,    I feel no real pangs of remorse, for up to now there is no change    In my life. I know I'll hear from you again-    Yet I'm afraid lest I never see you again.    If I say I love you now, it means forever.    Never have I said these words before -     Though others professed their love for me-                                          I paid no heed-    But you were different, it meant that I could really give love                                           In return for yours.    Though the years and distance lie between    I have my memories, my dreams and my hopes for the future.
It's Worn Off
.      03/69
   And as I stir up those last dying embers of love,    Trying desperately to revive the tiny flame,    I realize the futility of it all.    The sheer desperation of continuing it     Has worn off.
   Tomorrow is a new day and a new life,    Tomorrow is the turning after which there is no return.    I can see it all clearly now.    The determination to hang on    Has worn off.
Thanks for reading, Kath.
Email This
BlogThis!
Share to Twitter
Share to Facebook
Reactions: