Saturday's group walk (a day earlier than usually expected) involving wandering around the city of Bristol with our cameras at the ready as we sought out and snapped as many Gromits as we could find along a seven-mile route. If you've no idea what I'm talking about then Gromit (the dog of Wallace and Gromit fame) has been unleashed amongst the city of Bristol and also slightly further afield! There are 80 to find in total but this walk wasn't about catching them all – that would've meant a train journey to London's Paddington Station, for one thing!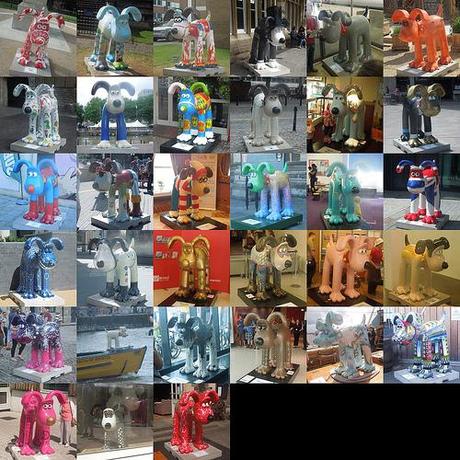 How many have you found?
It was deemed by the walk leader as a great way for newcomers to discover more of the city we live in. I've lived close by for all of my life and yet, when it comes to taking a pedestrian route as opposed to driving; I'm still a little uncertain as to which parts of the city link to what and where.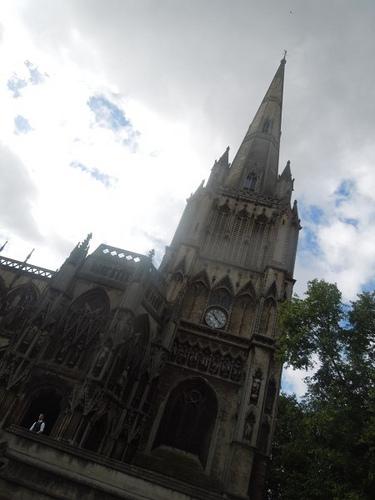 St. Mary Redcliffe Parish Church – Bristol
I'd already set myself on doing a different walk (again, on the Saturday) in Weston-super-Mare. But, the weather forecast wasn't very optimistic and I'd already walked the majority of that twelve-mile route one month earlier with a friend. It did mean leaving the house an hour earlier but I was parked up and on foot to our start point at Queen's Square bang on time, which did surprise me!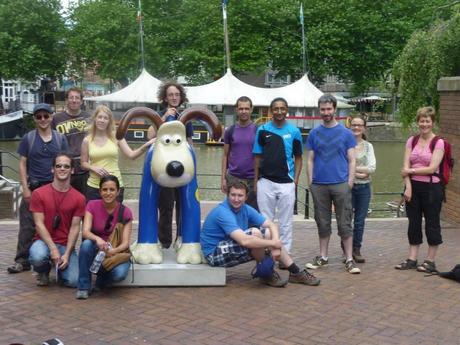 This photo belongs to Andy the walk leader – but I've pinched it from Facebook…
This was my first ever city walk, as I'm usually one to rush out in to the countryside just to get away from it all (and I live in a village and work in a town…). But I hadn't spent much time in Bristol for a good couple of months and, after a bit of a long week, I wanted to take it a bit easy.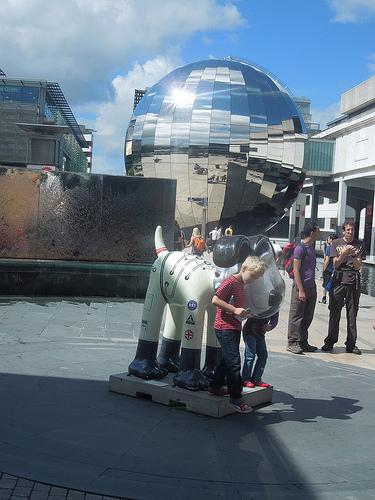 At Millennium Square – apparently, this Gromit glows in the dark… Can anyone confirm this?
It was an enjoyable walk and the rain just about held off until the time at which we all departed. There was a full flight of stairs but no steep hills to climb. We sat beside the harbor at lunchtime and ended the day without a speck of mud on our boots trainers.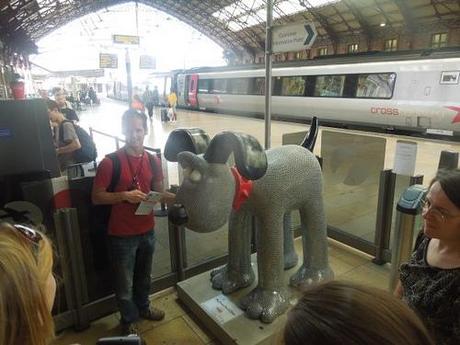 Inside Temple Meads station, Bristol.
There was one Gromit at almost every turn! If you've heard of some iconic venue within the city of Bristol then, there's a good chance that there's a dolled-up dog parked outside it! In some cases, they'll be hidden indoors but we didn't come across any where you would be expected to pay to enter.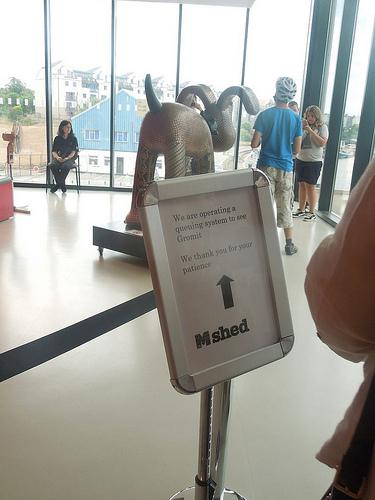 Someone once told me that M Shed was 'boring'… I now assume that she meant the members of staff!
This is very popular with kids, as you might expect and, as they're expected to disappear and head off to auction in early September, families are rushing to find them all just as we were. In most situations, everyone was courteous and aware of other the 'Gromiteers'; hovering around with their cameras, in waiting for that perfect shot. It was only upstairs in M Shed where we were informed we would have to QUEUE to see National Treasure; one of my favorite sculptures of the day!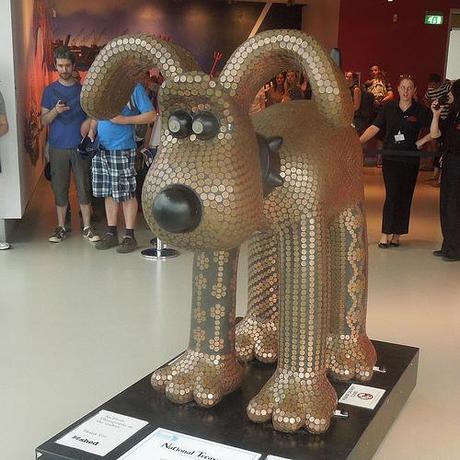 'National Treasure' – on the first floor inside Mshed.
Jokingly, I'm a little surprised they didn't advise us not to venture on to The Matthew as we headed back downstairs… After all, you could (just about) see the next Gromit on our trail from high up behind that window.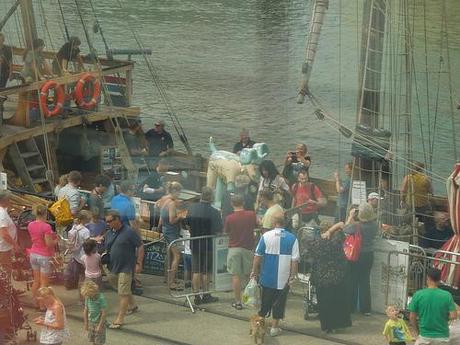 Our next Gromit, on the deck of The Matthew.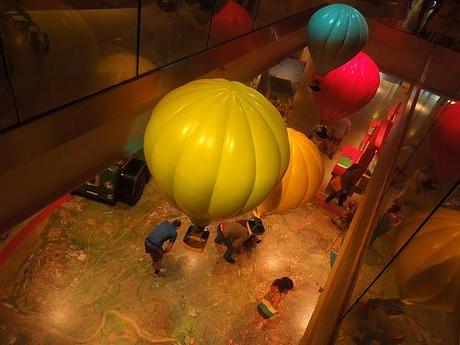 As we left M Shed, I couldn't help but to capture a photo of this. It's the only feature that people ever talk about.
My second favorite was this pirate-themed Gromit, around the corner from where we stopped for lunch outside Arnolfini (do you say 'the' Arnolfini or just the name?).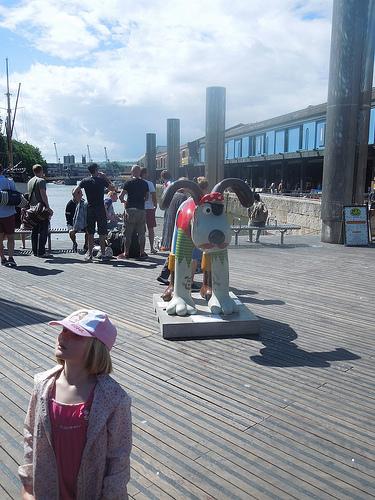 Sea… Dog? I can't remember the name of this one.

While we were sat down beside the water, another Gromit whizzed past on the front-end of a boat.  I'm not sure if this one's on the official trail map but I took a photo anyway.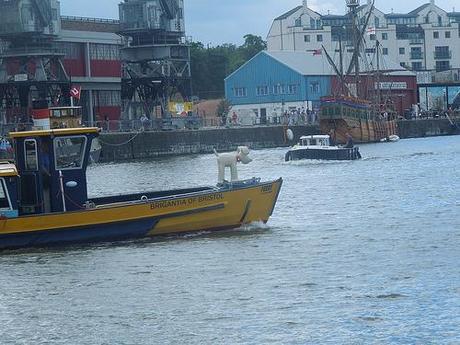 Gromit-on-Sea… Erm, docks!
My other favorite was Where's Wallace. I don't know why he's known as Wally over here but Waldo in the US. Either way, I don't think it really matters here.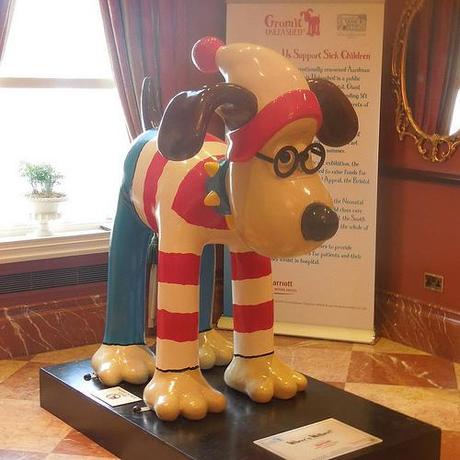 'Where's Wallace?', inside a rather prestigious building whose name I cannot remember (it was like a posh hotel or lodge).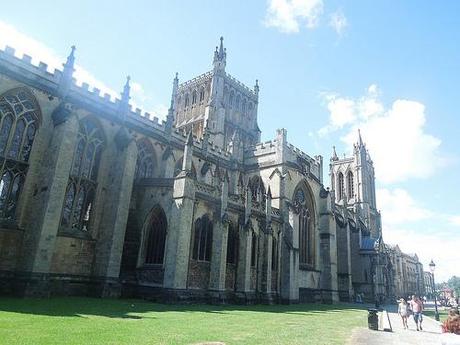 Bristol Cathedral
As if it wasn't enough to discover more than 30 Gromits while traipsing around on a warm Satur-day; I found Morph inside At-Bristol…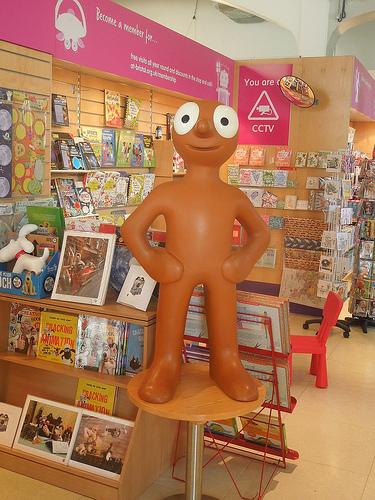 It's MORPH!! Just inside At-Bristol.
While further on towards the end of the walk, we passed the harbor beyond the SS Great Britain where I glimpsed in to the workshop of a modern-day boatbuilder!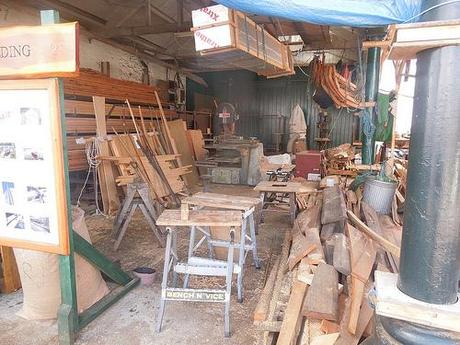 A boatbuilder's workshop, on the Bristol harbourside.
No-one else in the group seemed to stop and pause to take a photo as I did. So, I very much doubt that they also would've made a note of the large planer/thicknesser, just in front off the bandsaw at the back! I've had days where my own workshop has looked less organised than this…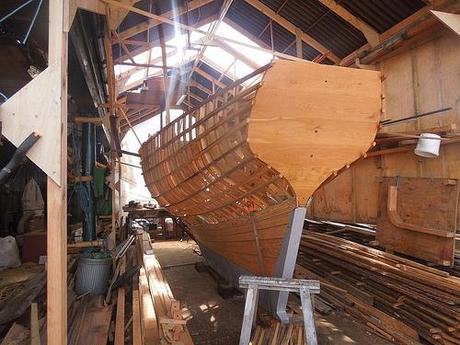 A work-in-progress next door.
It was interesting how the 'shop was left 'open' and exposed to all, with an apparent lack of any authority or security personnel to meet and greet the passers by. I didn't take a close enough look but I assume there must've at least been some roller doors to keep the contents secure…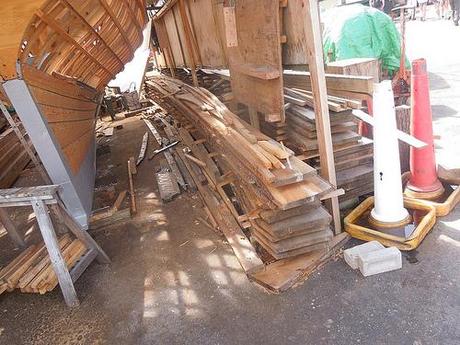 Waney-edged hardwood; possibly oak.
Further back down the same side of the harbour, I noticed one boat owner carrying out repairs, with the case for a Makita plunge saw sitting on the deck. This day had a lot on offer for me personally although, even if I had felt inclined to help myself in a grossly dishonest manner; I was parked a good couple of miles away from these stacks!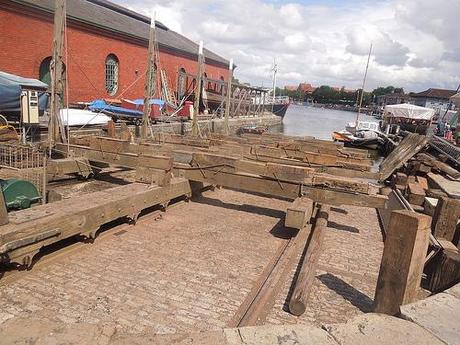 Thanks to Martin, I now know that this is known as slip way cradle; used to haul boats out and on to the water.
As we passed the assembly above, a nameless member of the group commented on the fact that this is a dying trade and how refreshing it was to see the craft is still alive in Bristol. I've no idea as to whether the correct term would be a shipwright, boatright or perhaps just a plain boatbuilder but I quite agree. It makes me feel proud to live so close to this city.
Do we see the same in many of Britain's other cities?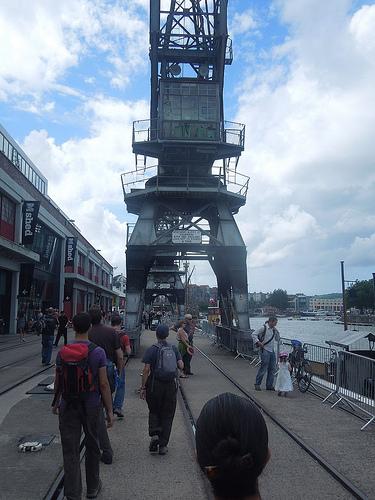 I think I've now covered pretty much everything that I wanted to in this post. There are plenty more photos, which you can find in my respective albums for both Bristol and Gromit Unleashed (I might also add individual photos of the Gromits collated in the mosaic at the head of this post). Over on Facebook after the walk, I quizzed the walk leader on whether he would be prepared to lead a second installment of this Gromit Hunt, with still almost half-a-century of Gromits to be discovered and the short answer was yes; it's only now a question of 'when', as these sculptures will disappear from the streets and shopfloors this time next month before being sold off at auction; all in aid of charity.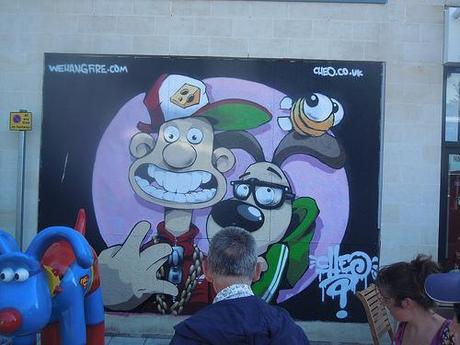 Thanks for reading and Happy Gromit Hunting!

(PS. If anyone has any tips for repairing or 'overcoming' a scratched camera lens, please feel free to share. If you notice a 'glare' in the center of any of these photos then that's what has caused it.)