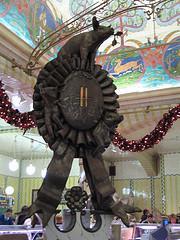 Traveling is exploring, and one of the best ways to explore a new destination is to hit the local grocery store when you arrive.
Yes, really. Grocery stores aren't considered tourist attractions all that often, but the local market can provide insight into the place you're visiting and provide a better travel experience. It can tell you a lot about how the local folks live and what they eat; it can be a healthier (and less expensive) way to eat; and, it can even be a way to work on your language skills as you read the packaging.
After all, food is such a big part of travel for most people that it only makes sense to expand your food quest to the local grocery and get a glimpse into how people interact with each other and the local delicacies they consume.
Cities such as Tokyo, Berlin, Madrid, Barcelona, Paris, London and Florence are known at least in part for their specialty grocery stores and markets. The people-watching in many of these markets is good enough that they should charge admission. For instance, in China, shopping can seem like a competitive sport, with plenty of pushing and shoving, and even a chance to fish for your own seafood.
They also can let you know what foreign foods the local populace is keen on – for instance, the Swiss appear to love Mexican food and the Japanese love French pastries. And if you never venture into a grocery store you might not ever find out about delicacies such as Craze Hottis in Singapore, Germany's Schaumkusse and of course, the Mashed Potato dispenser.
So, what are the best grocery stores in the world – places that offer great food and a window into the culture? Any list of the top grocery stores in the world is sure to include these three:
Harrods in London (obviously more than a grocery store)

Kleinmarkthalle in Frankfurt

Peck in Milan
What other great groceries are out there? Where have you traveled and immersed yourself in the local culture while picking up some produce?
Tell us in the comments!
Photo by misocrazy.