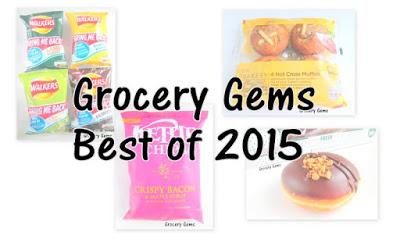 I haven't quite managed to review as many products this year as I have in previous years, but it's still been an enjoyable 12 months of keeping up with the world of new and limited edition goodies. It's time to look back at my favorite reviews of the year. But it's not just all about me, check back tomorrow for a countdown of the top ten most viewed posts of 2015 - the readers favourites!
BEST CHOCOLATE
Vego Whole Hazelnut Chocolate Bar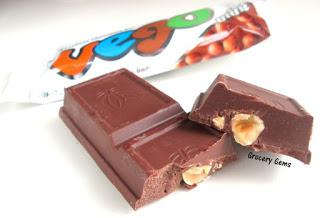 It might seem like an odd choice to pick a vegan chocolate bar as the winner of my Best Chocolate for 2015 but I simply loved this one. It's Nutella in a chocolate bar format; enough said. It's also the only chocolate bar that I've reviewed this year that I've bought more than once. It's definitely worth tracking down if you can. Other top picks for my favorite chocolate reviews this year include; the
Hazel Mountain White Chocolate from County Clare
 and the Toblerone Crushed Corn. 
BEST CAKE
M&S Hot Cross Muffins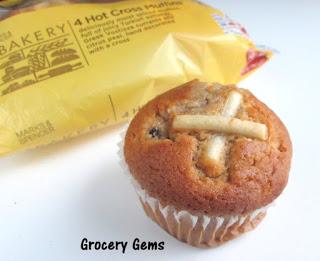 I haven't reviewed very many cakes this year so I hope this Hot Cross Muffin counts! Let's just say it was my favorite baked treat. I know opinion was split on these Hot Cross Muffins but I thought they were perfection; juicy raisins and currants and just the right amount of zesty orange and lemon flavor too. The only problem was that they were so difficult to find. Special mention in this category has to go to Cadbury for finally jumping on the banana trend with their Cadbury Banana Mini Rolls and also to Mr. Kipling for their fun ranges of Halloween and Christmas cakes. 
BEST SPREAD
Bounty Coconut Spread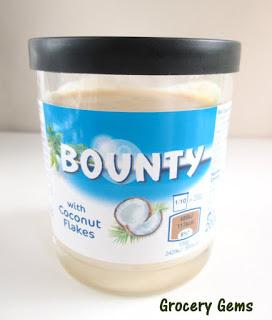 So it turns out that I only reviewed ONE spread in the last 12 months - the Bounty Coconut Spread. This is something of a shocker to me as I've always reviewed lots of spreads in the past. I'm not sure if there weren't enough exciting new releases or if my kitchen cupboards just couldn't take one more jar. The Bounty Coconut Spread was disappointing in flavour, so it's not so much the best spread of the year, as the only spread of the year! Still, it was an exciting release at the time and was one of the most memorable reviews of the year for me.
BEST DRINK
Starbucks Caramel Jelly Frappuccino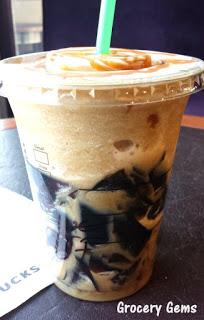 This was not just my stand out drink of 2015 but also one of my favorite products from the whole summer. It's a crazy combination of jelly and coffee that just appealed to all my senses. I loved the sweet caramel flavor alongside the soft, squidgy jelly pieces. Please bring this back next year Starbucks! I have to also mention the Starbucks Fan Favourites Frappuccino campaign which saw the limited release of a Cinnamon Swirl Frappuccino - a very close run second place. 
BEST CRISPS
Walkers Bring It Back Campaign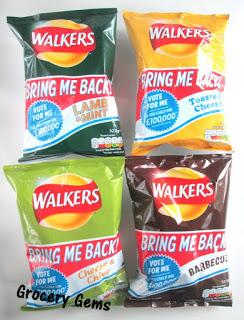 At first I was going to choose the Kettle Crisps Bacon & Maple Syrup as the winners of this category - this is a flavor that's become a firm family favorite. However, I had to give it to the Walkers Bring It Back Campaign for the overall effort from Walkers to relaunch five retro flavours, and the fun factor in trying them all out. It was a great campaign and I would love to see other brands follow suit - perhaps Mars could delve into it's archives and bring back some much missed chocolates such as the
Banjo Chocolate Bar
. Let's hope 2016 sees more retro inspired campaigns! 
BEST AROUND THE WORLD 
Turkish Delight & Baklava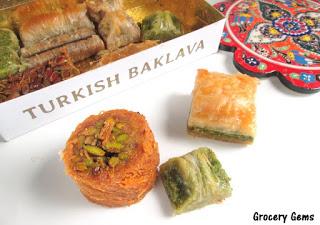 I managed to complete quite a few more countries in my Around The World challenge this year, although it was still far fewer than I would have liked! However, my overall favorite were the traditional Turkish Delight and Baklava that Mr. Grocery Gems bought in Istanbul. Such an amazing selection of flavours and textures that were a definite highlight for me this year. Other enjoyable reviews were the Nizza chocolate bar from Iceland and the Elite Taami from Israel. 
BEST DOUGHNUT
Krispy Kreme Reese's Peanut Butter Doughtnut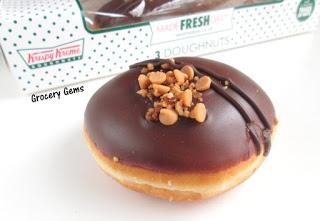 It was hard to choose between two offerings from Krispy Kreme: the Biscoff Spread doughnut and the Reese's Peanut Butter Doughnut. These were both released fairly early in 2015 and the Reese's just edges it into the lead in this close run race! 
I hope you've enjoyed this round up of 2015 reviews. I didn't include a BEST ICE-CREAM category this year because, annoyingly, I never got around to posting up a review of my favorite ice cream this year - the awesome Ben & Jerry's Pumpkin Cheesecake. Must try harder next year!  
All the best to everyone for 2016 :)
HAPPY NEW YEAR!