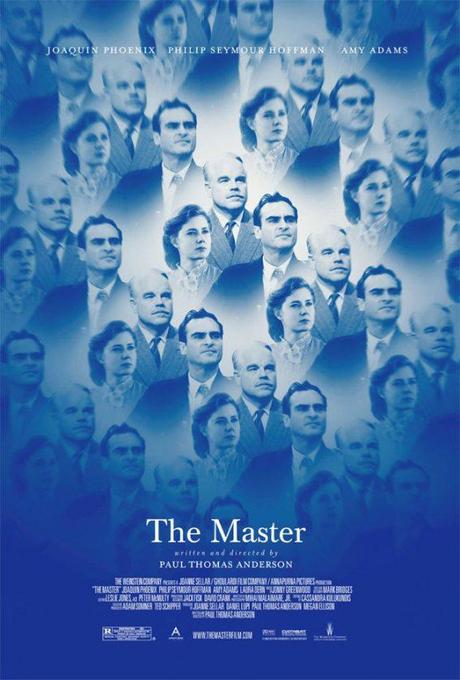 Title: The Master
Directed by: Paul Thomas Anderson
Distributed by: The Weinstein Company
Release Date: September 14, 2012 (Limited)
Rated: R

Synopsis: A Naval veteran arrives home from war unsettled and uncertain of his future – until he is tantalized by The Cause and its charismatic leader. (Via IMDB)
Brian: The Master is uncompromising in its vision of loneliness, desperation, and sexuality. It features what may be the performance of the year by Joaquin Phoenix, who doesn't really play a role in this film but transforms into one, and Phillip Seymour Hoffman and Amy Adams create one of the creepiest power couples ever. The 65mm cinematography is gorgeous, and the musical score is an immediate must-buy. The Master, at times, however, feels more like an exercise in greatness, than a purely great film. I really liked it, and can't wait to see it again, but while specific scenes ring true, with truly the most explosive acting I've seen since Heath Ledger in The Dark Knight, the movie as a whole left me a little cold. 

Shaunta: I really, really wanted to love The Master. I looked forward to seeing it for weeks. I invited my daughter to be my movie date. It took roughly five minutes to wish I hadn't done that. I agree with Brian. This movie is incredibly well acted. The score is gorgeous. The whole movie is visually beautiful. But for me, it was something of a fail anyway. Because it was so boring. So, so, so boring. The characters, as interesting and well done as they are, don't change at all from beginning to end. My brain, I think in an effort to keep from atrophying, kept handing me ideas of what might happen. Maybe Master and Freddie will have a gay love affair! Maybe Master will die, and Freddie and Master's wife will have to duke it out for dominance in the Cause! Please, God, something. Anything. But nothing happened. The best scene in the movie, for me, was when someone confronted Master about the Cause at a meeting in a gorgeous house. But then that scene was over, never to be heard from again.
Brian: I really wanted to love it, too. I've been a life-long fan of Paul Thomas Anderson, ever since I sneaked a copy home of Boogie Nights back when I was thirteen years old. There's a freshness to all of his movies that really get me excited about cinema. While I didn't think The Master worked in full overall, many of its scenes crackle with originality and intensity. Joaquin Phoenix is in a whole other league of acting in this film. It reminded me of Marlon Brando's golden age, in the 50′s. When Phoenix tackles men all through the movie, you actually feel the punches. My favorite shot is in the jail, with Hoffman standing still and unamused in the cell on the right, while Phoenix literally destroys his cell on the left. No matter what he does, he can't seem to help this guy! Like Shaunta, I loved the scene where Master is finally confronted. The tension escalates higher and higher, until Hoffman utters an expletive I can't imagine anyone in the audience expecting. The scene where Phoenix can't close his eyes is a masterpiece of acting class, and an early scene, involving Phoenix's quarrel with a man he's trying to take a picture of, is as hilarious as it is enormously sad. Specific scenes are incredible, ones that will easily bring me back to this movie again. But the biggest weakness with The Master is in the last fifteen minutes. No matter how abstract Boogie Nights or Magnolia or There Will be Blood may be at times, they bring upon the viewer an earned catharsis in the end. The Master gives you an ending to ponder, but one that doesn't necessarily satisfy.
Shaunta: The Master is full to the brim with amazing scenes. The ones Brian mentions for sure. The scene in the desert. The scene where Master makes Laura Dern's character cry. The one where he sings a love song to Freddie. They're all beautiful. Unfortunately, they don't string together to make a story. I expected the story to be about Master developing the Cause. Instead, the Cause is fully formed from the beginning. Joaquin's character is obsessed with sex throughout the film, but for no apparent reason, with no resolution or decline or connection to the film at all. It was like Anderson gave himself a challenge of seeing how many vaginas he could fit into one film, and how many scenes he could add that might make the viewer wish they'd brought their eye bleach. The answer is: a lot. But who cares? If they don't serve the story, who cares? Sure, there are plenty of interesting, lovely scenes in this film, but for me, if they don't make a compelling story, it's hard for me to care. The last half hour of this film, which involves Freddie traveling from the US to England for literally no reason at all, I kept saying to myself that each scene had to be the last. It had to be, because I felt like I'd been watching the movie for a week and I was bored stiff, even if I did think the music was amazing and lots of the scenes (including the end ones) were fabulous on their own.
Brian: I think in the end Shaunta and I are a little mixed on the film, but I at least would definitely recommend it for the adventurous moviegoer, at the very least just to see the performance by Joaquin Phoenix. But just as riveting as Phoenix and Hoffman, and who I don't think will get the attention she deserves, is Adams, who noticeably underplays her character, to the point where she becomes like the eerie master over the Master herself. She's quietly cunning in her scenes, and I loved her performance, too. I'm curious to see how this film will do come award season. I have a hard time believing it will get the Picture / Director nominations, simply because it's a film that will divide so much of the general audience. But look for an easy nomination for Phoenix for Lead Actor, and possibly even a win. His performance deserved a masterpiece of a movie, and while The Master is a solid piece of work, it's not as great as I hoped it would be. But in the end, I don't need perfection in my films. I look for originality, for good performances, for a story I've never seen, for scenes that take my breath away. I give far more credit to an artist like Anderson who continues, movie after movie, to try new things and go to daring places with his narratives, versus a run-of-the-mill studio film that takes zero chances. I'd much rather have The Master.
Shaunta: Adventurous? The movie is a snooze fest. Joaquin Phoenix is good in it, but you can see him play nearly the exact same character in Walk the Line, only with a guitar. And a great story line. Same grimaces though. I feel like Amy Adams was definitely under used in this film. She's going to be remembered in it as the girl who gave Master a hand job (for no reason) and then read a pornographic excerpt of something or the other out loud while looking earnestly into the camera (again, for literally no reason.) This movie could have at least been a manageable length if they cut out the twenty or so minutes of Joaquin Phoenix walking back and forth across a room. That's it. Just walking. Touch the wall, touch the window. Over and over, until I was as frustrated as the character. And then hug the Master. And it didn't mean anything. I'm certain that this one will be nominated for awards all over the place. But, I didn't see any chances this movie took, except to show a bunch of gross out sex scenes that didn't have anything to do with anything. How can a movie be both a solid piece of work, and plodding and inconsequential at the same time? I went into this film expecting something that wasn't there. A great story. I don't need perfection either, but this movie has taught me that I do need a story.