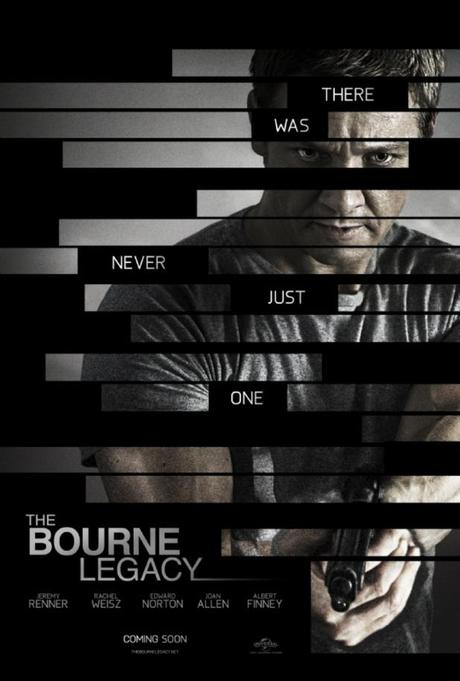 Title: The Bourne Legacy
Directed by: Tony Gilroy
Distributed by: Universal Pictures
Release Date: August 10, 2012
Rated: R

Synopsis: An expansion of the universe from Robert Ludlum's novels, centered on a new hero whose stakes have been triggered by the events of the previous three films. (Via IMDB)
Brian: The absence of Matt Damon didn't deter my interest in The Bourne Legacy one bit. Tony Gilroy, the writer or co-writer of all previous three films, returned here as both writer and director. Jeremy Renner, the fantastic, intense Oscar-nominated actor from The Hurt Locker and The Town, was playing the lead role. I knew just in watching the trailer that the movie would be a good time. And while this fourth entry in the Bourne series doesn't add up to a whole lot, and is a little weak compared to the others, particularly the fantastic Bourne Supremacy, my favorite of the series, it's an entertaining, gritty thriller with memorable moments and terrific performances from Renner and Rachel Weisz.
Shaunta: I really enjoyed The Bourne Legacy. I thought Jeremy Renner was great at Aaron Cross. I couldn't take my eyes off of him. I'm a huge fan of the entire Bourne franchise (my favorite was The Bourne Identity, but I loved them all), so I came prepared to fall for this movie. I loved the vibrant settings, from Alaska to the Philippines. Some of the chase scenes were too much for me, but otherwise, I was not disappointed. One thing I'll point out though, I went with my daughter, who hasn't seen the other three movies. She had a hard time following and understanding the story in this one without that background.
Brian: I think even if you're a hardcore fan of the first three movies, a lot of The Bourne Legacy would still be difficult to follow. While I loved all the scenes with Renner and Weisz, I didn't react as well to the expository, dialogue-heavy scenes with Edward Norton, who I typically love as an actor. Did he just do this one for the paycheck? And I was most stumped by the thirty-second appearances of David Strathairn, Joan Allen, and Albert Finney, who all appeared in the previous films. Why have Oscar-nominated actors like Allen and Finney in your movie for such brief scenes? Didn't make sense to me.
Shaunta: It wasn't the best movie I've seen this year, by a long shot. But it was fun and exciting, and most of all it was entertaining for a couple of hours. It definitely felt like someone decided to reboot Bourne with a new character in an effort to elongate the franchise run. Like this was the movie version of Law & Order: SUV. (Which is my fave Law & Order by a long shot, so fingers crossed that they figure out how to make Bourne: Cross work. There was enough good in this one to give me hope.) Also, I liked Edward Norton here. He was just creepy enough.
Brian: On the plus side, there were a handful of scenes with great power. The scene where Rachel Weisz barely survives a gun rampage is not only topical but absolutely chilling. And then the ensuing gunfight in Weisz's country home is even better. I loved all the early moments with Renner, when he's bearded and is trying to find his way in the world. Overall there was a lot in The Bourne Legacy that I enjoyed, and for fans of the series, it's in no way a disappointment. But overall it was probably the weakest of the four films. Here's hoping the fifth installment–come on, we know there'll be one–will try to tell a better story among all the action bits.
Can you believe it's been 10 years since the first movie??