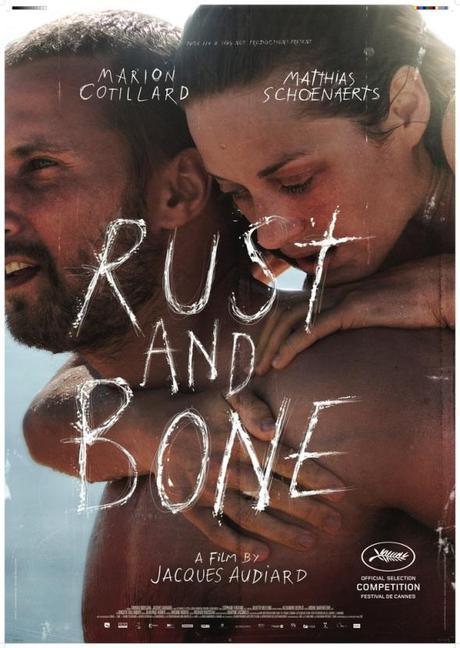 Directed by: Jacques Audiard
Distributed by: Sony Pictures Classics
Release Date: November 23, 2012 (Limited)
Rated: R

Synopsis: Put in charge of his young son, Ali leaves Belgium for Antibes to live with his sister and her husband as a family. Ali's bond with Stephanie, a killer whale trainer, grows deeper after Stephanie suffers a horrible accident.(Via IMDB)
Brian: Hey, look! Our first foreign movie! The movie theater can be kind of a wasteland at the end of January, and when Shaunta said we should go see a movie, there weren't many options, unless we wanted to see something one of us or both had already checked out. The one new art house movie in town was Rust & Bone, which I'd heard nothing but great things about, and I convinced her that we choose that one. With Rust & Bone being a multi-award-winning French film, I dressed my best, with a long-sleeved collared shirt and black dress jacket. I didn't want the filmmaker to show up seeing me in a t-shirt and jeans! When the film opened, I wasn't sure what to expect, but I eventually got sucked into the story, and the lives of the two central flawed characters. Rust & Bone is beautiful film, with two incredible lead performances.
Shaunta: Brian did look sharp! This was definitely a character-driven movie. It was a good thing the characters were interesting. Some parts of the movie didn't make a lot of sense to me. Like the whole thing about the main character being a whale trainer. That part was interesting, but seemed kind of random and under used. The dynamic between the main characters was great, though. Neither of them were incredibly likeable on their own, but together they were a force.
Brian: American audiences primarily know Marion Cotillard for her work in Christopher Nolan's last two movies, The Dark Knight Rises and Inception. But before working in America, she was an acclaimed French actress, and in 2007 she won the Academy Award for Best Actress for her startling turn in La Vie en Rose. In my mind Cotillard deserved her second Oscar nod for her role here as a whale trainer who loses both her legs in an unthinkable accident. She was nominated for pretty much everything leading up to the Academy Awards but she fell just short of that one, which is a shame. Her nod would have brought more attention to this terrific movie. Just as good, in the male lead, is Mathias Schoenaerts, who plays one of the more unlikable main characters I've ever seen in a film, a guy who has his moments of compassion but who continuously makes the wrong decision. I loved watching this character develop, and see where he ends up in the end. I really enjoyed Rust & Bone, and recommend it to anyone looking for a good story. Don't be scared off by the subtitles! It's a beautiful, haunting film that should have been a contender this Oscar season.
Shaunta: The CGI used to make Marion Cotillard legless was incredible. I didn't recognize her (because I never recognize anyone, I swear) and I thought they might have hired an amputee actress. Mathias Schoenaerts was definitely unlikeable, although there is a scene  near the end of the movie with his son that is incredibly moving. I think the reason his unlikeableness worked was that Marion Cotillard's character wasn't particularly likeable either. So it wasn't like this bad man was walking all over an angel. Both characters had to grow and become better people for the story to work. And they did.