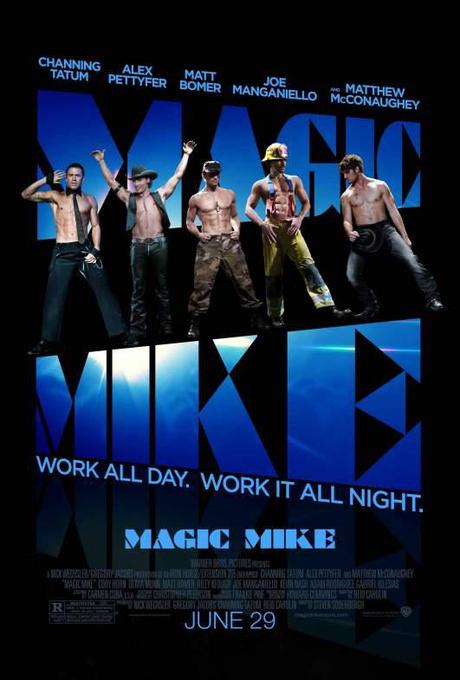 Title: Magic Mike
Directed by: Steven Soderbergh
Distributed by: Warner Bros
Release Date: June 29, 2012
Rated: R
Buy the Movie: Magic Mike
Synopsis: A male stripper teaches a younger performer how to party, pick up women, and make easy money.(Via IMDB)
Brian: For months Magic Mike was known to me as simply… that movie. When I first heard about it I thought it sounded like a potential Showgirls but with men, but I knew with Oscar-winning director Steven Soderbergh at the helm that it probably couldn't stray too far into camp. I was excited for the content of the movie, of course–has it been proven that there were more men than women at opening night in Los Angeles?–but I had no idea what kind of story would be thrown together to make Butt A go to Penis C to Rear End M, and so on. Therefore I was surprised Magic Mike to be such a winning, entertaining motion picture, not just because we get to see hotties Channing Tatum and Alex Pettyfer in the buff–which is excellent, my friends–but because Soderbergh and writer Reid Carolin tell a worthwhile story about the pain and heartache in loud, sweaty, male stripping. The acting is strong from all involved–Tatum is having quite a year with this and the hilarious 21 Jump Street–and the relationship between Tatum and newcomer Cody Horn is unexpectedly warm and authentic. For my money (in all of its crinkled one-dollar-bills), it's Steven Soderbergh's best movie since Erin Brockovich.
Shaunta: I didn't feel it between Tatum and Horn. She had a seriously cranky look about her, and she never smiled. Never. I did enjoy the relationship between Tatum and Alex. Both are lovely to look at, awesome dancers, and solid actors. They compliment each other as mentor and mentee. I even liked the interaction between Horn and Pettyfer as big, responsible sister and younger, semi-loser brother. But I didn't feel the chemistry in the main love story in the film, between Tatum and Horn. All that aside, I was surprised by how much I enjoyed Magic Mike as a movie, rather than just as a kind of lark. We started out talking about reviewing this movie as a joke. I think my surprise at actually enjoying the movie on merits beyond the nakedness of it's beautiful cast is a pretty good indication of the gender divide in Hollywood. I would never assume that a movie might not have merit just because it has female nudity in it. And you'd never go to a theater and find it full of adults who cannot stop giggling, just because some actresses flashed their bottoms. That was what our theater was like, though. The reaction from the other people in the audience was almost funnier than the movie itself.
Brian: Yeah there was a middle-aged woman two rows back who wouldn't stop giggling for the first ten minutes, and I honestly thought I wouldn't be able to focus on the movie. But eventually the story took over, and either she stopped making noises or I just tuned her out. It kind of disappoints me, all these women going to Magic Mike just to see the naked bottoms, and I've already talked to some who were upset that the movie was more than just a loud, brash male nudity affair, that there was actually a plot line that went somewhere. I still would have had fun if Magic Mike had been Burlesque and Showgirls and The Full Monty rolled into one, but I was happy to see Soderbergh steer this movie away from camp. As for the relationship between Tatum and Horn, you're not supposed to buy that they're in love. You're just supposed to see at the end that they might have something together (even though it's hard to imagine Tatum's character having a full on relationship with sister of Pettyfer's character, considering the film's outcome). I could totally see what he saw in her, even though, yes, she did mope around all uptight for most of the movie, ha! I also really loved the cinematography  - Soderbergh is famous for shooting his own movies and in this one he gives us a glimpse at the sweaty, beach-side Tampa, Florida – and all the supporting performances, namely Matthew McConaughey, who was put on this Earth to play the arrogant, slimy strip club owner.
Shaunta: Matthew McConaughey's Dallas was my favorite character in the whole movie. Everything from his body to his voice to the way he was allowed to be slightly-aging was perfect. Magic Mike did make me think of Burlesque, with boys. I already knew that Tatum could dance (Step up!), just like I already knew Christina could sing, but when he started to move it was just as exciting as when Christina started to sing in Burlesque. Magic Mike was thoroughly entertaining. I didn't like Horn in it. She had a sour look on her face all the way through that turned me off and I didn't buy her with Tatum, but that wasn't enough for me to not enjoy the movie, because their relationship wasn't the point of the movie. The relationship between Tatum and Pettyfer was, and that one was close to spot on.
Brian: I had a ton of fun at this movie. It won't make my Top Ten Films of 2012 list or anything, but in the middle of a summer of blockbuster action movies, I'm always happy to see smaller films that have its own quirky style and spunk. I'm excited to see what Tatum has next for us, and I sincerely hope Soderbergh is lying when he says he wants to retire from filmmaking. He's too good to leave us so soon! If I had any criticism of Magic Mike, it would be that there wasn't enough nudity. I'm serious.
WHAT WE LOVED:
Brian: I loved the performances, the look of the movie, all the fabulous stripping scenes. Tatum and Pettyfer are perfectly cast, and McConaughey is endearingly loud and icky.
Shaunta: I love any movie that I leave feeling like I've had a lot of fun. This one was one of those. I liked the Florida setting.
WHAT WE DIDN'T LOVE:
Brian: The movie had a slow spot here and there, and it could have used more nudity. What? I'm telling it like it is!
Shaunta: I didn't like Horn. And there were some fat jokes in there that I thought were unnecessary. (There was enough nudity for me, Brian!)
OVERALL: 
Brian: I had so much fun with this movie and would NOT be against a Magic Mike 2!
Shaunta: Solidly fun movie, but would have been as good at home on DVD or cable. I would be down for Magic Mike 2, too.