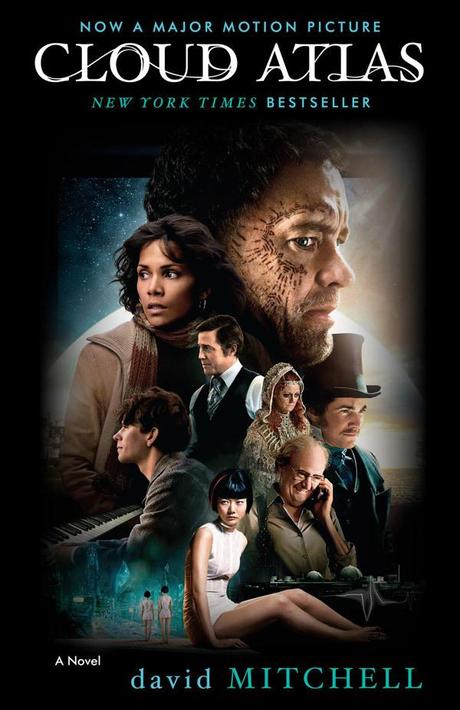 Title: Cloud Atlas
Directed by: Lana Wachowksi, Tom Twyker, and Andy Wachowski
Distributed by: Warner Bros Pictures
Release Date: October 26, 2012
Rated: R

Synopsis: An exploration of how the actions of individual lives impact one another in the past, present and future, as one soul is shaped from a killer into a hero, and an act of kindness ripples across centuries to inspire a revolution. (Via IMDB)
Brian: I was really concerned about this one. Shaunta saw it for the first time opening weekend and loved it, and told me that if I wanted to check it out, she would see it a second time with me. There were aspects about it that looked neat, but I was afraid, at nearly three hours in length, and with six alternating stories that jumped through various centuries, that the film was going to be pretentious, and maybe even dull. I had enough interest in it though to finally check it out, and I'm glad I did. I was cynical for the first ten or fifteen minutes, especially in a very early scene when Tom Hanks, Hugh Grant, and Susan Sarandon all show up at a dinner table scene in heavy, borderline absurd make-up. I bit down on my lip and thought to myself, "This might be a long three hours." But as the stories started to unfold, I found myself finding the rhythm of the movie, and engaging in the various stories, and by the half-hour mark, I was in. While I didn't find it to be the four-star masterpiece that many have called it, I really enjoyed this film, one of the most ambitious I've ever seen, and certainly one of the films from 2012 that I'll remember the most.
Shaunta: 1.) One of these days, Brian will learn that if I love a movie, it's not pretentious! And 2.) anyone who enjoyed The Master has a high tolerance for pretension anyway, so I had no doubts that Brian would like this one. I saw Cloud Atlas on our birthday (yes, Brian and I share a birthday. We are just that cute, we can't help it.) with my husband and some friends. I was captivated from the first moment and thrilled by the end. Cloud Atlas is blend of The Matrix (a comparison made stronger by one character looking so much like Keanu Reeves and another actually being Hugo Weaving) and one of my favorite movies ever, What Dreams May Come. As a writer, I was fascinated by the ability of the screenwriters to weave six stories without ever confusing or losing me. As a storyteller and a story lover, this one had me at hello. Three hours, sure, but I wasn't bored or clock-watching once. The movie itself was gorgeous to watch, the soundtrack is INSANE, and I'm getting goosebumps again just thinking about the whole thing. My favorite storyline was the far future one that bookends the movie. Tom Hanks was amazing as a valley-dwelling, Hugo-Weaving-as-the-devil seeing, goat herder. But really, I loved all six. I got the book as a birthday present from my husband, and I'm excited to read it.
Brian: What really astounded me was how all the various story lines came together to complete one powerful narrative. I was worried that we'd spend ten minutes here, twenty minutes there, but the story lines really do blend well together, and the editing throughout the film is jaw-droppingly well done. I loved some story lines more than others – my favorites were the tender and ultimately heartbreaking 1930′s gay storyline with the forever adorable Ben Whishaw, the 1970′s idealistic journalist section, and the special-effects-heavy futuristic portion. The film has been divisive enough to keep it from being considered for major Academy Award categories, but it's a given that the incredible make-up work will be recognized, as well as the special effects and editing. I also thought the score, which could have veered on schmaltzy as the film races toward all of its conclusions, was haunting and gorgeous. Of the actors, Jim Broadbent, Whishaw, and Doona Bae come off the best. Halle Berry, who hasn't received very many juicy roles since her Oscar-winning turn in Monster's Ball ten years back, does a commendable job here, as does Jim Sturgiss. I love Tom Hanks – always have and will – but I'd be lying if I didn't say he pulled me out of the movie here and there, especially when he sported grotesque make-up on no less than three characters. And Hugh Grant, huh? What? His roles are so against type and random that I was super curious to know why he took on this project. In fact, I have to say it, as much as I liked Cloud Atlas, I feel like I might like a comprehensive behind-the-scenes documentary about the movie even more! All in all, though, this was a cool flick that's well worth seeing. Try to see it on the big screen… before it's too late!
Shaunta: I thought Hugh Grant did a great job. He was seriously creepy as a futuristic Hawaiian cannibal and in a whole other way as a lock-jawed nuclear power plant big-wig. It's true though, that Tom Hanks is so–well, Tom Hanks–that there were moments where the actor shined through the characters. In one or two instances (really just tiny flashes in the futuristic part of the story, mostly due to the cadence of the heavy dialect), where he'd say something and it was like Forrest Gump stuck his head in to say hey. The 1930′s storyline was amazing and sexy and heartbreaking all at once. The modern storyline, with Jim Broadbent as a doddering old publisher whose brother has him committed to a nursing home (where Hugo Weaving, in drag, plays a Nurse Ratchet like character to perfection) was so funny and had the most perfect scene in the whole movie for me. Of course I can't tell you which without spoiling, so you'll have to see it for yourself and tell me what you think! The Neo-Seoul storyline was exciting and breath-taking, and had the most shocking scene. Again, you watch it and tell me which you think I'm talking about! Roger Ebert said, "Even as I was watching Cloud Atlas the first time, I knew I would need to see it again. Now that I've seen it the second time, I know I'd like to see it a third time …" and that is exactly how I feel. I don't know about awards. I just know that Cloud Atlas made me happy. It was even better the second time around. Brian's right, if you can see it on the big screen, you won't be disappointed.