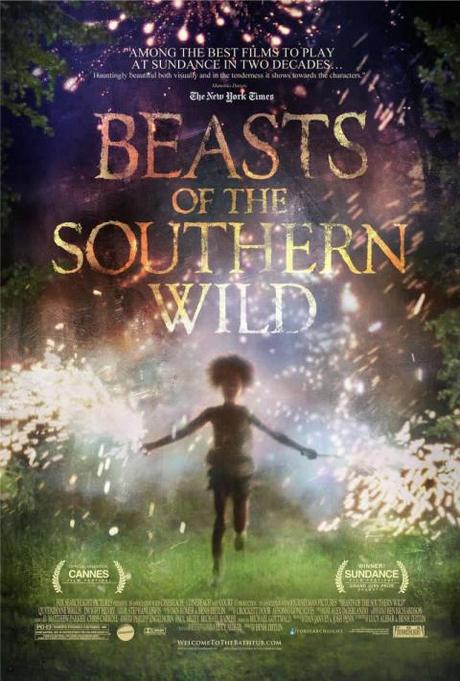 Title: Beasts of the Southern Wild
Directed by: Benh Zeitlin
Distributed by: Fox Searchlight Pictures
Release Date: June 27, 2012  (Limited)
Rated: PG-13

Synopsis: In a forgotten but defiant bayou community cut off from the rest of the world by a sprawling levee, a six-year-old girl exists on the brink of orphanhood. Buoyed by her childish optimism and extraordinary imagination, she believes that the natural world is in balance with the universe until a fierce storm changes her reality. Desperate to repair the structure of her world in order to save her ailing father and sinking home, this tiny hero must learn to survive unstoppable catastrophes of epic proportions. (Via Rotten Tomatoes)
Shaunta: Beasts of the Southern Wild was one of those imperfect movies that still makes you so happy. I'll talk about what bugged me later. The things I loved are so much more fun! I absolutely adored Quvenzhané Wallis as Hushpuppy. She was only five when she auditioned and six during the shooting, and I swear she is the cutest thing ever. She has the awesome, intense fierce face, and a wildness about her in this movie that couldn't have been more perfect. Beasts of the Southern Wild made me think of Where the Wild Things are (the book, not the movie.) You know, looking at all that poverty and some really disgusting things (rotten cow guts, anyone?) that it shouldn't be beautiful. But it is. Seriously, beautiful. Like a fairy tale almost, where this wise, wonderful little Hushpuppy sees her own magic with startling clarity. I was completely charmed by this movie.
Brian: I've been hearing about this movie ever since it premiered at the Sundance Film Festival in January. It's gotten raves all across the board, and I've spent most of the summer checking on Reno's theater schedule to see when it would finally arrive here. I sat down at the screening ready to fall in love, but while I was definitely impressed with the movie, especially the performance by the lead actress, and the fairy tale quality that really rings true in the end, I have to admit I wasn't particularly affected by the movie very much. Later in the same day I saw Safety Not Guaranteed, another low-budget indie, and that movie I haven't been able to get out of my mind for the past few days. Not with Beasts of the Southern Wild though, unfortunately. I enjoyed it while I watched it, but I was never fully engaged. It meanders a bit too much, and by the halfway point I found myself admiring the cinematography and the performances than fully committing myself to the story.
Shaunta: In the middle of the movie, it started to lag for sure. That would be my big problem with it. There was a sense in the beginning of waiting and waiting for the story to start, and then it was on the downside, without any real climax or story there. That lag wasn't enough to keep me from enjoying myself, because the movie was pretty to look at and whenever it got too laggy, there was always a little oomph to bring me along. Beasts of the Southern Wild is a quiet kind of movie, but for me it was one that I fell into, even when the plot dragged a little in the middle. I didn't see Safety Not Guaranteed, but as far as pretty indie movies go, I thought this was a sweet one. It's not a big-budget action movie for sure, and not as affecting as Moonrise Kingdom (which was one of my favorite movies this year, and  for me is the same sort of movie), but still worth watching. I think even worth watching on the big screen, to fully enjoy the gorgeousness of the film. You know, I love a book or a movie that takes me away somewhere. This one was so fully immersed in this rich, beautiful, poverty-stricken, dangerous corner of Louisiana, that I couldn't help but love it. It's so funny how different people connect differently with different stories. I think this one hit me, because I've been that little Hushpuppy before, required to be the one with the answers when her parents couldn't be. Maybe not at six, but still.
Brian: I just looked to see that Beasts of the Southern Wild is still playing in theaters nationwide, and it's because it's such a great indie gem. But that, like Safety Not Guaranteed, affected me. I really got into the characters in that one, and I fell in love with the two kids. I loved Wallis as Hushpuppy in Beasts of the Southern Wild but I never fully connected with her journey. I agree with you, Shaunta, though, that the movie depicts Louisiana beautifully; the cinematography is extraordinary. I was also happy to see the quaggas depicted on screen, given that I'm working on a book jam-packed with extinct creatures! Overall I can easily recommend this movie, but I wouldn't say you have to rush to theaters. It would make a perfect rental at home, on a rainy night when you're in the mood for something a little different.