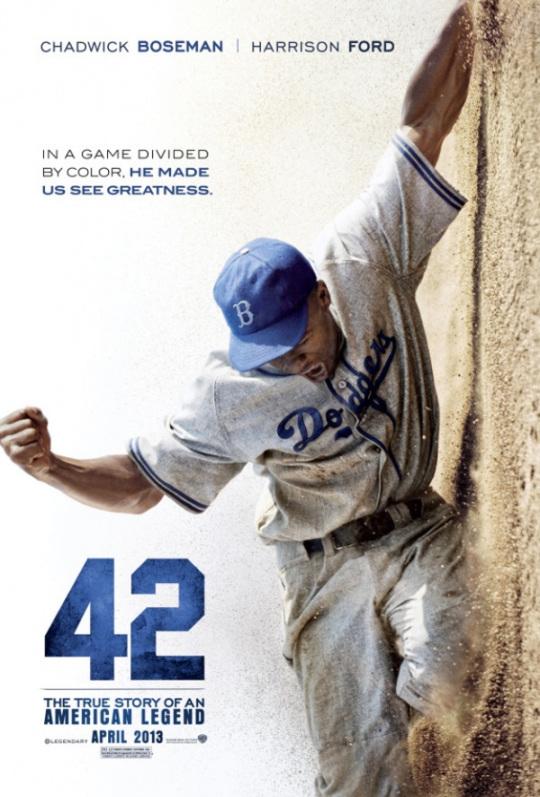 Title: 42
Directed by: Brian Helgeland
Distributed by: Warner Bros Pictures
Release Date: April 12, 2013
Rated: PG-13

Synopsis: The life story of Jackie Robinson and his history-making signing with the Brooklyn Dodgers under the guidance of team executive Branch Rickey. (Via IMDB)
Brian: I watched three movies in a twenty-four-hour period. The first was the moody, atmospheric drama The Place Beyond the Pines, and the third was the moody, atmospheric drama To the Wonder. Sandwiched between these two was the unabashedly old-fashioned historical sports drama, 42. I didn't plan the screenings this way, but they couldn't have been lined up any better. I love a film that does something different, that digs deeper, that ambitiously probes the power of what a film can do. The Place Beyond the Pines is that movie. But sometimes we just want to be told a good story, one that educates us on a specific moment in history, and one that works as pure entertainment. If every movie was like Place Beyond the Pines, we'd all need a stiff drink. If every movie was like 42, we'd need to start reading more books. That's the magic of the movies. Each one serves a purpose. And each can be appreciated for its own merits. 42 is not the film Place Beyond the Pines is. But it's still a great film, an inspiring film, and it earns my highest recommendation.
Shaunta: I'm a total sucker for a good sports movie. I really, really love a film where I feel good at the end of it, and sports movies usually do that for me. This one was particularly good. I grew up working in my dad's baseball card shop, so I'm very familiar with Jackie Robinson. Here's the truth: this film probably didn't give a completely balanced view of the man. It didn't show any dark side, any negative at all. But, I think as long as you realize it's meant to be a feel-good movie, that's okay. Our entire theater got into this one. People were laughing and clapping and gasping, and it was awesome.
Brian: 42 is a fun, effortless crowd-pleaser of a movie, one that reminded me of A League of Their Own, a favorite of mine as a kid. There's not a scene that lags, not a scene that heads in the wrong direction. There's nothing particularly special about the movie, nothing that makes it stand out from the decades-long history of sports films, but again, not every movie needs to be. 42 is grand entertainment, and one that is the perfect kind of outing for the whole family.  It was written and directed by Brian Helgeland, who won an Oscar for writing L.A. Confidential, and who directed two films with Heath Ledger, most notably A Knight's Tale. He's probably the most famous alumni of Loyola Marymount University, where I received my BA in Film, and I'm so happy for him with this terrific film. He doesn't make a false move here. Most surprisingly, except when he goes a tad overboard with the dramatic music and use of slow-mo in the film's climax, he doesn't flourish the story with unnecessary gimmicks. He lets this significant story of our history play out in a straightforward fashion that simply works. The movie's funnier than you might expect. It has moments that makes you want to cheer (and trust me, Shaunta and I did at least twice). 42 is Helgeland's most effective film as director to date.
Shaunta: 42 reminded me of A League of Their Own, too. It also reminded me of the feeling I got from watching movies like Secretariat and Sea Biscuit and Cinderella Man. It's nice to have someone (human or horse, I guess) to root for. I think what's special about this movie isn't so much the movie itself, but the fact that our theater was filled with little boys in their ball caps having a lot of fun. The score was thrilling, the baseball scenes themselves were wonderful, I loved the chemistry between Robinson and his wife, Harrison Ford was fantastic as a total curmudgeon. This was just a really fun movie.
Brian: The casting is terrific. Chadwick Boseman has a star turn as Jackie Robinson, but what's so refreshing is how he underplays the character. He keeps the character grounded, as someone who loved his wife and child, and loved the game of baseball. The film boasts an impressive list of character actors, including Alan Tudyk, Christopher Meloni, and John C. McGinley, among others. And then there's Harrison Ford, who hasn't been this exciting, or this fresh, on screen in twenty years. Lately Ford seems to have been playing variations on himself, in movies like Morning Glory, but he creates a fully realized character from the inside-out in 42, a new look, a new voice, a specific way of sitting and walking. Ford is fantastic in this; it promises a potentially great third act to his nearly five-decades-long career. I walked into 42 knowing only the basics of Jackie Robinson and his legacy, and I came out of the movie with a great appreciation, for who he was as a man, and how he changed history. "What are you afraid of?" Jackie says in the film's final scene. No line could have summed up the message of this movie any better.