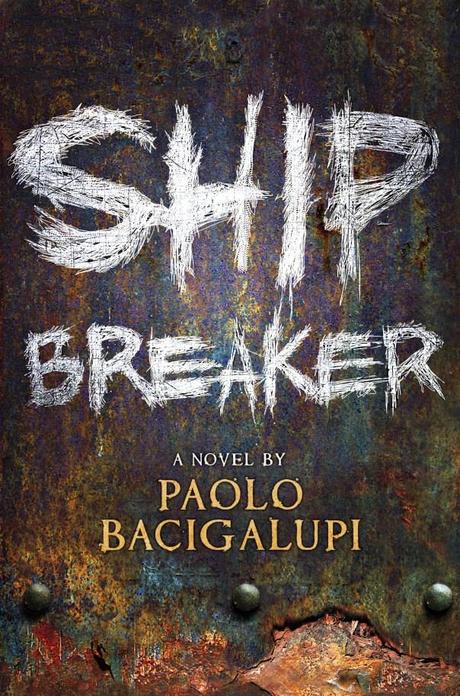 Title: Ship Breaker
Author: Paolo Bacigalupi
Series: Ship Breaker Series, Book 1
Publisher: Little, Brown Book for Young Readers
Publish Date: 5/1/2010
Genre: YA Dystopian
Pages: 326
Source: Brian: Borrowed from Shaunta!
Buy the Book: Ship Breaker

Synopsis: In America's Gulf Coast region, where grounded oil tankers are being broken down for parts, Nailer, a teenage boy, works the light crew, scavenging for copper wiring just to make quota–and hopefully live to see another day. But when, by luck or chance, he discovers an exquisite clipper ship beached during a recent hurricane, Nailer faces the most important decision of his life: Strip the ship for all it's worth or rescue its lone survivor, a beautiful and wealthy girl who could lead him to a better life. . . . (Via Amazon)
Brian: Ship Breaker is not the kind of book I would necessarily read, and that's part of the reason why Shaunta and I started seeking out Michael L. Printz award winning books at our local libraries and bookstores. The fact that this novel has won pretty much every award known to man doesn't help matters either. Shaunta was the one who talked up this author and this book and told me, even though I had little interest in reading a book about a guy who spends his days scavenging for copper wires on oil tankers, "You should read it just to see why it's winning all these awards!" As a YA author, I'm definitely intrigued by all the stories resonating with readers out there, so I was excited to sit down and read Ship Breaker, the first YA novel from author Paulo Bacigalupi (say that one three times fast). What's my verdict? I really enjoyed it. I poured through it in about three days, and found it to be a fascinating journey. The biggest praise I can give the book is that I found it to be one of the more original stories I've read in a long, long time.
Shaunta: I loved this book. I think everyone knows by now that I'm a sucker for a good story. Ship Breakers was a good story, in spades. I loved the main character. I loved the dystopian-Florida setting. The huge ships were exciting and ominous and pretty much characters in themselves. Bacigalupi managed to build a future world that made sense and was scarier for being something that I could imagine happening. I write dystopian and I love to read it. Ship Breakers did not disappoint. Brian is right, the story was so original. It's easy to see why it caught the attention of every award committee out there.
Brian: While Shaunta told me she thought the story gets better and better in the second half, I actually found the first hundred pages or so to be the most interesting, as we follow our hero Nailer in the depths of the oil tankers as he tries to make sense of his unthinkable life. While this is a world totally unlike our own, the author writes in clear, breathtaking prose that keep things moving at a brisk pace. The writing style actually reminded me of The Hunger Games, the way the action just keeps moving. I loved Nailer so much. He was a fascinating teenage character. The scene where he falls into oil and has to swim his way out is horrific and beautifully captured on the page. I also found his father to be one of the most chilling characters in recent literature. I wrote a pretty awful father in my last manuscript, but he's a loving, charming guy compared to the venomous dad in this thing. The second half of the book lost me a little bit, but I admired the author's writing and definitely look forward to reading more of his work. I'd especially like to check out his adult books. If you're looking for a YA novel that's different and wholly original, you could do a lot worse than Ship Breaker!
Shaunta: Nailer's dad was bad to the bone, for sure. But he was so well rounded and well written. He was creepier because he was so real. And I pulled for Nailer more for the same reason. He came alive on the pages. The end to me wasn't actually as good as the beginning, although I still think it was well done. It took on a kind of Pirates of the Caribbean vibe toward the end that was a little bit much. And I think that the minor love story felt a little dropped in and could have been developed more. But over all, I loved this book. I'm really looking forward to the sequel and to reading the author's other book.  I love that I found a new author to follow so early in 2013!