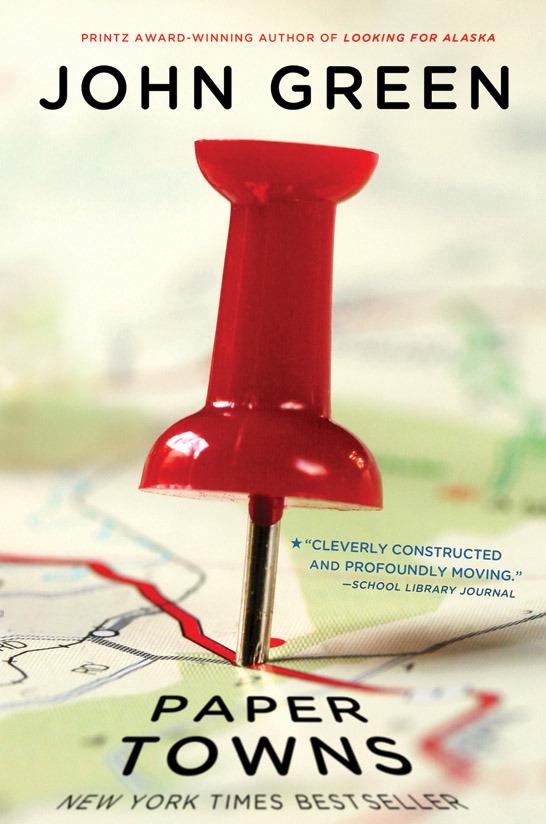 Title: Paper Towns
Author: John Green
Series: N/A
Publisher: Dutton Books
Publish Date: October 16, 2008
Genre: YA, Contemporary
Pages: 306
Source: Bought and Shared!
Buy the Book: Paper Towns
Synopsis: Quentin Jacobsen has spent a lifetime loving the magnificently adventurous Margo Roth Spiegelman from afar. So when she cracks open a window and climbs back into his life—dressed like a ninja and summoning him for an ingenious campaign of revenge— he follows. After their all-nighter ends, and a new day breaks, Q arrives at school to discover that Margo, always an enigma, has now become a mystery. But Q soon learns that there are clues— and they're for him. Urged down a disconnected path, the closer he gets, the less Q sees the girl he thought he knew.
Shaunta: Paper Towns is a funny book. I mean that in the most literal sense, and also in a more metaphysical sense. There were parts of Paper Towns where I laughed so hard, I could barely breathe and my husband had to come ask me what was wrong with me. Right through to the end, there were these pockets of take-my-breath-away funny. It's also a funny book, because it is so very much like Green's Looking for Alaska. So much so, that I wonder how he managed to get it published without someone saying, "you know, John, this is the exact same book with different names and a different setting." Cute, nerdy, smart boy is in love with quirky, beautiful, selfish girl, and spends his time tracking her down while learning the meaning of life and hanging out with his awesome group of friends. That's a one line description that could be used, equally as well, for either book. If someone other than John Green had written Paper Towns the whole world of YA readers would be screaming plagiarism. But he did write Paper Towns, so it's hilarious and sweet and touching and it reads so fast that you barely get started and the next thing you know you're at the end. Paper Towns does slow down some in the middle. And unlike Looking for Alaska, where the nerdy boy has just met the quirky girl and she pays attention to him so his obsession makes sense, I got slightly annoyed at Q's infatuation with a girl who ignored him for nine years, even though she lived right next door to her. See what I mean? Funny book, because I have some criticisms, but I enjoyed every minute of reading it. I think what I liked most about Paper Towns is the way that Green was able to bring to life that late-adolescent feeling of possibility. As a grown-up, it's nice to spend a few hours back there.
Brian: Think of my 2012 as the year of John Green! I started the year reading and falling in love with Looking for Alaska, which remains my favorite read in a long, long time. Over the summer I devoured The Fault in Our Stars, also one of the best books I've read all year. And I close the year out with one more Green title, Paper Towns (I didn't want to read everything! Next year I still have An Abundance of Katherines and Will Grayson, Will Grayson to look forward to). I just love the plots of his books, the characters, the warmth. They make me laugh and they make me want to be a better writer. Paper Towns for me wasn't on the same level of the other two Green books I read this year, but I still cherished the time I got to spend with Q and especially Margo, who was such a fascinating character that I was sad when she disappeared for the second half of the book. I laughed a lot in this book, especially the reference to the house filled with black Santas. The book zips along, and the ending was poignant and cathartic. What can I say? I love John Green. This guy continues to amaze me, and I can't wait to read his other books. And I ask a very important question: What's he working on now??
Shaunta: I feel like both Paper Towns and Looking for Alaska have this incredible mix of sadness and joy. I have a thing about super sad books. I just can't do them. But John Green manages to put enough hope into his stories that I always come away glad to have read the book even if I cried in the middle. I've heard that An Abundance of Katherines is cut from the same nerdy boy/quirky girl cloth as Paper Towns. I suppose when you do something as well as Green does this style of books, it makes sense to just keep doing it. I'm looking forward to reading more John Green next year, like Brian, and I just know he's busy writing something else that will delight me and make me laugh. When I was a teenager, I harbored some serious planning and dreaming about running away to New York City. It just occurred to me that one of the reasons I loved this book so much is that when I was 17, I wanted to be Margo. I never got up the nerve, but the idea of running away from my dysfunctional life and just having a do over was so appealing. The planning got me through, even if I never executed it. Maybe Paper Towns isn't Looking for Alaska, but it's something well worth reading anyway.