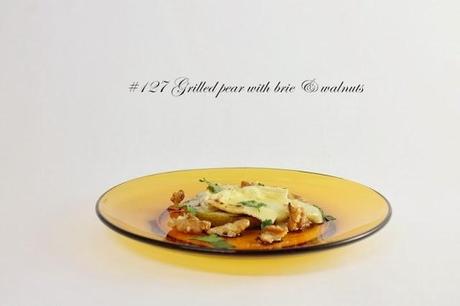 This is a really great way to serve cheese, I used a fresh slice of pear and grilled it on high heat and then put the Brie cheese on top and let it slowly gratinate in the oven wich makes it taste so much more. The walnuts gives the dish some texture and saltiness that goes great with the cheese. if you think it get´s to rich you can add a few drops of a good vinegar.
Grilled pear with brie & walnuts
fresh pears, firmwalnutsBrie cheeseparsleyolive oil
Slice the pear and brush it with olive oil. Grill the pear until it´s almost cooked through. Slice the Brie cheese and add a generous slice on top of the grilled pear and put it in the oven for about ten minutes or til the cheese starts to get golden.
Remove from the oven and put on a plate, add the walnuts and a few leafs of parsley and a few extra drops of olive oil.