0 Flares
0 Flares
×
New to little Indiana? Subscribe for free to my RSS feed. Thanks for stopping by!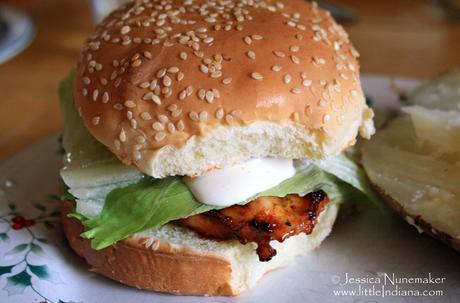 Buffalo Chicken Sandwich Recipe
If you love the taste of buffalo chicken wings but want something a bit heartier, you will love this Grilled Buffalo Chicken Sandwich recipe!
My husband loves to grill–we grill year round! This recipe lets you make it all right then and there.
Don't forget to slightly flatten your chicken so it not only takes less time to cook but so it fits on a sandwich better. From the Food Network.
Grilled Buffalo Chicken Sandwich Recipe
Print Buffalo Chicken Sandwich Recipe
Rating: 51
Prep Time: 5 minutes
Cook Time: 15 minutes
Total Time: 20 minutes
From the Food Network: Dinner with the Neelys.
Very good and easy!
Ingredients
4 6-Ounce Chicken Cutlets
Kosher Salt and Pepper
Olive Oil, for grates
1/2 Cup Buffalo-Style Hot Sauce
3 Tablespoons Butter
1 teaspoon Smoked Paprika
1 teaspoon Apple Cider Vinegar
1 Clove Garlic, Minced
Topping
Lettuce, Tomato, Ranch Dressing or Blue Cheese Dressing, and/or Swiss Cheese (optional)
Sandwich Buns
Instructions
Grill the chicken until it is cooked all the way through.
Meanwhile, combine Hot Sauce, Butter, Paprika, Apple Cider Vinegar, and Garlic to a saucepan.
Place pan on grill to heat, then dip chicken into pan.
Cook for one minute on each side.
Top with Lettuce, Tomato, and/or Ranch Dressing or Blue Cheese Dressing.
Schema/Recipe SEO Data Markup by ZipList Recipe Plugin2.0
http://littleindiana.com/2013/03/grilled-buffalo-chicken-sandwich-recipe/
Photos are the Property of little Indiana. Do Not Use Without Permission.
pictures in Indiana
little Indiana Tumblr blog
Just don't forget to tell 'em that  little Indiana sent you!
Don't miss a moment. Subscribe to little Indiana and receive instant updates to stay on top of everything "little."
little Indiana: Where to Stay, Play, and Eat in Small Towns in Indiana. Discovering Indiana's best small towns! Now get little Indiana on your Kindle.
Targeted. Relevant. Affordable! little Indiana advertising.