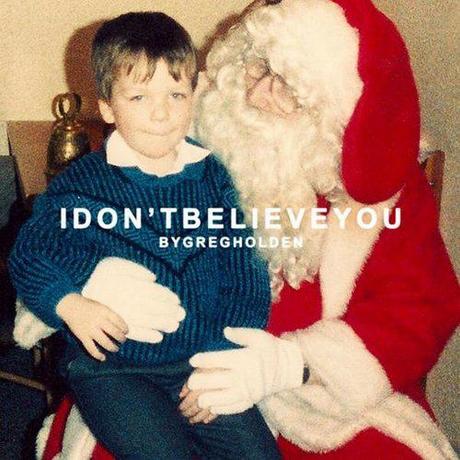 Despite his Scottish roots, Greg Holden's (@gregholden) latest release, I Don't Believe You, is imbued with a deep Americana sound and lyrical folk influences. With palpable sincerity and transparency, Holden sings of the struggles that accompany being a musician, uprooting your life and moving to the greatest, but at times loneliest, city on Earth. A barrage of intricate guitar arrangements and vocal harmonies accompany these sentiments, giving the album a heavier sound than 2009′s A Word In Edgeways or 2010′s Sing For The City. The music is undeniably reminiscent of the classic Laurel Canyon scene that produced legends such as Crosby, Stills, Nash and Young, Jackson Browne and many more, but it remains completely unique to his own personal experiences.
Holden may be an excellent singer with boyish good looks and English charm, but he refrains from writing clichéd love songs, instead tackling deeper, more difficult topics. The album kicks off with the scathing title track, which calls out many of today's musicians for lacking vision and purpose. The followup, "American Dream", is equally soul-bearing, dealing with the heartbreaking reality of poverty and sacrifice. Accompanied by plodding guitars and drums, Holden's voice is haunting as he sings, "I'll try to keep you warm tonight, Please don't keep telling me you're starving, I'll do all I can to put it right."
The lyrical highlights of the album come in the stunningly beautiful "Coney Island", featuring Jesca Hoop, and the dangerously catchy "As Far As I Can". In "Coney Island" Holden showcases his ability to use narrative to explore the paradox of loneliness in a city of millions, singing, "Take me to Coney Island where the air will clear my mind, Nobody can hurt me and nobody can push me aside." The more spirited "As Far As I Can" is an inspiring look into the fearless mind of someone who has dropped everything to pursue their dreams, "Well it won't be easy cause I've worked all my life," sings Holden, "Gonna trade all this comfort for the edge of a knife."
Despite the serious themes explored on I Don't Believe You, Greg Holden's light-hearted side won't completely escape the listener. An old favorite from his live shows, "Bar On A" closes out the album as a rousing drunken sing-a-long that sounds as though it were recorded at a bar on Friday night. "Hell & Back" also proves to be a more upbeat reprieve with thumping drums and a chorus fit for a backwoods front porch jam session.
Overall, in comparison to Holden's previous releases, I Don't Believe You is more rhythmically driven and contans grittier vocals and provocative prose. His musicality really shines through, while the tonal influence of LA-based producer Tony Berg and added strings/horns give the album a very full, engaging sound. Greg Holden may not believe you, but with the honesty and nerve that pervades his album, I definitely believe him.