New to little Indiana? Subscribe for free to my RSS feed. Thanks for stopping by!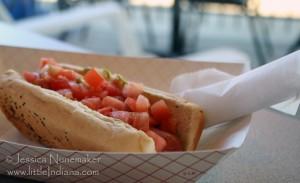 Greensburg, Indiana: Dawg House Guacamole Hot Dog
little Indiana is in the Dawg House in Greensburg, Indiana–and lovin' it!
If you thought that a hot dog is nothing more than a bun and beef frank, prepare to be wowed.
Greensburg, Indiana: Dawg House
As the owner says, it's "Where the only time being in the Dawg House is a good thing!" I can't help but agree. It certainly is good!
Hip and fun, it's a gleaming 50′s style hang-out. Black and white tiles, exposed brick, and a retro counter add to the fun. Hilarious comics dot the walls.
They deliver to folks in this Indiana town and even serve beer. The free Wi-Fi is just a nice little bonus!
The Dawg House Menu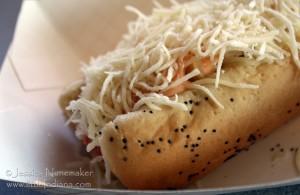 Greensburg, Indiana: Dawg House Reuben Hot Dog
This menu? Is giant! However would little Indiana choose?
Hubs decided instantly: Guacamole Hot Dog with a side of chips. Kid #1 got a cheese dog and I? Well, let's take a look at what I could have ordered!
There's also the Tex-Mex Dog, a Coney Hot Dog, the Sombrero Dog, and the spicy Firehouse Dawg. There's  also 25 dogs on the menu! But then I saw it…
If you've been following along in little Indiana for awhile, then you know how much I like a good Reuben sandwich. The Dawg House? Had a Reuben Hot Dog!
Hot Dogs at The Dawg House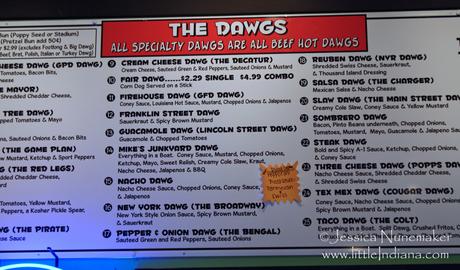 Greensburg, Indiana: Dawg House Menu
My Reuben Dog, or Dawg as they spell it, was the best hot dog I have ever eaten.
Swiss cheese, thousand island, and sauerkraut on an all-beef frank. Delicious! Who would have thought?
Hubs was in love with his Guacamole Dog. He agreed–best hot dog that HE'S ever had.
Feeling adventurous? Finish a 22 lb hot dog with the works and win a t-shirt! Did I try? Not this time–and only if we can make it a Reuben Dog!
You'll Howl for More
If you are a hot dog lover or just want a place to hang out, the Dawg House in Greensburg, Indiana is it!
It has everything–great food, great atmosphere, Wi-Fi, and even beer. It's a restaurant that I believe is destined to be the favorite local hangout in the years to come!
See more Dawg House images and other pictures in Greensburg, Indiana on my Flickr photostream.
The Dawg House
116 E Washington Street
Greensburg, Indiana 47240
812.222.2100
Monday – Saturday: 11 AM – 7 PM

View Larger Map
Special thanks to Melanie Maxwell with Visit Greensburg for footing our bill. As always, my opinions remain mine and mine alone.
little Indiana: Where to Stay, Play, and Eat in Small Towns in Indiana. Discovering Indiana's best small towns! Now get little Indiana on your Kindle.
New! Offering affordable online advertising for your small Indiana business! little Indiana Businesses is the online presence that you've been looking for.