One of my favorite hobbies is cooking.  Last night it was local, organic chicken, slow cooked in red wine for five hours, finished off with cream and golden raisins.  Maybe the cream wasn't the healthiest, but it was just the type of comfort food this girl needed!  The meal was topped off with homemade pie using rhubarb from the garden and local, organic blueberries and blackberries – all that I had frozen just so I had them for times like these!
I've been slowly collecting my cooking gadgets and utensils, trying to make sure I make wise purchases.  I was never "lucky" enough to be on the receiving end of hand-me-downs and for some reason, I was never a fan of anything plastic (except for a few storage containers).  I thought I'd share with you what's in the kitchen of The Living Green Solution.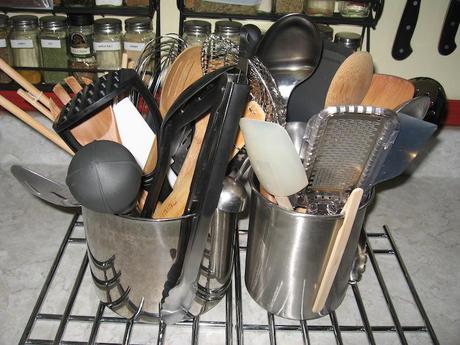 With spring just around the corner, you might get that spring cleaning itch and realize it's time to overhaul your kitchen cooking utensils.  So, where do you begin?
Decide What Makes the Cut
Go through your kitchen drawers, organizers, etc. and take an inventory.
Keep what you use and make a pile for what you don't or what you haven't used in "a while" (my rule of thumb is about eighteen months to two years).
What you're not keeping, donate or use for craft projects (I use less desirable cooking utensils for making soap and beauty products).  Other places to donate besides your local thrift store include a household goods library (in Portland, places such as Preserve-n-Serve or Nurture's Home Goods Library are options).  Coordinate a Swap Party, or donate to organizations such as Community Warehouse.  These are all far better options than your local thrift store (which should be your last resort).
Your Eco-Tool Guide
By now you probably have some things to replace or realize there may be some things you're in need of buying (new or otherwise).  Here's a guide for making wiser shopping decisions.  After I purchased my cooking utensils, I haven't had to replace them yet.
Plastic
Plastic should be a no-brainer in the kitchen.  I admit I have a couple of items (as shown), but I've all but phased out all our plastic (or never really had any to begin with).  In fact, both shown were "grandfathered in" as they were my fiance's and I felt bad for having him get rid of a lot of things already.  Why is plastic so bad? It contains toxic chemicals such as phthalates and bisphenol a, a known endocrine disruptor which can leach into our food.  Plastic will out-live almost everything (surely you and I) and have you cooked with a spatula and accidentally left it on your hot skillet?  It melted, right?
The Verdict:  TOSS IT!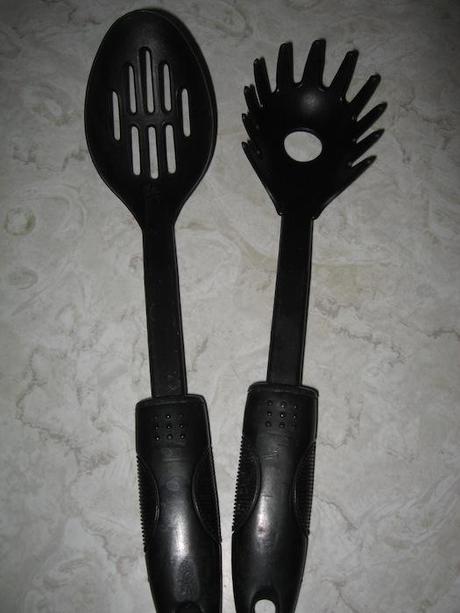 Silicone
I have a few silicone cooking utensils which I really do like.  My silicone spatula's make grabbing cookies easily off the cookie sheets and I don't have to worry about them melting and releasing anything toxic in my food (so I think).  The verdict is still out on whether or not silicone is safe or not.  In doing some research, I found two very different articles, one by Dr. Weil who states "Silicone appears to be safe. It is an inert material – nothing used in its manufacture will leach into foods. So far, no safety problems have been reported, but if you're concerned, stick to silicone kitchen tools (such as spatulas) and avoid bakeware."  Okay, I don't personally own any silicone  bakeware, I prefere earthenware (it cooks very evenly).  On the other hand, I found this article by Care2.com: "My conclusion is that the concern about silicone isn't that it will offgas when it is heated (most bakeware can withstand 500 degrees F before it breaks down), but that very small amounts of migrating silicone oil could get on food, hands and other skin. For this reason, I wouldn't use it in my kitchen or against my skin (bracelets) until more was learned about the oil."  It's to be noted that a reader submitted a question whether or not bracelets made of silicone were safe, if they're safe to wear, they must be safe to cook with?  But according to the research by Care2, it doesn't appear to be.
The Verdict:  USE WITH CAUTION Unfortunately, there doesn't seem to be enough research, you can err on the side of safety and toss it, or use your silicone minimally and safely.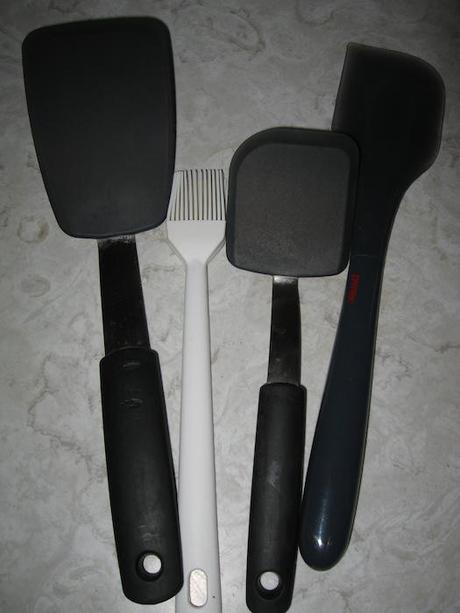 Stainless Steel
Stainless steel is very easy to clean and its unique surface has no pores or cracks to harbor dirt, grime or bacteria.  It's very attractive and requires minimal care, since it won't chip or easily rust.  It doesn't affect flavor, as it does not react with acidic foods during food preparation or cooking.  Stainless steel is made from chromium and nickel.  Because of its durability, it's a favorite in the kitchen.  The only downfall is that it can scratch your cookware but it's not toxic like some of the others.
The Verdict:  IT'S A KEEPER!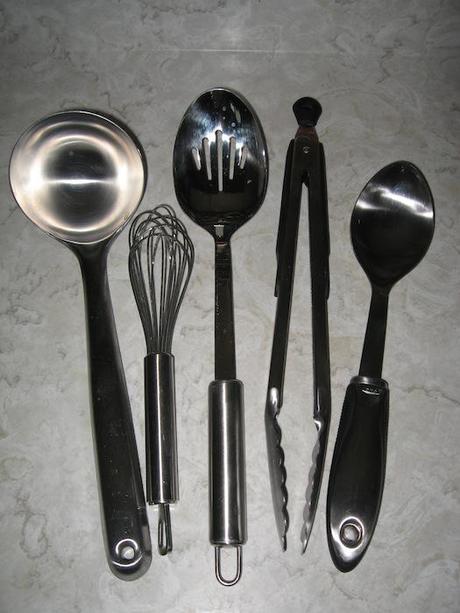 Wood
I have a slanted wooden "spoon-spatula" (I don't know it's technical term) that I LOVE.  Why?  It doesn't scratch my stainless steel All-Clad pots and pans yet it pulls up everything from the bottom of the pan (unlike regular wooden spoons that are curved).  I wish I could find more (especially in bamboo) but they're very hard to come by.  Another great thing about wood utensils is that they don't conduct heat (unlike some of my stainless steel ones).  They're also very durable and, unlike plastic (hopefully you've gotten rid of them by now), they don't melt.  Wood is, however, harder to clean than other materials.  If used in tomato-based soups or sauces, it can penetrate the wood which is why it's important to properly treat or care for your wood utensils.  Additionally, make sure you buy utensils that are treated to inhibit bacteria growth, as wood can tend to present a favorable environment for bacteria.
If you're going to buy any cooking utensil, opt for bamboo.  It's stronger than most wood utensils and they're water resistant so they don't stain like normal wood does.  Bamboo is also more environmentally friendly as it's a renewable resource.
The Verdict:  IT'S A KEEPER! (if it's bamboo)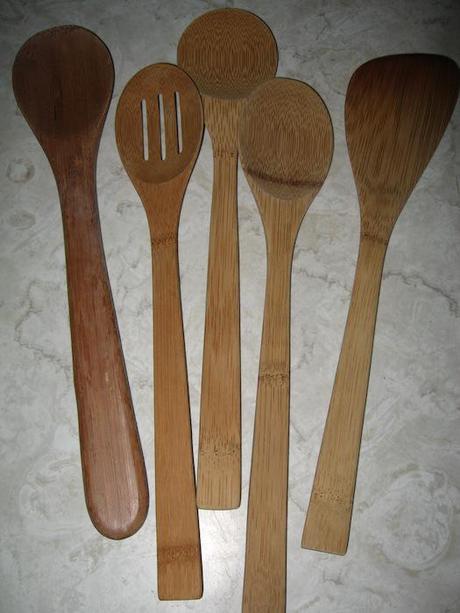 Can you tell the difference? Bamboo utensil on the far left. All others are wood. My favorite slanted utensil far right.
If you've taken all these steps you should be well on your way to a much greener cooking utensil collection!