I must confess. I am a fool for paper. Any kind of paper is awesome in my book, but wrapping paper holds a special place in my heart. Colors, textures, patterns. The sheer sheen of paper is enough to make my head spin with delight. I color-coordinate my wrapping paper with the tissue, tags and bows to ensure a cohesive experience. I enjoy looking at wrapping paper and touching it and creasing perfect lines into it and taping down that perfectly cornered flap. I always thought it would be cool to get a job as a seasonal gift-wrapper at the mall. Wrapping presents all day for strangers? Yep. Sign me up.
(Image Source)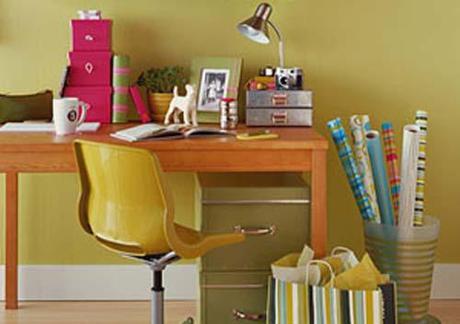 One day I will have a wrapping station of my very own, where I can play with paper to my heart's delight. A girl can dream, can't she?
When I was in college I worked at a little boutique where we still wrapped (for free) at the customer's request…ah, the '90s. I looked forward to the holidays with eager anticipation, drooling over the industry catalogs and dreaming of which paper would grace my wrapping station that year.  To my dismay, I usually ended up with the white-glossy-all-occasion kind. This made me stretch my imagination and think of new ways to dress up packages while still keeping our overhead low. Gold paint markers became my best friend. I drew animal prints, Christmas ornaments and even did fancy lettering of the recipient's name right on the package. One customer even liked it so much she brought in an entire box of gifts for me to wrap and personalize. I was in heaven.
Sometimes, though, I would get jealous of those seasonal wrappers down at the mall and I would complain that the bows that we were using wasn't bouncy enough, or suggest that purchasing just a few rolls of patterned paper would make the gifts look special. I was met with a very adult response: "Every inch of ribbon is money out of the till." This was sage advice from an experienced and worldly businesswoman, so I listened, but not without secretly drooling over those fancy ribbons and rolls of paper. Now that I'm an adult (with bills and a mortgage and a dog and everything) I know exactly where she was coming from. Growing money is hard!
With the passage of time, and my realization that money does in fact not grow on trees, I have found that I can make so many amazing things using scraps, leftovers and just plain junk. Ingenuity is in my blood and I love to challenge myself MacGyver style. A stick of gum, some aluminum foil and a paper clip and BAM! You've got…well…a gooey wad of foil with a random paper clip stuck to it. But don't fret! By using a few brain cells and some ingenuity, you can come up with a host of ideas suitable for holiday wrapping success that are not only green, but chic and cheap! Say that three times fast.
(Image Source)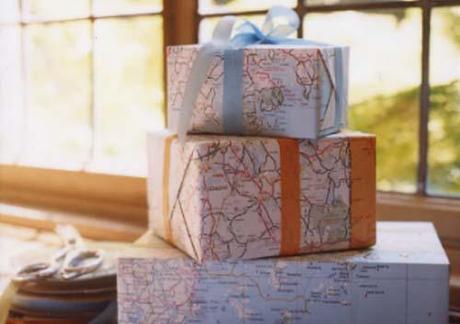 Using old road maps are a great way to share your travels with family and friends while also keeping it green. If you travel abroad, consider saving a few maps from your favorite places and highlight your route or marking the cities that you visited. Then whip out the slideshow as your guests sip their wine and pretend to be interested in the 15 blurry pictures you took of that koala eating eucalyptus leaves.
(Image Source)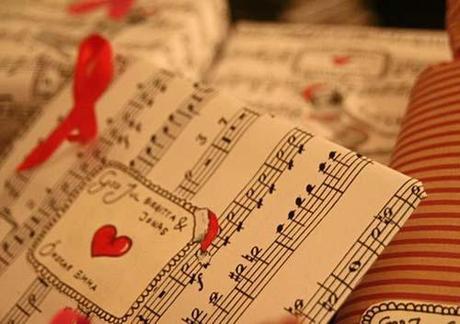 Any music fan would appreciate a gift that is thoughtfully wrapped with their interests in mind. I have seen rolls of music-themed wrapping paper in the stores, and at the price they're asking, you could save your money and buy tickets to a concert! So do just that. Buy those tickets for a lucky friend, and then wrap them in your very own (very original) sheet music wrapping paper. To add a vintage touch, use a tea wash to stain your paper. Simply make tea as you would for drinking, allow it to cool, and dip the pages into the liquid. Crumpling the pages into balls before setting out to dry gives them an aged appeal that will add character and charm to your gift.
(Image Source)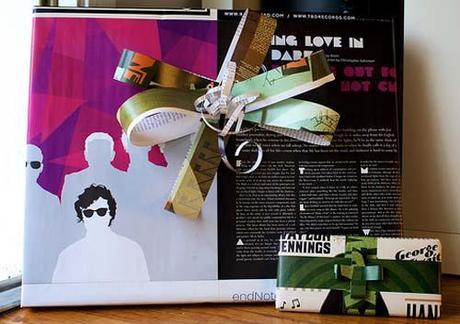 Do you appreciate a good typeface? Do you cry tears of joy when you hear the word "margin"? Does thinking about white space give you a special tingle in your tummy? If you answered yes to all of these questions, then might I suggest an idea that will send your heart aflutter: magazine pages as wrapping paper. Sure, you've been saving those old back-issues to read again one day in the distant future, but let's face it...you will probably never get around to it. It's time to shake loose your chains of glossy-paper bondage and free up some space in your bookshelf. Your dust bunnies will thank you for it, and the person receiving your awesome package will, too.
(Image Source)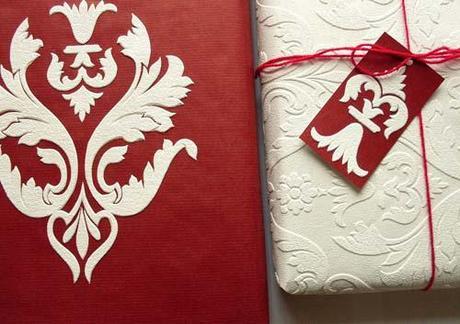 No matter what size your room, there's always that last bit of wallpaper that goes un-pasted. It sits lonely in a closet or drawer somewhere, longing to feel the oneness that comes only from bonding to something else. Preferably, a wall. Help your wallpaper fulfill it's destiny by using it to gracefully adorn your presents. From one-toned textures, to grasses, to luxe metallic prints, the possibilities are nearly endless. You could even cut out patterns from vinyl wallpaper to embellish other presents or paper goods.
(Image Source)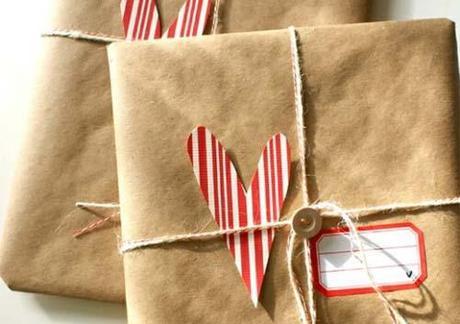 Paper grocery bags are not just a one-trick pony. No sir. They are perhaps one of the most versatile materials on the planet (just ask me, I wallpapered my dining room with them). You can splatter them with paint, stamp patterns with ink, moisten and crumple them to create an interesting aged look, or get old-school by breaking out the crayons. Speaking of crayons, why not let the kids do the decorating? It's a good way to showcase their artwork for all to see while also demonstrating that recycling can be fun.
Of course, there's also that time when you receive a present that is wrapped in such delicious paper that you wish you could save it. Enter – The Iron. With a towel, an ironing board and your trusty wrinkle-remover, you can press that paper back into shape and give it life for another year.
Before beginning, cut off the pieces of remaining tape or simply peel them off if they are loose enough. Place the paper (pattern side down) on the ironing board and cover it with the towel. With your iron on the lowest setting, slowly glide over the towel until the wrinkles are removed. Done!
It would be fun to start a tradition to see how many years you and your gift-giving circle can re-use the same wrapping paper and bows. Once your friends realize how easy it is, prepare to be staring at the same blue and white snow pattern for decades, recalling the year you received that horrible knitted sweater with one short arm (but it was wrapped in that gorgeous paper, which totally makes up for it).