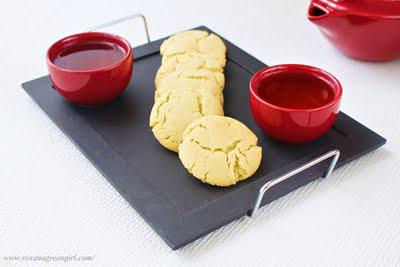 I did it! I did it! If you have kids you probably know the We did it song from Dora the explorer After 3 batches and 1 pound of butter ruined I baked the first Vegan Sugar Cookies!! I did it! I did it!!
Ever since I read Ann Gentry cookbook and discovered the vegan butter I've been dreaming to make cookies that were cholesterol free. Being away for 3 weeks set my plans back a little but now, since I'm the Queen of my Kitchen again I can experiment as much as I want. 
My local groceries carry two types of vegan butter : Smart Balance Light - butter spread  (not good for baking) and Earth Balance Sticks.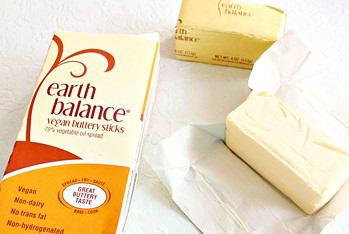 If you ever bought a package of vegan butter you probably noticed it doesn't harden as a regular butter, not even after you freeze it. For me that was a challenge since I usually make my cookie dough in the food processor. The blades simply cream the butter even if I pulse just 2-3 times. Back to basics, make the dough by hand in a bowl. 
I was looking for a sugar cookie, crisp on the edges and soft inside. And not just that, a cookie with an Asian touch, a green tea cookie. 
The first two batches were a complete disaster, I'm too ashamed to even show photos of my ginormous sugar cookie that spread during baking. 
The third batch cookies were delicious, but managed to burn them a little. My bad, I know. 
The forth batch and the last one was a 110% success. Crisp and soft, and the powdered green tea added to the dry ingredients give them a little something to make you grab the second and maybe even the third cookie. After all I used green tea which is known as a weight loss supplement. Imagine what a life would be eating these cookies while losing weight. I'd be the skinniest one!!


Please follow me to my friend Nami's blog for the complete list of ingredients and directions
Green tea Cookies (Vegan)  That's about it for today. Thank you so much for your continuous support. Means a lot to me.