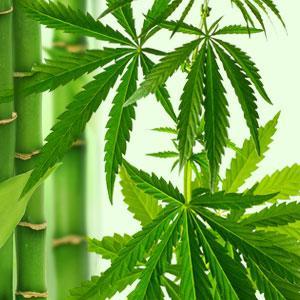 Bamboo Hemp Fragrance Oil- Fragrance Oil Spotlight

Bamboo Hemp is a very green scent.  It seems that many of our customers cannot get enough of the fresh and clean aroma of this green scent in products.  Absolutely adored by both men and women of all ages, bamboo hemp is quickly becoming many households' family favorite fragrance.  Being a huge win in both the categories of spa and green scents, bamboo hemp does not disappoint.  With it soothing, sweet, and relaxing aroma, this unique fragrance is botanical and very Zen like.  A sophisticated fresh and green scent that is elegant, this delightful aroma comes highly recommended by our customers for all applications.  If you are looking for an earthy fragrance with a crisp airy scent, Bamboo Hemp fragrance is what you need!
What does Bamboo Hemp Smell Like? 
Join the GREEN MOVEMENT with Natures Garden's Bamboo Hemp fragrance oil!  An incredibly well-balanced blend of bamboo stalks, vetiver, and patchouli, with undertones of hemp seed and oakmoss.

How Do Our Customers Use Bamboo Hemp Fragrance Oil?

For those of you who are candle crafters, this green scent smells amazingly clean.  With reviews showing strong scent throw in many various waxes, Bamboo Hemp is a huge hit.  Working well for Soy, WOW, Pillar of Bliss, Palm Pillar and Container, and Joy wax; this green scent aroma is refreshing and clean.   Now, for those of you who are home scenters, Bamboo Hemp is a keeper.  Another green scent that will fill your home with the crisp scent of nature, this fragrance is perfect for anytime of the year.  The home scenting products that this green scent has been used to make are: incense, room refreshing sprays, oil burners, smelly jellies, hanging closet deodorizers, and reed diffusers.
For bath and body crafters, this green scent is the perfect fragrance for any spa product lines.  With an amazing combination of fresh, earthy, and crisp aromas, this relaxing scent is unisex.  The usage rate for Bamboo Hemp Fragrance oil is 5% and it does contain a .33% vanillin content.  Therefore, vanilla white color stabilizer is recommended to offset discoloration in your finished products.  This fabulously green scent is used to make: lotions, massage creams, body butters, melt and pour soaps, salt bars, sugar scrubs, bath salts, shower gels, body sprays, roll-on perfumes, bath bombs, and shampoos.  According to our customers, this green scent is a keeper!  Finally, for those of you that are cold process soapers, this relaxing fragrance is a winner.  Here are the official results:  No ricing, slight acceleration, stick blend and soap at cooler temps. Discolors to a cream color.  Very well liked, especially by males.  Fresh and clean.