I think I'm supposed to be in work today but having only returned from a long weekend at my first music festival less than 24 hours ago, I spent the entire morning in bed, only to arise around midday and to begin sharing this mere summary of my four-nights at the Brecon Beacons National Park.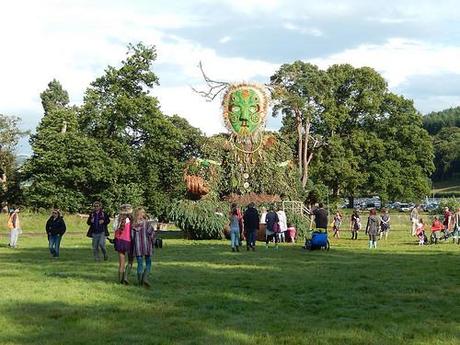 THE Green Man.
This is where the Green Man Festival is held annually. I hesitated at first when I was invited to join a friend several months ago but when I realised it was on a small scale than Glastonbury, I decided not to hold back.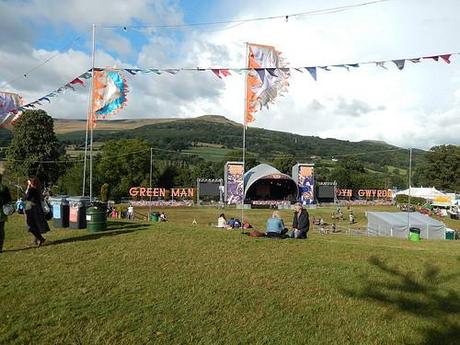 All quiet on Day 1 at the Mountain Stage.
We left England and were crossing the Severn Bridge in to Wales around late morning, just as the heaviest of the forecast showers for that day began to fall. This was on the Thursday and, as the festival didn't officially begin for another 24 hours, it was a great opportunity to wander around and to explore.
Indie music is probably the main theme of all the artists who perform here each year. There's also a good mix of folk among others and other the last couple of years, I've gained an appreciation for almost any genre with a bit of a guitar.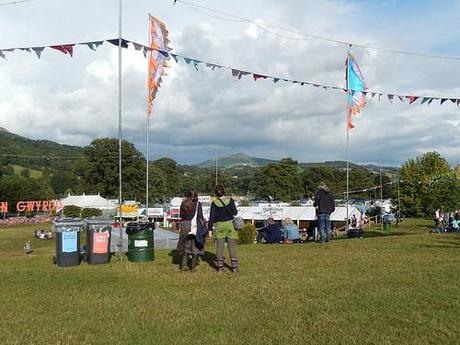 Even if the music or a certain artist isn't to your liking, you can step back to admire the scenery to the north as the Black Mountains tower over the main stage.
So, we were set up to camp for the coming 4 nights. Upon our arrival, we were fortunate to arrive and have time to pitch up during a break in the storm. Perhaps the most agonising part of this was queuing up to enter the festival. Standing in a line with heavy loads on our backs; I couldn't help but to wonder how this process might be more efficient at a larger festival.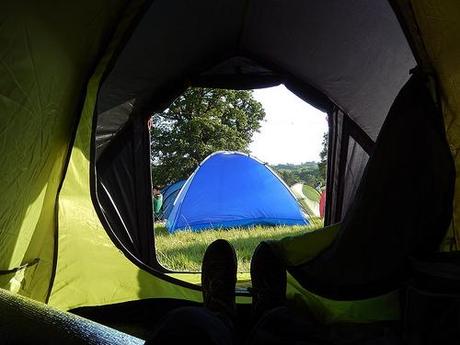 View from my room.
We parked in the West Gate car park and our intention was always to head for the quiet/family camping area… Which, as it happened was right over by the East Gate entrance and away from the main stages! After a mile of walking, we agreed that we were both tired and close enough within the eastern end of the General Camping site. In fact, we were only meters from the family pitches.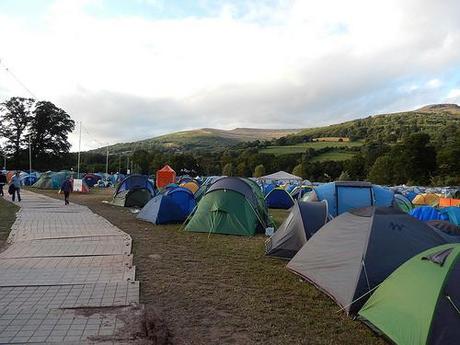 Situated halfway between the main path (it wasn't a particularly muddy festival) and the nearest set of Portaloos, we felt we were in a good position and it turned out to be reasonably quiet here for most of the nights and evenings (I heard some stories about people camped further to the west). In practice though, I quickly learned that drunken shufflers would frequently cut through and past us to the toilets each night, inevitably tripping over, bending and dislodging the pegs used to tie-down our fly sheets. A lesson learned, perhaps.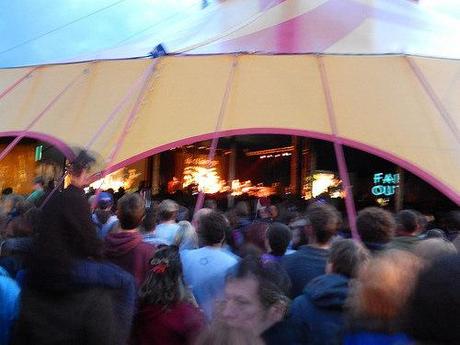 There wasn't too much going on that first night and, as I said, it did give us a good opportunity to explore. Without a doubt, the biggest attraction for the Thursday evening was the appearance of The Waterboys in the Far Out tent.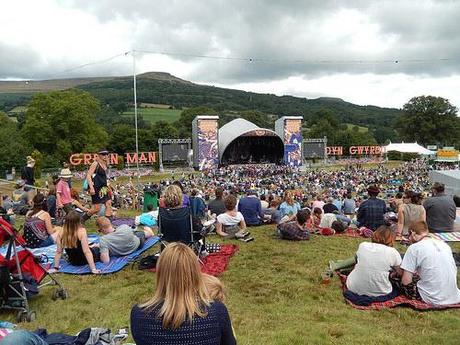 Come Friday, it was clear that more settlers had arrived overnight and that the population of music listeners and idlers was already on the increase. But the weather had also improved.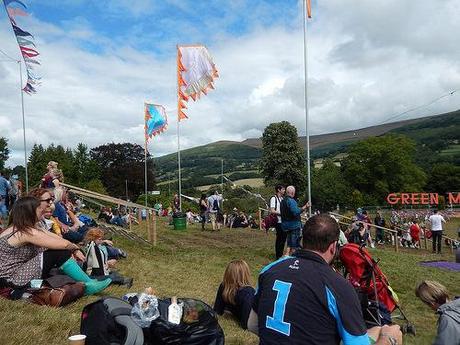 Some of my favorite acts from the entire event were present on the Friday night. Heading in to the festival, I'd only really heard of The Waterboys and Mercury Rev (who played on Saturday night). I knew a couple of names that my friend had suggested but their music remained unfamiliar.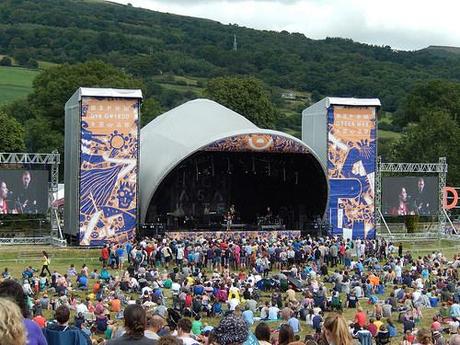 Scandinavian outfit Highasakite were hugely impressive. Their singer had quite an enormous voice for someone who appeared relatively minute on such a large stage.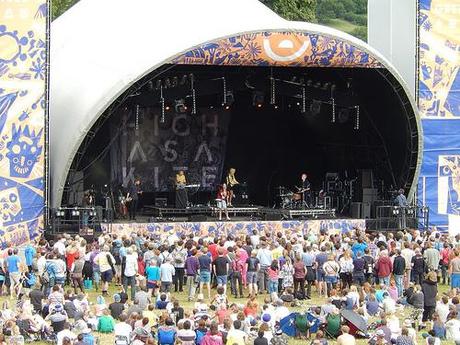 I wonder how it feels to be a foreign artist recording and performing songs in English?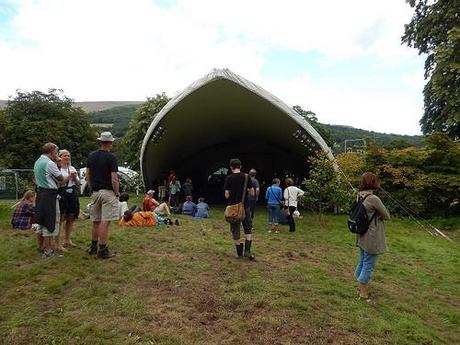 Green Man Rising.
Before the big guns arrived to take over the night shift, we popped over to the Green Man Rising tent, to check out one of the up-and-coming acts. It was quite heart warming later on to hear that one of the main-stage acts (I forget who, now) had previously performed at this smaller venue.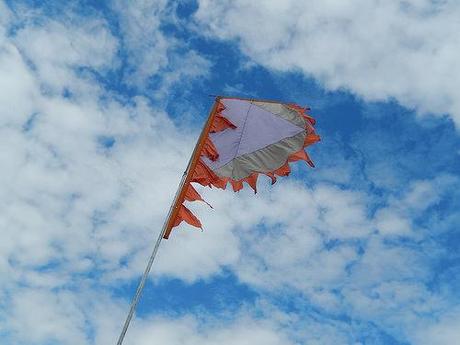 If ever you're looking to escape from the music momentarily yet without the confines of a tent, there's a nature area not far from here and close also to Einstein's Garden and Little Folk – both of which are ideal for keeping children entertained.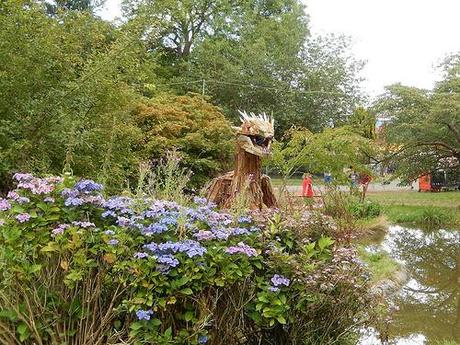 The Pallet Dragon – you can guess what it was made from.
It's not a million miles from the Mountain Stage and, as there were some surprisingly loud acts, it may not offer complete peace and solitude but it's a start.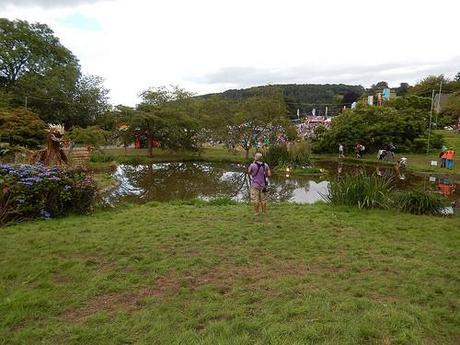 A little further to the west and you'll find the Walled Garden, which appeared to have a preference for more of the acoustic acts and lone singer/songwriters.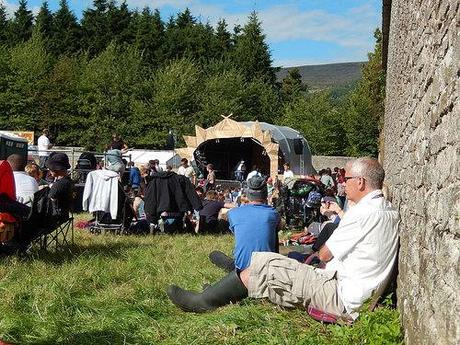 Each area seems to offer something a little different to the rest, when it comes to food and drink. Prices are probably as you would expect for a festival; averaging £1.50 for a cup of tea and £3.50 for a bacon sandwich, for example.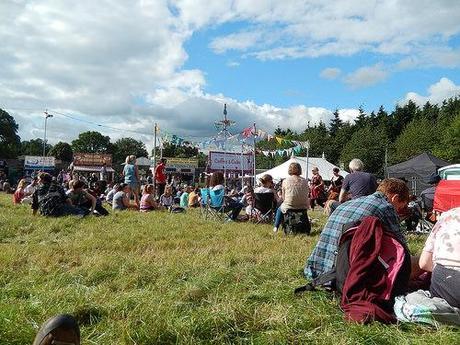 On our first night, we tried a stand for Asian food and the price of £6.50 was again average for a single meal here. I think we then had a Spanish stew the following night, with a chicken paella to close on Sunday. It was mostly a case of two meals a day (breakfast and dinner) and with our lack of physical activity beyond watching music and taking time out and away from everyday life, this worked out very well and I doubt we spent much more than £100 each over the course of the weekend.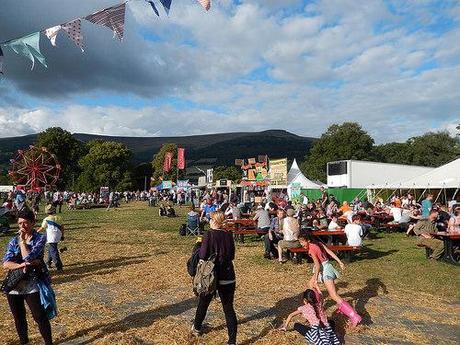 We quickly found our favorite spot for breakfasts at the top of a double-decker bus.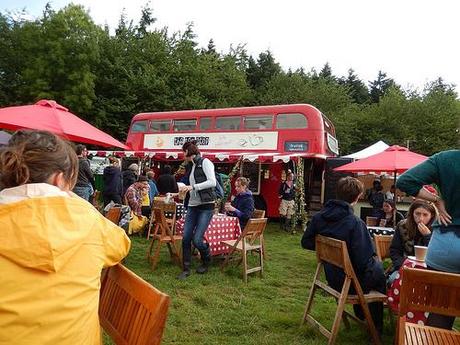 We weren't heavy drinkers and so we were up and ready to move far earlier than many once the mornings came. This meant we could often beat the crowds to the front of the queue. Although, being in the far west corner close to the comedy and talking tent, it felt as if this spot was largely unknown to the masses. Our early morning haven!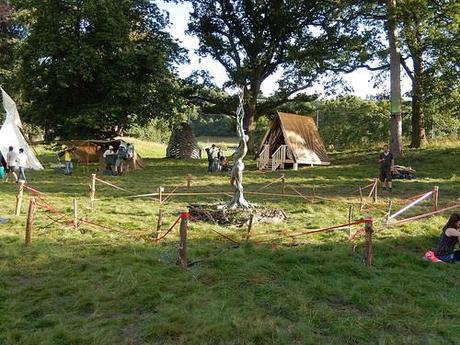 Elsewhere, we discovered a secluded spot for yoga, meditation and massages among other therapies. But with each class requiring an additional booking fee and with so much else to see during the day, we didn't exactly jump at the opportunity. My friend, who's been to other festivals, noticed a distinct lack of craft-type workshops at this festival.
Back to the music and, come Friday night, the Mountain Stage was suddenly filling up.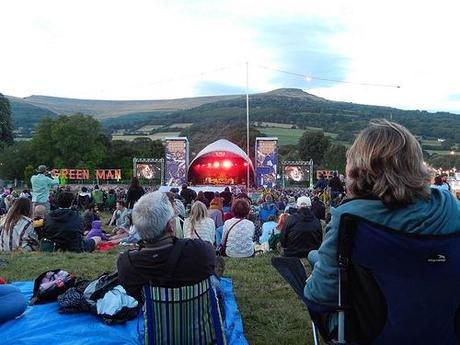 Friday night at the Mountain Stage.
I think this first act was the Augustines. An American band I'd not come across before but with comparisons to the likes of Bruce Springsteen and a strive for audience participation (one of the few bands to attempt this at the festival), they're a great live act that I'm sure you'll hear more of soon.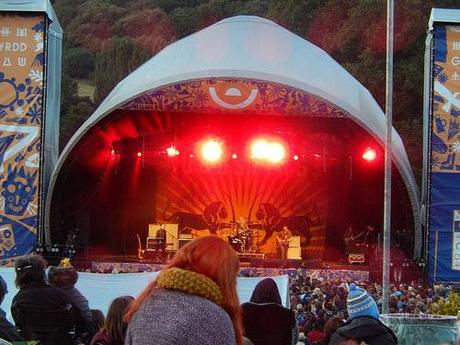 They were soon followed by Daughter, one of the 'headline'-type acts.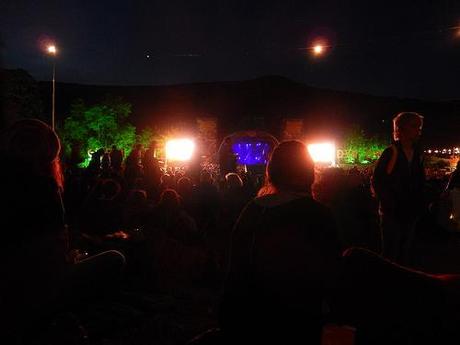 I was anticipating them to be a quiet folky act but I was pleasantly wrong and outstandingly impressed by what the female-led threesome had to offer.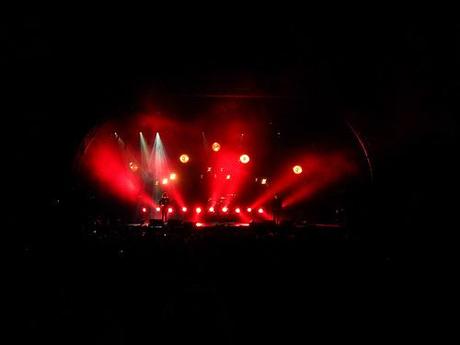 Daughter – awesome!
I'm very close to buying their album right now! Their show was outstanding. Probably my personal highlight.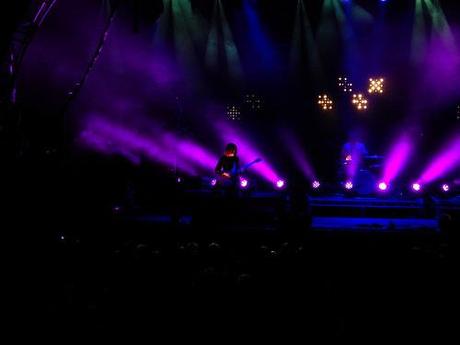 It seemed both natural and sensible to pack a torch of some sort for the evenings. It certainly helped in navigating our way past the 'trip wires' of neighbouring tents but for the most part, the entire site was well lit at night, with main paths and toilet spots illuminated. I'm intending to write another post on 'camping essentials' soon.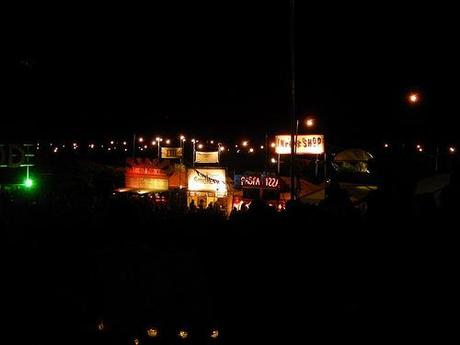 By Saturday, you could just tell that the site was no packed to full capacity, having sold out ahead of opening.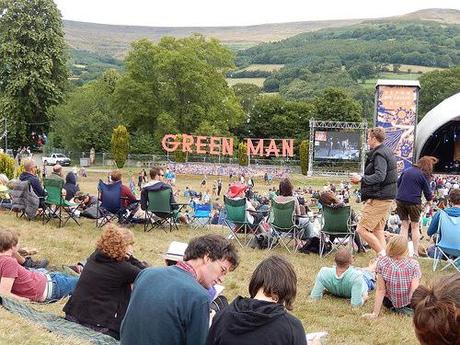 Crowds were suddenly flooding in long before lunchtime.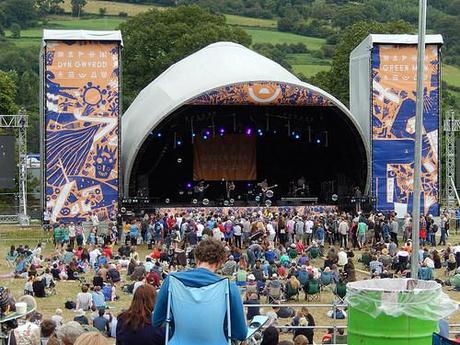 By Saturday night, the main stage was heaving: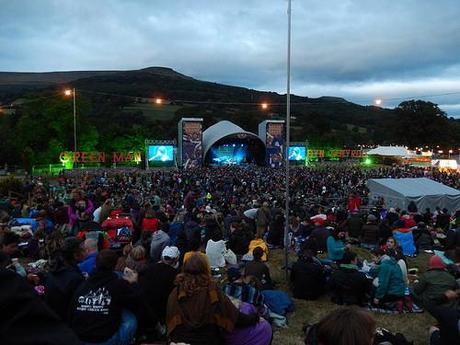 While we could just about find a place to sit, navigation from then on could be a nightmare. People weaving in and out; a different bottom filling every nook available… If you weren't aware of which stands were likely to serve people more quickly then you could end up stood in line, stomach growling, for quite some time.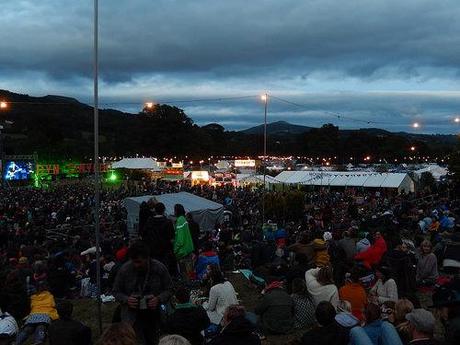 There were some good acts on the Saturday night too; I just forget their names. I'd heard things about Sun Kil Moon but they didn't impress me personally and while I could appreciate the quality of a band like Beirut later that night, their style wasn't quite to my liking.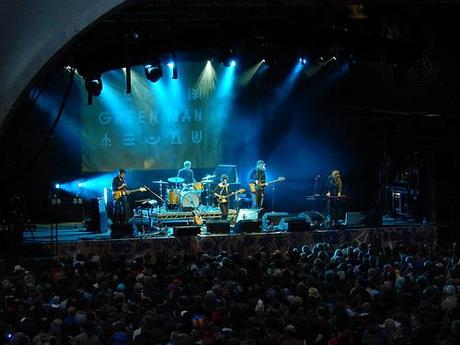 Mercury Rev (not pictured) were the one act that, clearly, everyone was keen to see. Playing forgotten tracks from the late 1990s, they weren't received terribly well, according to many of the comments I overheard. What ruined it for me was the sheer noise blasting from the stage – whether it was due to feedback or what; the cymbals alone were deafening! I had to lie back and allow most of the noise to pass over, having left my ears plugs in my tent.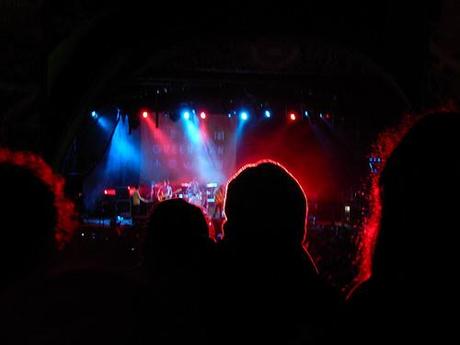 Ignoring the downpour of the opening day, we'd had pretty decent weather for the first couple of days. I will add that it seemed to get very cold in the evenings – I'm not sure whether that's because of a drop in temperature or the fact that we were situated beneath mountains but it's worth wrapping up in the late evening.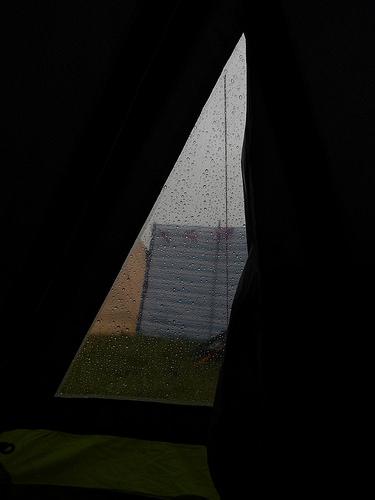 Sunday morning was dark, dull and demoralising. It had begun raining overnight and we feared we may well end up trapped under cover on a day where we were already looking at gaps in our schedule (my friend's very good at planning).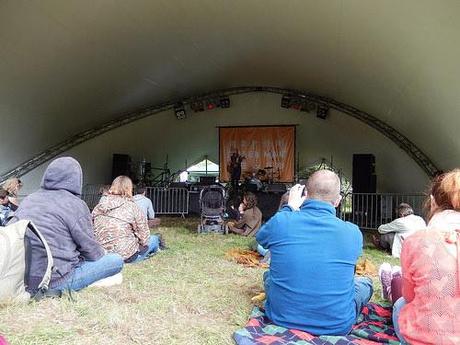 But the rain did clear and we created a day filled with a greater variety of experiences to the rest of the weekend.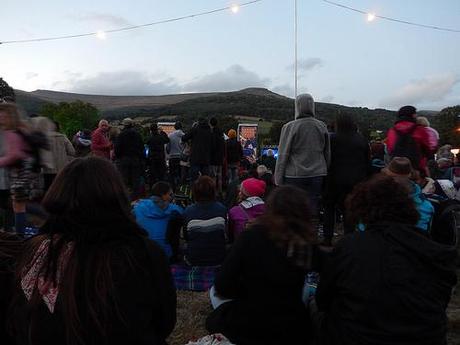 But as we returned to the Mountain Stage for one last time, our discontentment grew with an abundance of non-seaters directly ahead of us – in fairness though, they were simply standing to peer over the chair-bringers who adorned the ridge of the hillside.
We mulled over to the comedy tent, 24 hours after listening to Mock the Week's Josh Widdicombe but it wasn't to compare. There was an act who followed Josh on that Saturday evening who I'll refrain from talking about, other than to say that she was… HORRENDOUS! We'd enjoyed an inspirational book-reading talk from Andy Myers and after breakfast on the Sunday, we took part in a bird-drawing class, albeit more simplistic than what we were all expecting!
Elsewhere on the site you'll find the Cinedrome (a stone's throw from the Far Out tent) where movies will play across the day. We got to see the quite incredible Frank on our first day but from then on, missed out due to frequent overcrowding inside.
Sunday night – the official end to the festival – signed off with quiet a bang…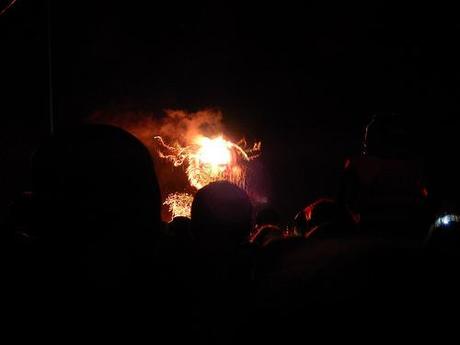 And the demise of the reincarnated Green Man!!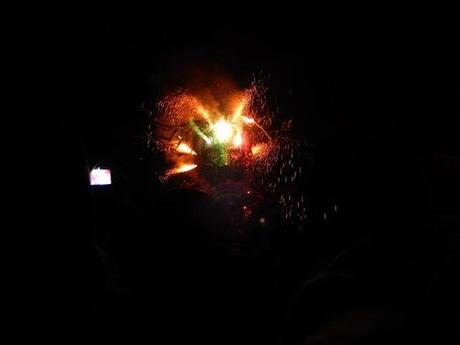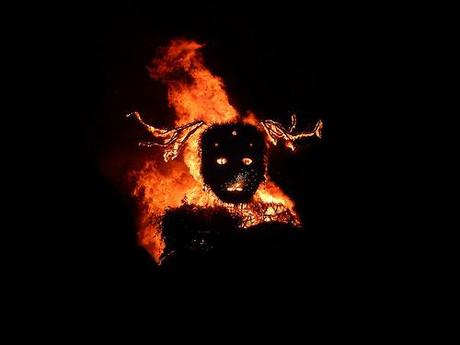 Getting very creep and almost Friday the 13th-like…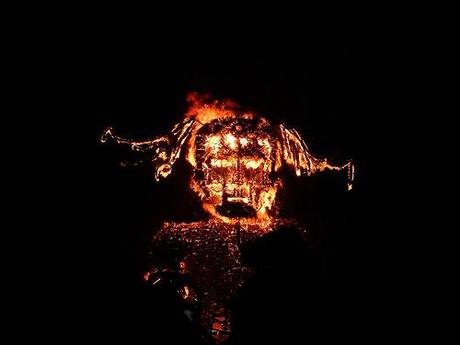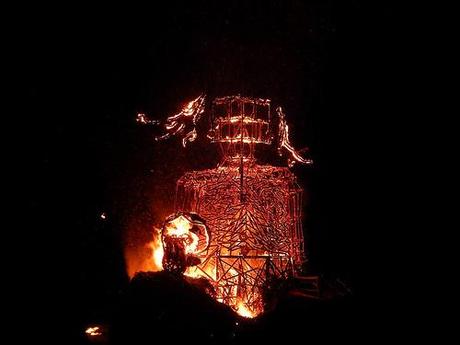 But it all ended in celebration with an array of fireworks: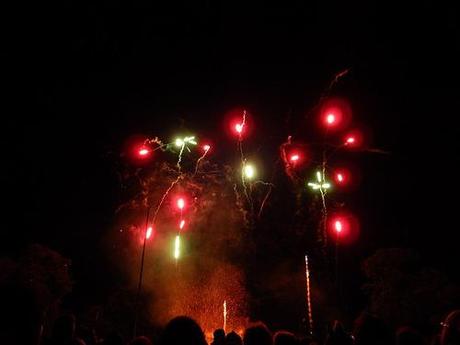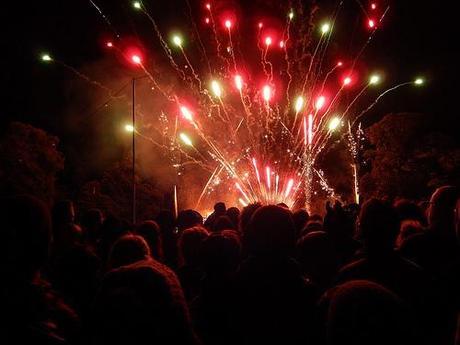 Walking back to the tents on that final night and crossing the Mountain Stage area one last time, I felt quite disgusted by the gross quantity of litter spread all over the ground.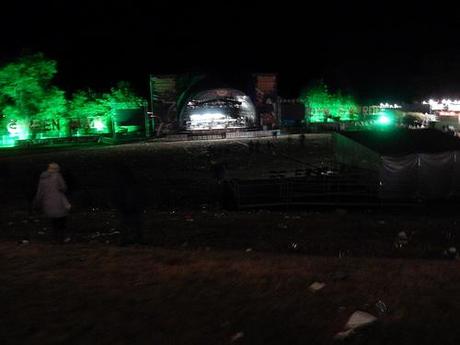 The Litter Stage…
How can people be so disrespectful? If they took away the litter-pickers (a job I've done in the past), would even half of these individuals develop a conscience?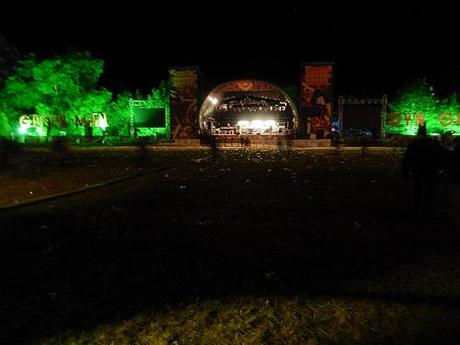 Monday morning and we packed  away our kit, returning to the car before heading back in to the site for a pre-departure breakfast.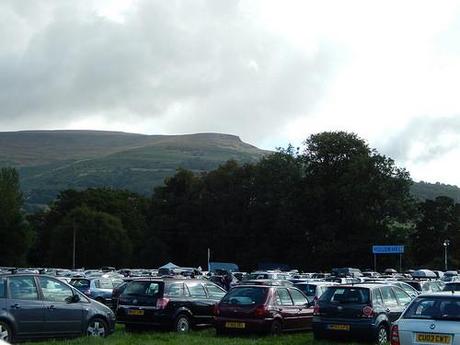 We were quite surprised find the main portion of the site was now closed off and so only a small handful of stands were open – full credit to them though, as they did a sterling job in serving the hungry masses.
If you've not been before, it's a festival I would highly recommend. Goldilocks in size, it also maintains the right kind of attitude around people and towards others. It took us a good hour to escape from the car park as everyone tried to bottleneck and hurry in to the long drive home but I would happily go again if I can find a new companion in time (my friend'll be off to explore pastures new before then). Perhaps I'll return sooner to explore those hills? ;-)
Waking up in your own bed isn't quite the same. I won't miss the smell of second-hand cannabis and farts or the crowds and queues but it was great to escape from the life of every day. It was great to experience a part of the Green Man.
Thanks for reading!