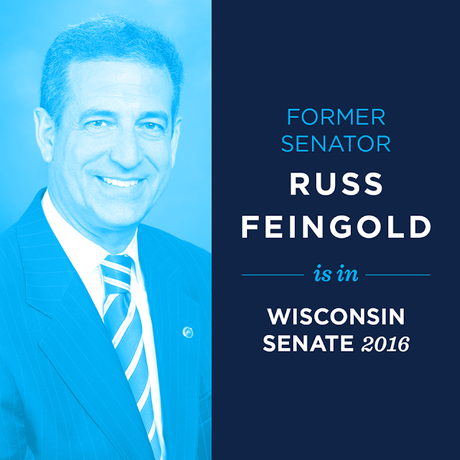 Liberals all over the country got some great news this week. It had been hoped that Russ Feingold would run for the U.S. Senate again, and on Thursday he ended the speculation by announcing he would be a candidate for his old seat. he said he wants to "bring back to the U.S. Senate strong independence, bipartisanship, and honesty", and he would be traveling Wisconsin this summer "listening carefully to my fellow Wisconsinites talk about their concerns, especially when it comes to their economic well-being".
Feingold had served 18 years in the Senate before he lost to right-wing Republican Ron Johnson in 2010 -- an off-year election that saw teabaggers flock to the polls while too many others stayed home (comfortable with how the 2008 election had turned out). There shouldn't be a repeat of that in 2016, since it's a presidential election and many more people will go to the polls to vote. The few polls that have been taken on this senate race show Feingold has a significant lead over Johnson.
If you are a progressive who loves senators like Elizabeth Warren and Bernie Sanders (like me), then you are going to love Russ Feingold. Feingold is a strong progressive. He was the only senator to vote against the Patriot Act, voted against Obama's expansion of the war in Afghanistan, and was the first to demand a timetable for withdrawal from that country. He is also a strong defender of worker rights, minority rights, women's rights, and LGBT rights.