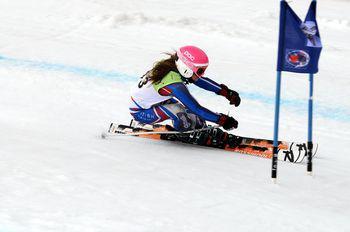 Fourteen year old ski racer Honor Clissold, from Richmond, has been selected to attend an International Youth Camp which will take place in Schladming Austria alongside the FIS Alpine World Ski Championships from 4th – 7th February 2013.
The camp will bring together 100 young skiers from around the World who will ski and socialise, watch the World Championships and learn about the region.  Two places were allocated to athletes from Great Britain, one male and one female, and competition among Britain's young skiers was fierce. The selection panel was made up of British Ski and Snowboard Chief Executive, Dave Edwards, Children's Ski Team Manager, Jenny Shute, MBE and Ingrid Christopherson, MBE.
Honor's invitation letter reads:  'You are clearly of the right standard, important when taking part in such an international gathering, but above all we loved the way you want to inspire and help others reach their potential; your skiing is not done in isolation, you include your club and your friends and there was a clear message of a feeling of camaraderie and fellowship.'
Honor is three times British Children's Champion as has just been re-selected for the British Children's Ski Team for the fourth year running. In the 2012 season she was also the British Schoolgirls and the English Children's Champion and won three silver medals at the International Trofeo Boruffa in Andorra.
For the past two seasons Honor has trained with Team Evolution in St Johann, Austria. This set up allows her to take her school work to the slopes and provides the support and management that she needs as she prepares for her transition to FIS (Federation International de Ski) racing next season.
See Honi in action in last year's Borrufa Trophy races in Andorra - the girl's got style!