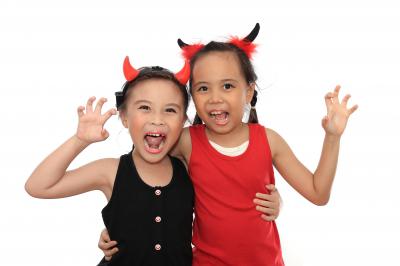 Image: FreeDigitalPhotos.net
Kids have different sorts of activities all throughout the year that they need to dress up for. Most of them require costumes such as plays, competitions, celebrations, etc. If you're a working mom, it sometimes feels impossible to come up with creative ideas for your kids' costumes especially if you've been doing it the whole year round. The most common costume choices are princess for girls and superheroes for boys. You don't have to settle like everybody else. Here are a few more creative ideas for your child's costume.
Flower theme. You're child can dress up as a flower. If making a flower costume from scratch is too much work, recycle an old plain dress and fill it with flowers from top to bottom. Make them sparkly with glitters, beads and rhinestones. Coordinate colors and break it down to parts. For example, a headpiece can be the center of the flower then the top can be petals and the skirt can be the leaves.
Fruit theme. If you have a small child, dressing him up as his favorite fruit can elicit a lot of smiles and approvals from other people. Tiny kids look adorable in these kinds of costumes. Don't do this if your kid is already aged 4 and above.
Festivals and celebrations. Don't go for the obvious choice for seasonal dressing. If it's Christmas, don't dress him up as Santa Clause. He can be an elf or a reindeer or a Christmas tree depending on his age. Girls can dress up as tree angels. Find a character that will make your child unique.
Presidents. If your child is very interested in politics, let him dress up as his favorite president. This not only shows that your child's costume is unique, but it shows that he has the brains to back it up.
Occupations. What does your child want to be when she grows up? She can dress up like an astronaut, a teacher, a doctor or a businesswoman.
Cause. Do you have a cause you believe in such as vegetarianism, going green, etc? Why not incorporate this ideal to your child's costume.
National costumes. Explore the national costumes of other countries. You may find something that fits your child's personality perfectly. Or why not explore your roots. If you have Spanish or Asian blood, research about your ancestor's home and get ideas from there.
Go Anime. Cosplaying is very popular in Asian countries. It is also gaining recognition in the west. See if your child has a favorite anime character and dress him up like that. Dress him up like Naruto, Ichigo or Voltes V.
Autobots transform. If you have the time, energy and resources, you can go all out on a Transformers costume. Make the costume as if he's actually transforming. Like when he's standing he looks like a robot and when he's crunched on the floor, he looks like a car.
Movie character. If you've watched a movie and a particular character stayed with your child, you can dress him up as that. You can dress him up like Jack Sparrow from Pirates of the Carribean, Russell from Up, Hiccup from How to Train Your Dragon or Frodo Baggins from the Lord of the Rings.
The possibilities are endless. Get ideas and inspiration from things that you love and from everyday things that you see and watch. You are only limited by your imagination. Make the experience fun for both you and your kid.
For a full range of kids fancy dress items and ideas, be sure to check out kids window.