College has been on my mind quite a bit lately. Thinking back to my own experience, I chose a school, as a first-generation college student, based on what I knew at the time. It wasn't much. I chose a school close to home, and safe. A place friendly to, in what I believed to be a world in open hostility to, "Christianity," by which I meant the conservative, Evangelical variety. The school I settled on, Grove City College, was at the time a selective school. This was the early 1980s and the "Religious Right" was just beginning to appear on the political horizon. Grove City was a Presbyterian college, and the Reformed, although sometimes theologically conservative, have generally been a bit more socially progressive. I recall the admissions numbers being trotted out to the incoming class, about how elite we were (something I've always denied and find personally objectionable) at having been admitted to a selective, private enclave such as GCC ("God's Country Club" as it was locally known). Many of the kids did come from monied families, but I was there on the basis of government subsidized (and unsubsidized, as if I knew the difference) loans.
When my daughter was considering colleges she had been warned about Grove City. One of her friends was contemplating it, but soon wisely cast her thoughts elsewhere. Nevertheless curious, I picked up the Princeton Review's The Best 376 Colleges, a kind of Bible for the collegiate-bound, to see if my old alma mater rated a mention. Sure enough, Grove City was present. For those wishing to make it in the heartless world of business, it can be a good training ground. What caught my attention, however, was the acceptance rate. According to the 2012 edition, 74% of applicants were admitted. So much for selective! This figure swirled around my gray matter for some months as I started to sort out the implications.
Over the past few decades, Grove City College—which was always conservative—has allied itself closely with the posturing of Tea Party types. Herein lies a true dilemma for the educated bourgeois: how to be intellectually progressive and socially repressed at the same time. To accomplish this difficult trick, a non-negotiable bedrock is required, and since even the earth is spinning crazily on its axis the only true solidity in the universe is religion. Claiming that, despite the 14.5 billion years of this universe's elapsed lifespan, only one thing never changes and that is a particular interpretation of Scripture, you can go ahead with your science and your arts. But most of all, with your business. Although black holes may exist, and textual criticism may indicate Scripture has its own gray areas after all, nothing counts much at the end of the day if you don't have capital to back you up. Open admission policies can be interpreted in more than one way, depending on your point of view.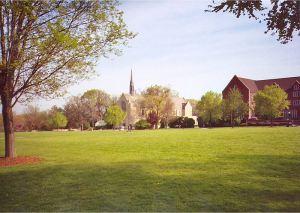 Photo by "the Enlightenment"