I absolutely love living in Florida. The hot summer months, no snow, access to the beach and pools...oh and did I mention NO SNOW!! LOL. But the one thing I miss about living up north is the fashion. Don't get me wrong, it does get cold here in Jacksonville, but only for a few weeks during the winter. But other than that, it's like having 2 Springs. For instance, take today. It's November 16th, and 86 degrees outside as I am writing this post, with the low of 68 by this evening. Isn't that crazy? Meanwhile in NY it's 56 degrees with a low of 46 by this evening.
But like I said, I do miss the winter fashion. Boots especially. Since I love wearing boots, I am grateful for the few weeks of "winter" we do get. Gives me the excuse to buy some. But since it's only for a few weeks I get to wear them. I opt for style and price. Not so much for the warmth.
Old Navy has some great deals going on right now on boots. Part of their Holi-Deals!
They have boots starting at $15. Pictured below are a few that I will probably pick up.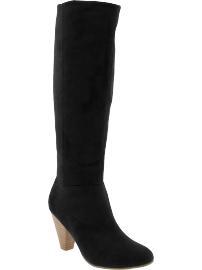 Tall Faux Suede Boots $27.50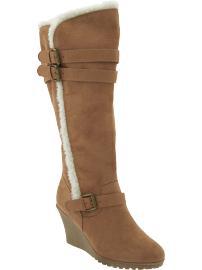 Tall Faux Suede Boot $37.50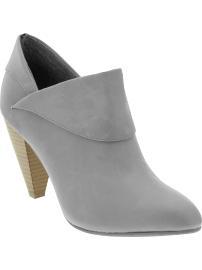 Faux Leather Shooties $25.00
Just an FYI: If you plan on shopping on Black Friday. Old Navy Black Friday hours start at midnight.
They will have Adult Jeans starting at $15 & Kids Jeans starting at $10 during the Black Friday event.
They will also have their cool Collectible Tees for $6.
My next post will be a collection of deals from different stores & some items that will be on sale only on Black Friday. So stay tuned for that dolls!
XOXO
~The Diva Doll~