Thanks to Pinterest, I am becoming increasingly addicted to nail art. Great, another addiction.
So, for my polka dot project I used:ULTA:
TuTu Cute (Base nail color)
NYC:
Black Lace Creme
NYC:
French White Tip
Sally Hansen Chrome:
Royal Purple Chrome.
(Yes, broke single mom here, I use the cheap stuff!)
How cute! Although it was hard dotting my right hand as I am NOT left handed!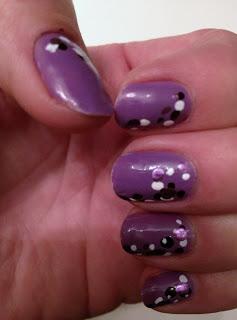 Apparently I should have taken the picture immediately after I finished. :( Lesson learned! Maybe I should submit this to the "Nailed It" part in Pinterest showing the Pinterest fails? LOL!