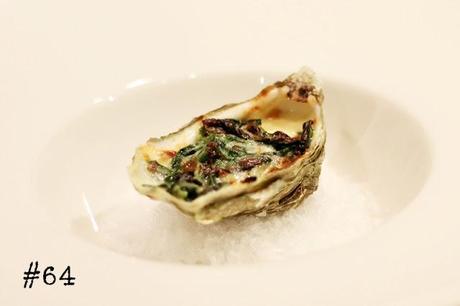 Gratinated oyster with spinach and parmesan
This is sort of an simple version of the classic Oysters Rockefeller and is a great way to serve oysters if you´re not into eating raw oysters.
oystersfresh baby spinachgarlic clovescreamparmesan cheesesalt, pepperbutter
Open the oysters and remove the top shell, pour out some of the juice of the oyster and set aside. Peel and dice a clove of garlic. Add butter to a pan and sauté the spinach with the garlic, salt and pepper. Add a dash of cream and leave to cook for a few seconds.
Add the juice from the oysters to the sauce and grate in some parmesan. You should have a thick stew of spinach and cream with a clear taste of garlic. Place the oysters on a oven proof plate and add a spoonful of spinach sauce to each oyster, grate over some more parmesan for each oyster and put in an hot oven for a couple of minutes. Take out and serve varm.