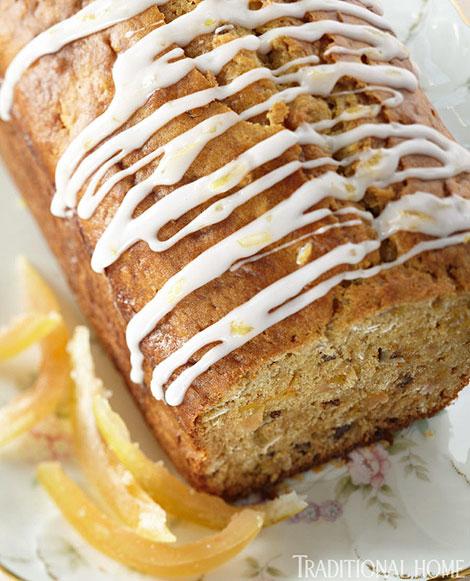 I am sure you missed our "Healthy Daily Recipe".
Now we are back with some delicious food on our list. So let's start with this mouth-watering bread!!
Ingredients:
• 4 eggs
• 1 cup buttermilk
• 1 cup milk
• 1/2 cup vegetable oil or melted butter
• 1/2 cup granulated sugar
• 1/2 cup packed brown sugar
• 1/3 cup grapefruit marmalade
• 1/4 cup chopped Candied Grapefruit Peel*
• 2 tablespoons finely shredded grapefruit peel (from 1 large grapefruit)
• 1 teaspoon vanilla
• 3 cups all-purpose flour
• 1 tablespoon baking powder
• 1 teaspoon baking soda
• 1/2 teaspoon salt
• 1/2 teaspoon ground nutmeg
• 1 cup regular rolled oats
• 1/2 cup toasted chopped pecans (optional)
• 1 cup powdered sugar
• 4 teaspoons pink grapefruit juice concentrate
• 1/4 teaspoon finely shredded grapefruit peel
• 1 to 2 teaspoons water or milk
• 1 tablespoon toasted chopped pecans (optional)
• Grapefruit Butter**
Directions
Preheat oven to 350°F. Grease bottom and sides of  loaf pans. Line bottoms of pans with waxed paper or parchment paper; set aside.
In medium bowl lightly beat eggs. Add buttermilk, milk, vegetable oil, granulated sugar, brown sugar, grapefruit marmalade, Candied Grapefruit Peel, shredded grapefruit peel, and vanilla. Whisk to combine.
In large bowl combine flour, baking powder, baking soda, salt, and nutmeg; make well in center. Add egg mixture to center of flour well. Stir just until moistened. Stir in oats and 1/2 cup pecans. Divide batter evenly between prepared pans.
Bake 25 minutes; turn to rotate pans. Continue to bake 15 to 20 minutes more or until toothpick inserted in center comes out clean. Cool in pans on wire rack 15 minutes; remove from pans. Cool completely on wire rack.
For Icing, in small bowl combine powdered sugar, juice concentrate, grapefruit peel, and enough water to make drizzling consistency. Pour glaze over cooled bread, then sprinkle with 1 tablespoon toasted pecans. Serve with Grapefruit Butter**. Makes 28 servings (2 loaves).
*Candied Grapefruit Peel: 
Using sharp knife, score peel of one grapefruit lengthwise in four pieces. Remove peel, keeping it intact. Reserve fruit for another use. Slice each piece of peel diagonally in 1/3-inch wide slices. Place peel in medium saucepan with enough water to cover. Bring to boil; boil 1 minute. Drain; repeat 3 times to cook bitterness out of peel. Drain again. Combine 2 cups water and 2 cups sugar in saucepan. Bring to boil, stirring to dissolve sugar. Add peel. Reduce heat and simmer over low heat for 1-1/2 hours or until peel appears translucent. Drain again. In medium bowl toss peel with 1 cup sugar. Remove peel; let stand on wire rack to dry. Toss again in sugar if peel appears wet. Makes about 1 cup.
**Grapefruit Butter: 
In small bowl combine 1/2 cup softened butter and 1/3 cup grapefruit marmalade.  Serve butter chilled or softened to room temperature.
Try it and tell me how it will taste

33.809974
35.600693