Grape Fragrance Oil is a sweet fruit scent by Nature Garden.  This true straight grape aroma will keep your customers coming back for more.  One of our fabulous customers reviewed our Grape Fragrance Oil and said, "I had a customer request a grape scent for a shop she owns. I found this grape fragrance and thought I'd give it a try after reading the other reviews. All I can say is WOW, the candles smelled wonderful. The customer was sooo pleased she bought all the candles after burning the first and now has her customers inquiring about the grape candles. Thanks for carrying such an awesome fragrance."  You definitely want to get this one right away!
What Does Grape Fragrance Oil Smell Like?
This wonderful fragrance oil by Natures Garden is a strong, sweet and sour grape aroma. Great by itself or use for mixing other complex fragrances.
How Do Our Customers Use Grape Fragrance Oil?
Our customers can use this great grape fragrance oil in a variety of bath and body products that will perform well. First of all, bath gels and bath oils can be created with this fruity scent at a maximum usage rate of 5%. Perfumes and lotions can be created using 5% of this scent, as well, with perfumes performing perfectly.  Additionally, various methods of soap making can use this sweet and sour fragrance oil to make great smelling soaps. One such soap making method that could incorporate this fragrance well is cold process soap making. In fact, our Cold Process Soap Testing Results have revealed that our Grape Fragrance Oil will perform fairly well in soap. Although there is some slight acceleration, there will be no ricing and no separation. The final product will discolor to an apricot color with a very strong scent retention. Although Vanilla White Color Stabilizer can prevent discoloration in certain cases, this fragrance oil doesn't have a vanillin content meaning that this discoloration is due to other ingredients that Vanilla White can't influence. If you wish to add color to your bath and body products, we suggest using purple liquid soap dye along with blue liquid soap dye in an amount that you desire.  Remember that you should never use candle dye in any body products.
Our customers can include this fruity fragrance oil in any of their room scents. Room scent products, such as potpourri and incense, can use up to 50% of this scent. Also, bath oils and bath gels can use up to 5% of this fragrance for bath and body products. Additionally, this fragrance performs nice and strong in aroma beads. Further, homemade cleaning products can use up to 5% of this scent.
Candles can use up to 10% of this sweet and sour fragrance oil in products that include vegetable waxes and paraffin wax. Also, Joy Wax and WOW wax can include this scent and perform perfectly. Further, soy wax that use this scent are nice and strong. If you wish to add color to your candle creations, then we recommend five drops violet liquid candle dye along with three drops blue liquid candle dye or a small amount of shredded violet color block along with blue color block for every four pounds of wax.  Remember to never use crayons to color your candles as they will clog your wick.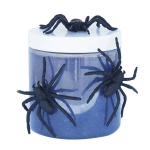 If you are looking for an interesting and creative idea for this fragrance oil, then feel free to check out this interesting idea compliments of Natures Garden! Our 
Spider Venom Soap Jelly Recipe
 is a great bath time recipe utilizing melt and pour soap.  Create this jelly soap recipe kids who love bugs, perfect for Halloween, or anyone who just loves the smell of fresh grapes.