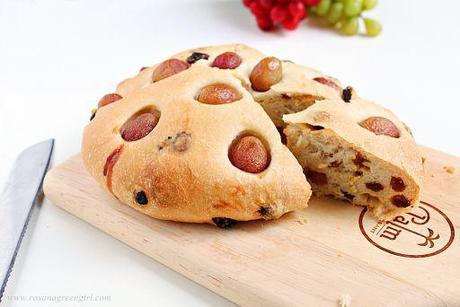 It's raining outside. The leaves are changing colors and one by one are falling on the ground. I don't remember when I last heard a bird singing. The squirrels are running everywhere looking for food. My dears, fall is upon us. Don't get me wrong, I love the smell of rain, I just don't like the cold weather. Wish I could pack a small bag and fly all the way to Bora Bora for the winter. (A girl can only dream)
Let's get back to serious grown-up talk. There's a Fairy watching us. I'm not joking, really! A couple of weeks ago while reading one amazing blog I left a comment never thinking that I'm being watched by a Joyful Fairy looking for new bloggers to spread some love upon. You're probably wondering what I'm talking about. Well, my dears, I was visited by the Fairy Hob-mother behind Appliances Online And to my surprise the Fairy didn't come empty handed, brought me a $100 Amazon gift card. With Tiffany's birthday few weeks away it came in at the right time. Isn't it nice when Fairy spreads some joy in our lives?   But that's not all, the generous Fairy is going to pick one of my wonderful readers to receive a gift too. All you have to do is leave a comment, say a little prayer and eat your fruit and veggies. OK, the last part is optional.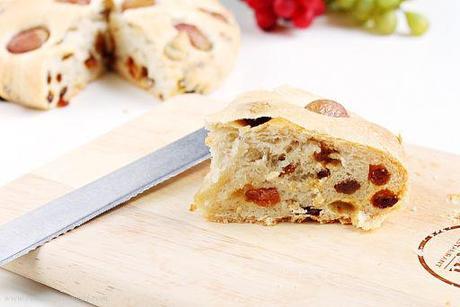 Speaking of fruits, I baked with grapes.  Lately every where I turn there are pumpkin treats, baked or not, apples and other fall fruits and hardly any grape treats. Wonder why. Time to change that. I love grapes, all colors, all sorts. My favorite are the black ones but haven't seen any in quite a while. The idea of this flat bread comes from a Tuscany bread but since I don't have enough patience for sourdough I took a tiny little shortcut.  I have never had Tuscany Schiacciata all'uva so I can't quite tell you the differences between the two but I'm going to share my 2 cents on this beautiful bread.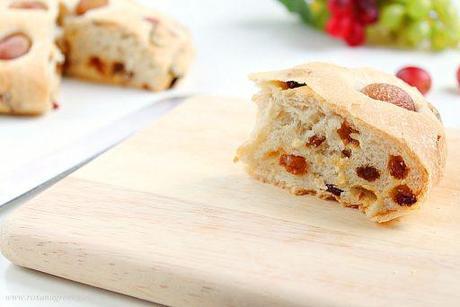 The olive oil keeps the bread moist inside and gives it a nice soft crust. The raisins added to the dough make the bread sweet enough to be eaten with cheese and nothing else. The oozing roasted grapes on top, ohhh, I couldn't get enough of. I'm thinking of roasting some grapes alone, that good they were! 
Let's turn the oven on to bake some bread!
In your mixing bowl add some lukewarm water, all purpose flour and dry yeast. Cover and let at room temperature for about 1 hour. It will go from this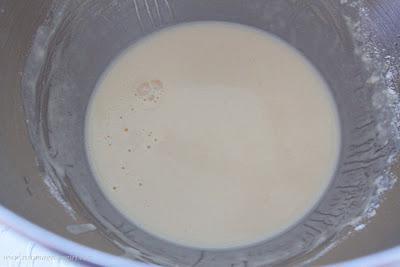 to this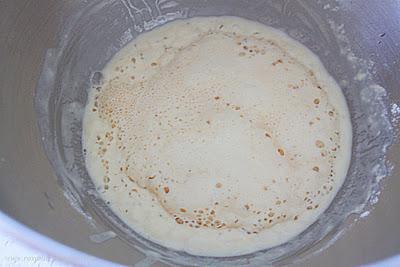 Sprinkle some flour on top and give it a stir. The starter will be still very wet.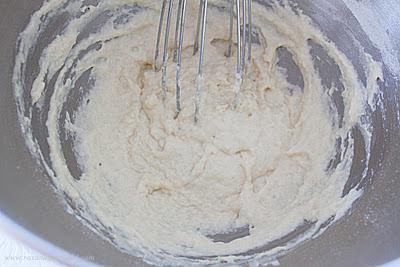 Cover and let again another 30-40 minutes at room temperature.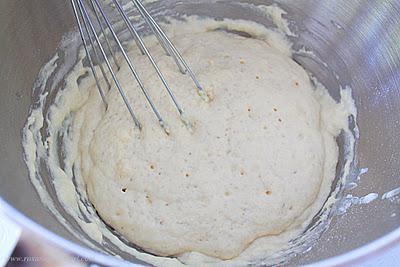 Time to do some kneading. Sprinkle more flour over the starter and stir a little. Add the olive oil, raisins and a pinch of salt.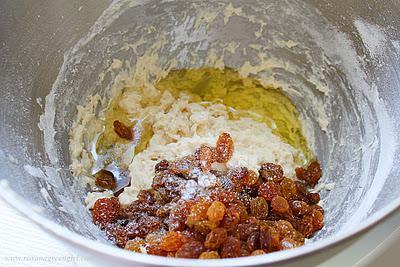 Slowly, 1/4 cup at a time, add enough flour until the dough is soft and elastic. Place it in a greased bowl, cover and let it rest in the fridge until doubled in volume, for about 2-3 hours.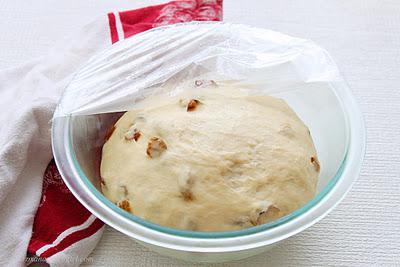 Preheat the oven. Flatten the dough on a baking sheet and press down the grapes.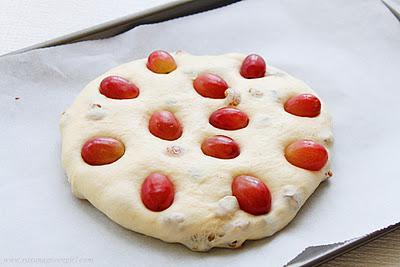 Let the bread rise again for about 20-30 minutes and bake until slightly golden brown.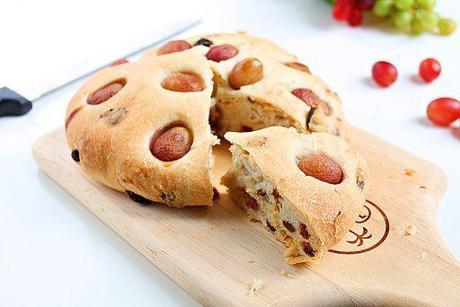 When out of the oven, let it cool for a little bit, grab your favorite soft cheese, spread some on a slice of bread and enjoy! 
Grape and raisin flatbread (vegan)
Ingredients 
2/3 cup lukewarm water 1/2 cup all purpose flour 1 tsp dry yeast
1/2 c all purpose flour 
1 c all purpose flour 1/4 olive oil 1/3 to 1/2 c raisins  pinch of salt
fresh grapes 
Directions 
In a mixing bowl add 2/3 cup lukewarm water, 1/2 cup all purpose flour and 1 tsp dry yeast. Mix them well. Cover the bowl with a tea towel and leave at room temperature for about 1 hour. The starter will double in volume having a sponge like consistency.  Sprinkle another 1/2 cup all purpose flour on top, stir and leave again, covered, at room temperature for another 30-40 minutes. The wet started will start making bubbles faster than the first time.  Stir in about 1/4 cup all purpose flour, add the olive oil, raisins and a pinch of salt. With the dough hook on start kneading slowly adding the rest of the flour, 1/4 cup at a time. The dough will be soft and elastic. If still wet add a little more flour. If too dry add few drops of water.  Place the dough in a greased bowl, cover and let it rest for about 2-3 hours in the fridge. When doubled in volume take it out and flatten in on a baking sheet. Press down the fresh grapes. Preheat the oven to 375F.