Granulated Wax Candles
Although most candle makers melt down wax to make their candles, it is possible to create wax art candles if you have granulated wax at your disposal.  Since no heating is involved in the candle making process, this can be a fun project that you can do with your kids.  The sky is the limit as to how creative you can be.  You can used multiple colors, layer the wax, and even create artwork pictures on the inside of your candle jars.  How about scenting each layer a different scent?  You can do that too.  How fun is that!
Natures Garden offers two different kinds of granulated waxes that you can use to make granulated wax candles:  Pillar of Bliss wax and Palm Container wax.  The kind of colorant that you want to use is Spectrum Candle Dyes (you never want to use water soluble dyes or any types of pigments when making these candles).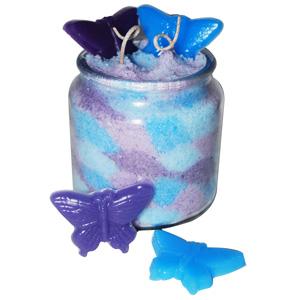 How to Make Wax Art Candles
1.  Obtain a 16 oz. apothecary jar or any other candle safe glass jar that you desire to use.
2.  Using a hot glue gun, place a small amount of hot glue on the wick tabs of  (2)  CD-12 wicks and adhere wicks to the bottom of your jar (equally spaced apart).  Set aside.
3.  Decide how many colors you want to use in your candle.  Scoop about 1/2 cup of granulated wax of your choice into a zip lock bag.  Add a drop of spectrum candle dye to the bag and mix wax well.  Typically, a 16 oz. apothecary jar will hold a total of (6) 1/2 cups of granulated wax, so it is possible to use 6 different colors in your jar.
4.  Move on to your next color.  Do the same as mentioned above until you have a total of 3 cups of colored granulated wax.
5.  A 16 oz. apothecary jar can handle a total of 1.5oz. of fragrance.  Going above this amount will likely create a fire hazard.  So, at this point, add a little fragrance to each bag of colored wax and mix until you have added a total of 1 to 1.5 oz. of fragrance total.
6.  Add your colored and scented wax to your candle jars.  You can layer the wax any way that you desire.  Fill the jar with your granulated wax.
7.  Once you are done, trim your wicks to 1/2″ for your first burn.  Keep wicks at 1/4″ for future burns.  Enjoy!!
For more candle recipes, visit this page on our website.