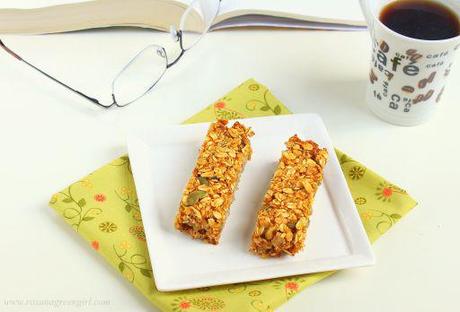 Last month while I was visiting my family back in Romania I got together with some friends from high school. It was such a wonderful night full of laughter, sweet memories and delicious meals. We could not believe there have been more than 10 years since we finished high school and everyone went on different paths. Some of them I met in college again, but just a couple. Some I met years later. Some I still haven't met since out last high school day. When high school ends some of the best days begin some may say. Collage years were so much fun I have to agree. Moving out of my parents' house . New roommates. Chit-chatting with friends until dawn. Weekend getaways. Loved every second of it. Well, at least until mid-term exams come knocking at the door. Those were the not so livin' la vita loca days. Those days all we wanted and needed was lots of coffee, grab and go snacks and tons of luck. While Charlie is having her mid-term exams (best of luck my friend) I'm supposed to share a vegetarian dish with you. At first I had my mind set on an easy dinner idea each student can put together in less than 30 minutes but after seeing these pumpkin bars. I immediately changed my mind and took the oats out of the cupboard. Energy bars and a big cup of coffee is on every student's mind this time of the year.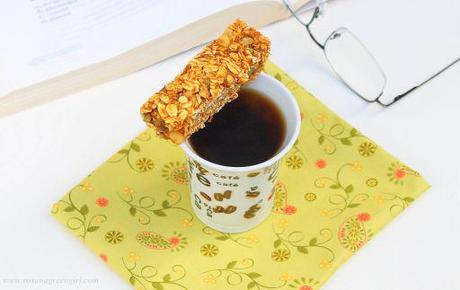 To make these granola bars is very simple and it doesn't require sophisticated and expensive kitchen gadgets. All you need are a big bowl, measuring cups, a wooden spoon or a spatula and an 11X7 baking pan. Start by preheating the oven and greasing your baking pan. Measure your dry ingredients. Rolled oats. Walnuts pieces. Pumpkin seeds. Pumpkin pie spices. Mix them all in a bowl and set aside.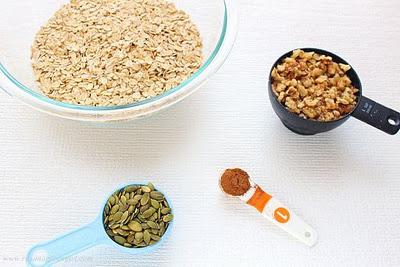 Time for the wet ingredients. Canned pumpkin. Applesauce. Maple syrup.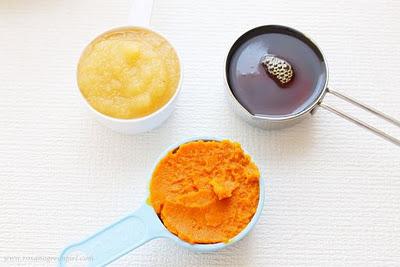 Mix the wet ingredients into the dry ingredients. Spread mixture evenly into the baking pan. Bake for about 30 minutes until golden. Let cool slightly and cut into bars using a sharp knife (mine is pretty dull but let's not get into details)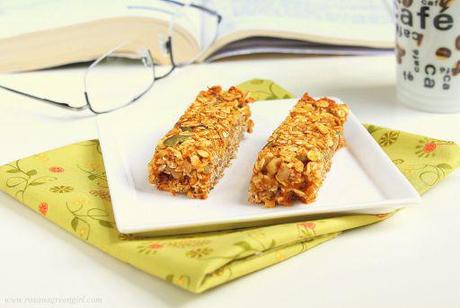 Please follow me to my friend Charlie's blog for complete list of ingredients and directions