Yesterday evening, my friends and I had a ThanksChristmasAkkuh party, where each of us made a few Paleo dishes to bring to the table.  I volunteered to make the stuffing. Not until about 24 hours before the actual event did I decide it was time to find a recipe and buy ingredients.
I decided on Against All Grains's Apple Sausage Stuffing.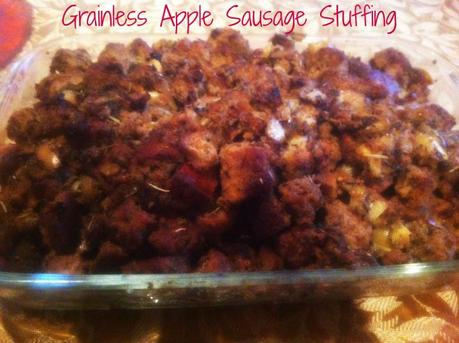 The recipe calls for grain-free bread, which my boyfriend, Justin, had to make for me while I was at work and he had some free-time. He found some random recipe online, which he now can't remember, so I can't post that here.  But he said it was pretty simple.  And honestly, any Paleo bread recipe will do.
We cooked the bread in a roasting pan because a) we're classy and b) it doesn't matter much because you will be cubing the bread for the recipe anyway.
Saturday morning, I woke up early and assembled the ingredients.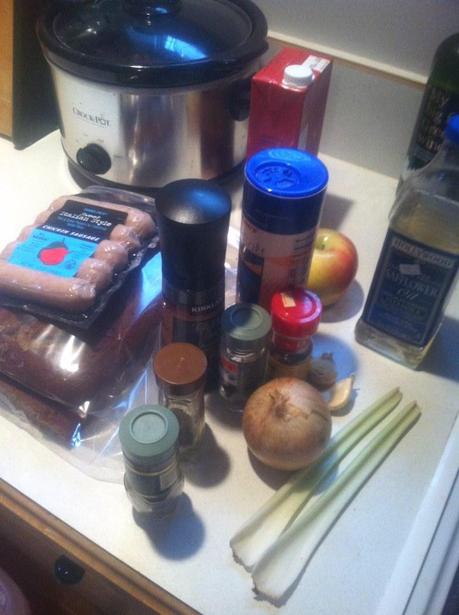 (I know, I know.  I'm spoiling you guys with the high quality photos taken by my cell phone)
Honestly, the recipe was not difficult to put together. And it made my apartment smell great!
Here is the recipe as seen on Against All Grains's Web site & eBook:
For the stuffing
1 tablespoon extra virgin olive oil
1 yellow onion, chopped
2 celery stalks (leaves included), chopped
2 garlic cloves, minced
3 sprigs parsley, chopped
1 sprig rosemary, chopped
2 sprigs thyme, chopped
2 sage leaves, chopped
1/2 cup cremini mushrooms, chopped
1/2 pound sweet italian sausage (SCD legal)
1 medium fuji apple, chopped with skin on
6 cups bread cubes – find a grain-free/paleo bread recipe for this
3 eggs, lightly beaten
1/4 cup dry vermouth
1-1/4 cups turkey stock (or SCD legal chicken broth)
2 teaspoons sea salt
1/2 teaspoon pepper
2 tablespoons salted butter
Directions:
1. Saute the celery, onions, garlic, sausage, apples, herbs and mushrooms in 1 tablespoon olive oil for about 15 minutes. Add the vermouth and bring to a boil.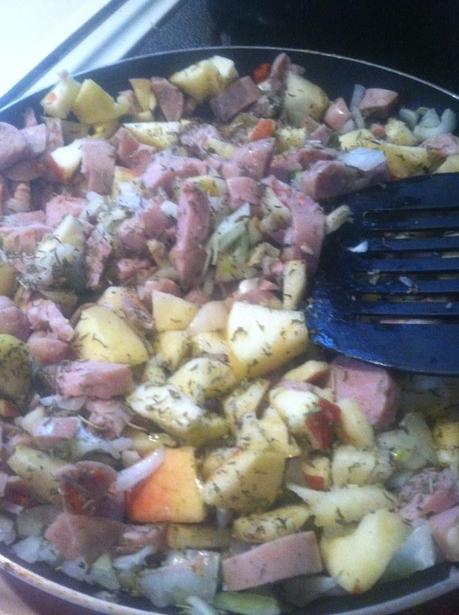 MMMMM, smells so good!
2. Toss the bread crumbs with the sauteed mixture, eggs, salt and pepper, and turkey stock.
3. Transfer stuffing to a well buttered baking dish and sprinkle the additional 2 tablespoons of butter on top.  Cover with foil, and bake at 350° for 35 minutes. Uncover and bake 15 minutes until top is golden.
Note: I excluded the vermouth and the mushrooms from the recipe (I'm just not a huge mushroom fan and didn't have any vermouth on hand).
The recipe came out great! It was a huge hit at the party :)  That felt awesome because I'm not known for being a naturally-gifted cook. I love to experiment with recipes, and sometimes I'll create some gems, but this recipe stood just fine on its own two Against All Grains feet!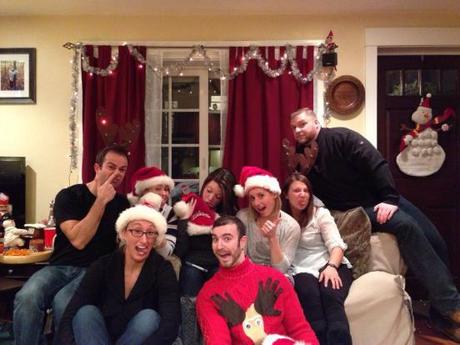 Look at this bunch of weirdos!
It was such an awesome night!  We spent the most of it laughing hysterically, helping ourselves to second- and third-helpings and just having a great time. I'm really lucky to have these crazy people in my life; they remind me it's ok to let go of the stress and everyday annoyances, even just for a few hours, and laugh so hard wine comes out of your nose

My friend, Pam – the chick's face I'm blocking with my Santa hat in the picture above, has an awesome Paleo blog.  You can find it here. She made an AMAZINGGGGG Paleo pecan pie and sweet potato latkes (the food of her people, as she kept repeating all evening) and plans on posting those recipes on her blog today.  Seriously, you can't go wrong with either of those choices.
Question of the day:
Have you made a great dish for a holiday party this year? Was it a hit?