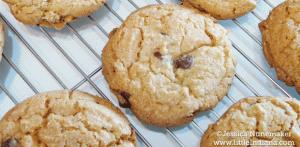 Graham Cracker Chocolate Chip Cookies Recipe
Yes, I've got another
chocolate chip cookie recipe
for you!
Today's amazing cookie recipe is a bit different–it uses graham cracker crumbs. These Graham Cracker Chocolate Chip Cookies are a crispier cookie after a day or two. That is when it is perfect for dipping into a cup of coffee.
These are really quite good and received a thumbs up from our kids and a good friend! Can you ever have too many variations of a classic recipe? I think not!
Graham Cracker Chocolate Chip Cookies Recipe
Print

Graham Cracker Chocolate Chip Cookies Recipe
Rating: 51
From "Over 800 Treasured Recipes St John's Lutheran Church in Elgin, Illinois 1976."
The cookbook was a gift from our wonderful neighbor. These cookies were called "Mary Ann's Cookies" in the cookbook by Marion Jacobsen. I changed the name to reflect the unique combination!
Ingredients
1 Cup Shortening
1 Cup Sugar
1/2 Cup Brown Sugar
1 teaspoon Vanilla Extract
2 Eggs
2 Cups Flour
1 teaspoon Baking Soda
1 teaspoon Salt
1 Cup Graham Cracker Crumbs
1 Cup Chocolate Chips
1 Cup Nuts, Chopped (Optional)
Instructions
350* oven.
Cream together Shortening, Sugar, and Brown Sugar.
Add in Vanilla Extract and Eggs.
Add in Dry Ingredients.
Stir in Chocolate Chips and Nuts (if using). Don't over-mix!
Drop by Tablespoonfuls on parchment paper lined cookie sheet.
Bake 350* for 15 minutes or until light golden brown.
2.4http://littleindiana.com/2014/05/graham-cracker-cookies-recipe/Photos are the Property of little Indiana. Do Not Use Without Permission.
Small Towns: Destinations, not Drive-Thrus! I'm Jessica Nunemaker and
THIS
is little Indiana!
Find pictures in Indiana on my Flickr photostream or on the new little Indiana Tumblr blog.
Just don't forget to tell 'em that  little Indiana sent you!
Don't miss a moment. Subscribe to little Indiana and receive instant updates to stay on top of everything "little."
little Indiana: Where to Stay, Play, and Eat in Small Towns in Indiana. Discovering Indiana's best small towns! Now get little Indiana on your Kindle.
Targeted. Relevant. Affordable! little Indiana advertising.