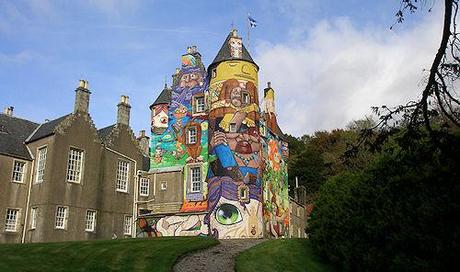 image credit
Kelburn Castle is a large house near Fairlie, North Ayrshire, Scotland. It is the seat of the Earl of Glasgow. Originally built in the 13th century, it was remodelled in the 16th century. In 1700 the first Earl made further extensions to the house in a manner not unlike a French château which is virtually how it appears today.
In 2007 experts told the owners of Kelburn Castle that its concrete facing would eventually need to be replaced to avoid further damage to the stonework. At the suggestion of his children, Lord Glasgow invited four Brazilian graffiti artists to paint the walls. Historic Scotland agreed to the project, on the basis that the
graffiti
would be removed when the castle was re-harled.
The Presurfer