New year, new menu, new head chef, It's all happening at Raymond Capaldi's Hare and Grace.
Last year we bought one of their dinner vouchers at a charity auction and it was time to collect the goods.
We've eaten Capaldi's fare at several venues round Melbourne – perhaps one of the most memorable was a Melbourne Food and Wine Festival dinner on the 89th floor of Eureka Tower where the chef double-billed with Noma's Rene Redzepi for a dinner that blew our socks off.
This is a very attractive space at 525 Collins Street, nestled under the Rialto Towers on the corner of King Street. It's modestly labelled "Eatery and Minibar" and is accessed via a courtyard with a barbecue that is stoked up during the day. Indoors are the bar and an uncluttered dining room, simply decorated and with small branches suspended from the ceiling that cast their arty shadows on the walls.
The new head chef is Adam Liston, an Adelaide boy made good who has spent recent years in Shanghai.
It was great to hear the staff enthusing about the new menu as they took our drinks order and poured the water. They'd all done their homework and happily explained items on the menu and specials list as we embarked on the difficult business of choosing.
Capaldi is a master of the molecular that means what you think you are seeing might be something altogether different. The main menu features five composites or starters, five principals and five wagyu and black angus numbers from the charcoal grill.
While the list may not be long, it still took a while to choose because it all sounded like fun. How many times have you received a dish that looked great on paper but was an absolutely disappointment? This was no occasion of plate envy – we were delighted with our selections.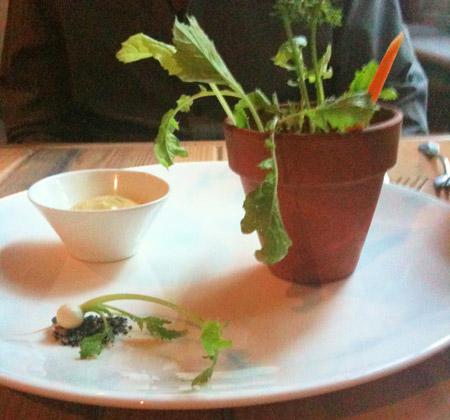 But first we had to forage for our food and do a spot of digging for the baby vegetables presented in small clay plant pots, complete with edible soil. A nice touch to start with.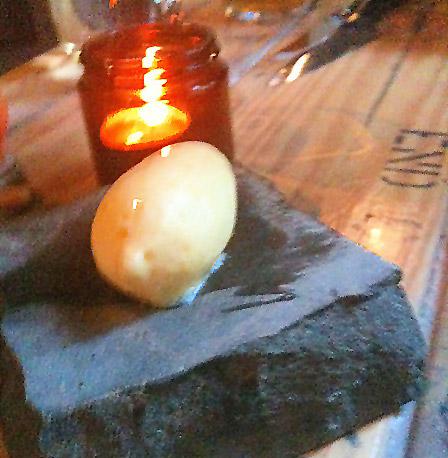 The sourdough bread came with a quenelle of butter served on a bluestone slab, a nod to the fact that the old York Butter Facory was once housed in the heritage bluestone building.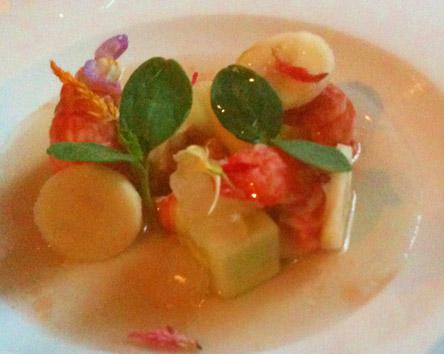 Then came the first of our wise choices. Mine was the dish of yabbies served in a little jasmine tea with aloe vera, lychee and thin disks of crisp apple garnished with miniature snapdragon flowers and tiny chenopodium shoots.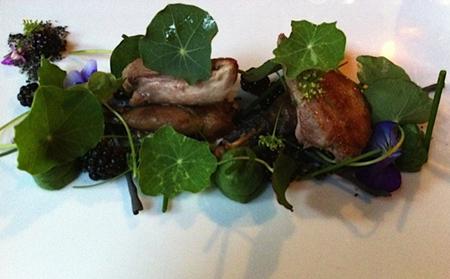 The Spouse had the smoked quail with sage cream, wild brambles and undergrowth – more floral touches, peppery nasturtium leaves and little blackberries.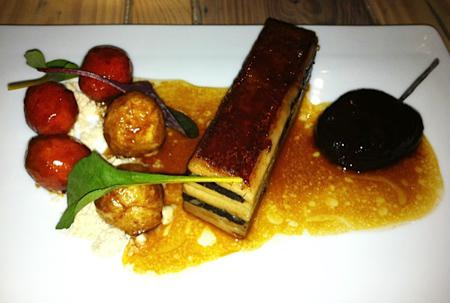 The pressed pork dish, we learned, featured layers of pre-cooked pork belly interspersed with black pudding and topped with the crackling. Pork belly can be turned into a masterpiece or a fatty disaster depending on how it is treated. This dish was a triumph. It was served with preserved plum, dehydrated tubers and a little puddle of jus.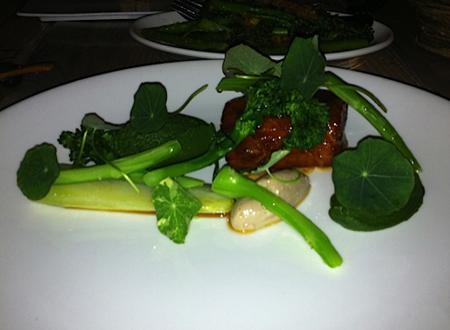 My lacquered blue groper had been burnished with coffee and honey and was served with an artful display of greens and walnut mayo. The fish was perfectly cooked, separating into moist fat flakes.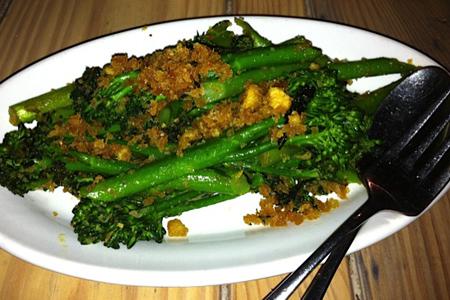 From an inviting list of side dishes we chose the roasted sprouting broccoli which was garnished with grated anchovies, crumbs and a touch of sieved egg.
We savoured every mouthful. The food was fresh, light and a pleasure to look at as well as eat.
Of course there was room for dessert! Silly question.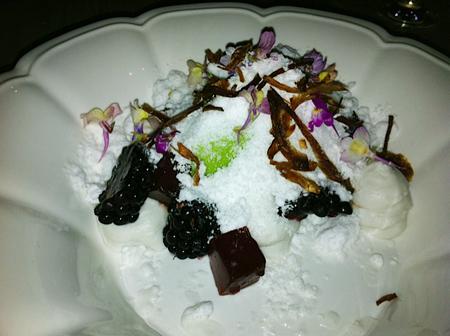 My choice might not sound like a dessert, but believe me it tasted amazing. The list read parsley ice cream, blackberry, beetroot, coconut ice, fried shallots. The cubes of beetroot jelly, the berries and the sweet shallots along with the snowy coconut and the bright green ice cream plus the floral garnish all worked well together.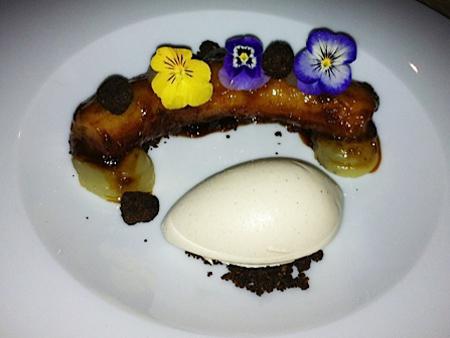 Across the table it was braised banana, juniper, lime, coffee and violets.
One thing is for certain. We're planning on going back. The bar has a great menu ranging from little shared dishes through to more substantial offerings. Sandwiches are available from noon to 3pm.
This is a Monday-Friday venue, closed weekends and public holidays.
Visit Hare & Grace's website to download current menus.