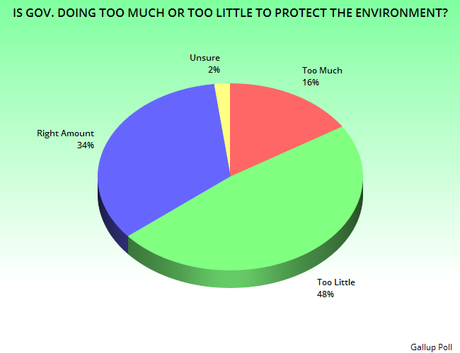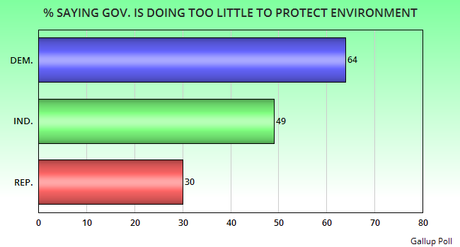 Congressional Republicans are proposing significant cuts to the Environmental Protection Agency (EPA) in their proposed budget. They think the government is spending too much to protect the environment, and think it is more important to give new tax cuts to business than worry about our soil, water, and air. They think EPA regulations hurt Wall Street and the giant corporations (their real constituency).
That may be popular with their teabagger base and their Wall Street contributors, but it puts them once again in conflict with the wishes of the general public (just like on other issues -- minimum wage, Social Security, Medicare, offshoring of jobs, tax cuts for the rich, subsidies for corporations, etc.).
It turns out that 82% of Americans don't want cuts to the EPA -- and 48% believe the government is not doing enough to protect the environment. Only a tiny 16% agree with the Republicans that government is doing too much to protect the environment. If it wasn't for some very effective gerrymandering in 2010, the Republicans would be in serious trouble -- because they seem determined to go against the wishes of the public in nearly every issue.
These charts were made from information contained in a recent Gallup Poll -- done between March 5th and 8th of a random national sample of 1,025 adults, with a 4 point margin of error.