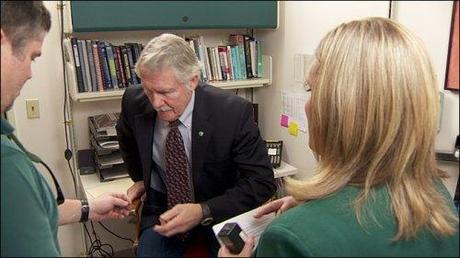 Making an run for it…
KATU: Gov. John Kitzhaber's staff hastily ended his scheduled one-on-one interview with KATU News on Thursday morning barely four minutes after it had begun when KATU began asking about problems with Cover Oregon's website.
Kitzhaber was in Portland to discuss Cover Oregon's new enrollment numbers even as he admitted the exchange's costly and all-important website will likely not be functioning for the foreseeable future.
Despite the website's disastrous launch – it was set to go live Oct. 1 – and  KATU's numerous reports of botched enrollments, Kitzhaber claimed Cover Oregon is actually outperforming expectations.
"We figured that this would be a two-year process," Kitzhaber said. "What we didn't anticipate was actually this many (people enrolling).
"We thought it was going to take a year to get the 114,000 people who are eligible for the expansion under the (Affordable Care Act), so that was remarkable."
The interview was cut short, however, soon after KATU asked about Kitzhaber's knowledge of problems with Carolyn Lawson. Lawson, who as Chief Information Officer was responsible for the website's technical development, resigned for "personal reasons" in November.
The governor claimed he didn't know of problems with Lawson until late last year.  But in December 2012, Rep. Patrick Sheehan sent an email to the governor's office that KATU's Investigators recently unearthed.
The email questioned Lawson's decision-making, accused her of presenting fraudulent testimony in a legislative hearing and speculated about her ties to Oracle, the company paid tens of millions of dollars to help with the project's technical aspects.
Kitzhaber denied having seen the email, despite his legislative director having responded "You have raised some serious allegations, and I will make sure that we get his into the right hands in addition to the Governor."
Kitzhaber told KATU on Thursday that the allegations never made it to his desk. "
After Kitzhaber gave that answer, his aid immediately limited KATU to one more question.
KATU's attempt to interview Cover Oregon Project Manager Bruce Goldberg was also thwarted. When approached by KATU, Goldberg quickly ducked into a restricted area.
His staff ordered KATU to leave, suggesting our crew instead make a phone call to Cover Oregon's public-relations staff.
Shame on you Governor!
DCG