I'm not going to lie
I LOVE a good burger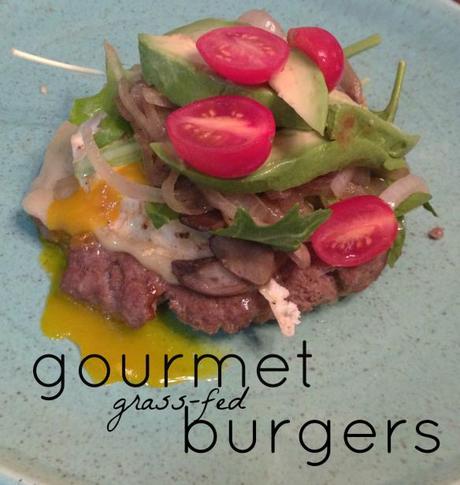 I mean, I can become a bit completely obsessed when it comes to gourmet food.
This is funny actually, because I used to be a vegetarian…more on this later.
I threw together these bunless burgers a few nights ago and I've been craving them ever since!  The nice thing is that you can totally customize them to fit each palate.
I loaded mine with so many toppings I could barely get each flavor into each bite.
I hope you love them!
Lindsay's Grass-Fed Burgers
2 lb local grass fed beef, lamb, bison, venison or a combination

2 T. worchesterchire sauce

2 T. garlic powder

freshly ground pepper
-combine together with your hands in a large bowl, and form into patties.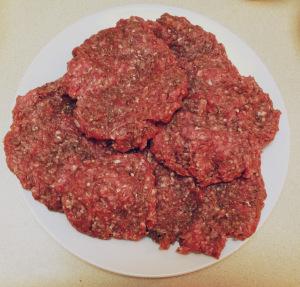 -I cooked them on Med – Med/High on the stove in cast iron (no additional oil or butter needed, but duck fat would make these out of this world if you have it!) for about 7-10 minutes on each side.  Obviously, a grill would work magic.
-once done, add a slice of grass fed cheddar or gorgonzola cheese, turn the heat off, and cover with a lid.  this will melt the cheese but not overcook the burgers.
Toppings:
Sautéed Mushrooms & Onions:
1 T. grass fed butter

2 small organic white or yellow onions, sliced

10 organic cremini mushrooms, sliced

2 garlic cloves, minced
-sautee together on med until onions are beginning to be translucent and mushrooms are brown – I started these around the time that I flipped the burgers.
Avocado – sliced

Pickles – we had bread & butter which were amazing

Fermented beets

organic Tomato

organic Field Greens

Fried egg – if you haven't tried this, give it a go.  It just might change your life…or at least your evening. just leave the yolk runny and don't salt it.

Bacon – I didn't include it this go 'round, but go for it – I mean, what's not better with some local, pastured, uncured, nitrate free bacon?!

what did I miss….?
They were so juicy and packed with toppings that they didn't need any condiments.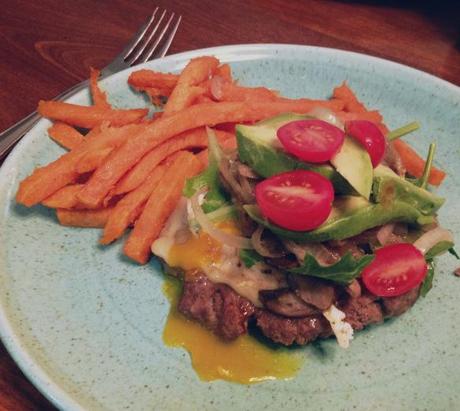 Had I thought ahead better I would have served them with my famous roasted carrots, but sweet potato fries did quite nicely for the evening.
What's your favorite burger topping?
live well. be well.