It's time for another exclusive Gottwood Festival Podcast! So whose bringing the screams across the sky this time round? Suddenly the clock strikes 13, and it's the Round Table Knights who provide the 13th installment, of what has already been an exceptional woodland podcast series. Make sure this mix fumbles onto your impending playlist to be, because let's be honest, when has there been a RTK summer mix which hasn't provided those essential summer jams. Expect a slew of fresh releases by Henrik Schwarz, Zombie Disco Squad and Soul Clap up in the mix, with particular nods to the notorious Jackmode crew, who shall also be headlining and hosting the Pelski vs Jackmode stage with us at Gottwood this summer, alongside the Round Table Knights of course.
Gottwood Presents 013 - Round Table Knights by Gottwood Festival on Mixcloud
Tracklisting
1. Frivolous – One Final Slostice
2. Chris James – Habanera
3. M.In – Cruzando
4. Dj Gregory – Looke
5. Joanna Knutsson – Heavy Baby
6. Beni – Bubble (Round Table Knights Remix)
7. Heartik – Grenadilla (Uto Karem Remix)
8. Zombie Disco Squad – Pinky
9. Dj Le Roi – Valdemossa
10. Mike Dunn, MD X-Press – God Made Me Phunky
11. Camel – Jelly Jazz (Mr. Ho Remix)
12. Round Table Knights – Say What (Mercury Remix)
13. Freaks, 012 – Conscious Of My Conscience (Henrik Schwarz Remix)
14. Soul Clap – Lonely C Feat. Charles Levine
If the mix does not suffice, the Gottwood mercenaries have kindly provided us with some exclusive parchment scroll for your reading. You'll find a stately interview from one half of these bearded Knights inside, so be sure to check it below. Besides this, all gentleman with a penchant for ancient shields, lances and grey hound racing best check out this medieval house duo...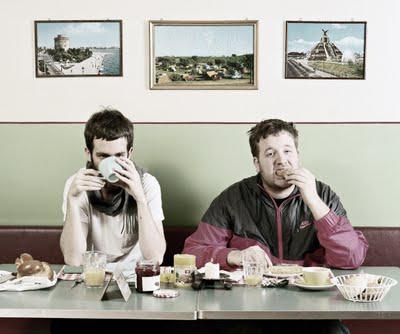 What's been keeping you busy lately?
Touring, we just got back from Australia. It was super nice, our first festival tour there. In the studio we're working on some remixes right now, and there is also some new original material on the way, plus a mix CD.
Tell us a bit about your Gottwood Presents mix...
We put some stuff together which we really like, old and new stuff. Also you can hear a new remix from us which will be out soon...
You have your musical roots in hip hop and turntabalism, what brought on the move towards house music?
It was just a natural progression. We're always looking out for new inspirations. Our love with house music started when we started producing music. It was the best way for us the express ourselves musically and combine all our influences.
Which Hip-Hop artists have influenced you the most?
A Tribe Called Quest, Camp Lo, Gang Starr, Wu-Tang, Common, Beat Junkies, Madlib, Jay Dee.
Your style of music features all kind of samples, and clearly takes in a lot from a variety of genres. Do you listen to obscure music purely to hunt for samples? What's the sampling process like for you?
I don't think I've ever found a good sample when I was actually searching for one. I'm not patient enough to listen to music for hours just to hunt for a sample. Most of our samples are from music we actually also listen to at home.
DJing as a duo must be a lot of fun, but do you ever have the urge to make music individually?
Marc: Of course we do! I play in a Rock Band as well called "Labrador City". We just released our first mini album "Volcano" on our own label "Oh, Sister".
Do you think growing up in Switzerland has had much of an effect on your music?
The environment always has a big effect on what you do. I think the good thing about growing up here was the big range of cultural events happening. Switzerland is so small and it's really easy to travel from city to city to go and see concerts. We also had the chance to do our own events very early in our career. That helped us a lot to get the connections we needed in the music world.
Do you have any tips for growing a good beard...
You have to shape it from time to time!
Your fantastic debut album Say What!? was released earlier this year and has been universally praised. How do you plan to follow it and what have you got in store for the rest of the year?
We're doing some remixes right now. There will be a new EP for sure and we are working on a mix CD.
Exciting stuff, we look forward to it! You've just finished touring Australia where you played some huge gigs, how are you finding your busy schedule?
We love it when we are busy!
If you could put on your dream party, where would it be, who would play and would there be a theme?
Marc: Somewhere at a beach in the summer, with a nice sunrise and Soul Clap playing.
What are your tips for 2011:
Artist(s):Monkey Safari
Label: Delusions Of Grandeur
Club: Club Bonsoir
Blog: www.booooooom.com
And the killer question...If you had to be stranded in the woods, what 5 items could you not leave home without?
Swiss Pocket Knife, Barbour Jacket, Yashica T-4, Gum Boots and a Compass.
Cheers guys, look forward to seeing you at Gottwood!
Catch Round Table Knights alongside the likes of Lee Foss, Jamie XX, Max Cooper, DJ Format, Midland and plenty more at Gottwood Festival from 30th June - 3rd July ... where there''ll be a mighty Pelski vs Jackmode stage.
Buy tickets here:
https://www.eventelephant.com/gottwoodfestival2011
And type in the following promotional code for FREE DRINKS on site plus a free program, CDs, etc:
GOTTPELSKIJACKMODE