Last year, Jade Eagleson won the Emerging Artist Showcase at Boots & Hearts. This year, Eagleson and his band came out in full force, took over the front porch stage, and were full on participants in the Coors Banquet Kickoff Party!
The Bailieboro native looked more than ready to get the show on the road when he hit the stage. It was easy to see that this energy level was up, he was excited for the moment, and there was nothing that would take him out of it. All of that translated to the crowd and resulted in a ton of cheers, great responses, and a night that we're sure Jade Eagleson won't forget.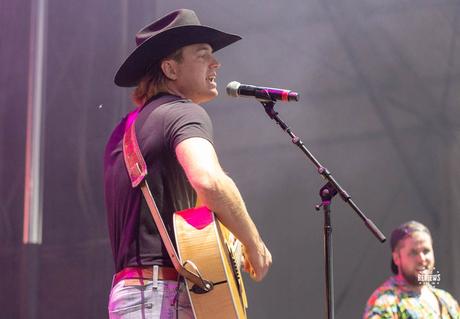 From the first lines of It Ain't My Fault (Brothers Osborne), Eagleson reminded the Boots & Hearts faithful that he brings a deep, rich voice to the microphone and uses it well. And while it might be a little early to make too many predictions for the future, there's a good chance that radio could be very good to him. He's a fresh face, a new voice, a rich sound, he has a great team around him, and he's the real deal.
A few weeks ago we saw Jade perform at the Budweiser Country Throwdown in Toronto at Rock 'N' Horse Saloon, and he hit us with a cover of Shania Twain that made us smile from ear to ear. We were desperately hoping that he'd do it again for the Boots & Hearts crowd, and he didn't let us down. His cover of Any Man Of Mine was fun. All of the fun. The crowd blew up, singing along and cheering and dancing. It was everything that it should have been.
Jade Eagleson's set wrapped with his first radio single, Got Your Name On It. It was great to see country music fans reacting to the song while he was singing. It was great to see his reactions to theirs. And it was a tremendous full-circle type moment as Jade celebrates the anniversary of the big moment that pushed his career to the next level.
This slideshow requires JavaScript.
For all of the compliments we can give to Jade Eagleson for his deep voice and great setlist, they don't tell the whole story. Maybe our favourite thing about him is that he's 100% genuine. He's a real country boy who is gracious and kind and having the time of his life doing the thing that he loves. And it don't get much better than that!
Jade Eagleson Setlist, Boots & Hearts 2018
💿 Ain't My Fault
💿 Thank God I'm A Country Boy
💿 Any Man Of Mine
💿 Kinda Believe
💿 Be Your Man
💿 Still Gonna Be You
💿 Ring Of Fire
💿 Got Your Name On It