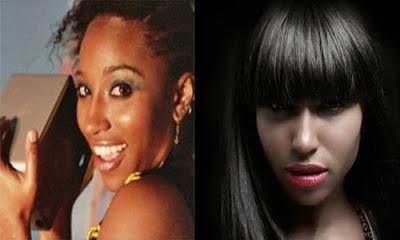 Some do it for fame, some do it for money, and some do it

because

they love it. They respect the art and they love creating. They inspire

us

and change our moods while providing the soundtrack to your lives. This is

why

I admire most independent artists, they do it because they love and respect

the

art of music.  They immerse themselves

in

their craft so that people can hear their music. I have been following the

career

of Lexie Lee

for 
quite
sometime
and finally I have the platform to
present
her on my blog. She is quite down to earth and quite the globetrotter. Once known as the "
Warlord's Daughta
," Lexie has transformed herself into the
enigmatic
Agent Lexie. She remains true to herself but her metamorphosis
deserves
around
of applause; her website is revamped, social networks redone
and
her music… you just have to hear it for yourself. I chose not to do
my
regular
write up and just post the interview in true Q&
A style. Without
further
ado here goes :
JS: I have been a

fan

of yours since "Warlord's Daughta" from 

Di

 Preparation, this is a

completely

new Lexie Lee now Agent Lexie. What

inspired

 the change? You look all incognito
AL : LOL.
haha
. "First
off
thanks for being a fan. It means a lot to me that you've been there since
the
beginning. Agent Lexie is another aspect of my personality. Reggae/Dancehall, & Hip Hop can be very limiting, especially for women. There's always the "bad bitch" "the conscious" artist, and so on but there's really not much room for individuality in terms of both
subject
matter and stage performance. 
I'm an artist. I want to do
performance
art
. I don't want to have to bring a guy up on stage to wine up on me in order
to
get a forward or grow dreadlocks and sing about Jah Jah. 
        I'm an agnostic
that
loves all types of music; a heterosexual woman that thinks her vagina is
nobody's
business but her own; is for gay/human rights, a writer

,

and most
importantly
, I'm just me. 
I felt I needed to explore whatever I 
wanted without
being
confined to a genre. 
I may do another
dancehall
album again, I don't know
but
I want the freedom to do what I want to do when I want to do it, and  if I
do
a
dancehall
album it will be done my way."
JS: 
I  know you once lived in LA and

then

moved to Stuttgart, Germany, that is a big move. What caused that?
AL: "I don't really
think
of it as a big move. I'm an immigrant so moving is in my blood. Most of
the
time I have no idea where I live. I'm always spending a year here, a year
there
, or a few months here and there. When I first started out in music I
had
some of the best times touring Europe, especially Germany and not
to
mention
I met the two loves of my life there: My hubby and 
German beer
. I've
met
 and worked with some of the most talented and down to earth artists and producers in Europe like
Mrcl
,
Marten Hörger,
DJ Tease
,
Leeroy Thornhill
,
Florian Richling
, and many more. 
      It's a completely different vibe than LA. Everyone I've worked closely with in Europe is more into the music than
their
own
egos. I like working with people that you care about and who care about
you
as well. Europe is also great for alternative types of music that don't
necessarily
get played on top 40 radio, which evens out the playing field for
new
and independent artists."
JS: I hear a lot of Pop, Electronic with
some
Rock influence on your new album " Battle Like a Champion". Has living in Europe influenced your music taste?
AL: "Europe hasn't

influenced

my music taste so much as it's influenced the way I work. Before

moving

to Europe, I mostly listened to rock, hip hop, and electronic music. I

got

into

dancehall

much later but it was always fun to listen to and dance to

in

Jamaica when I went on holidays. 
     I got into

dancehall

because I wanted to

write

for other artists. I've always been open to all types of music, with the

exception

of R&B, but I don't really care about genres, it's about the

artist

for me. If you were to ask me what my favorite album was of all time, my

answer

would be Fleetwood Mac's album "Rumors" or The Cranberries"No Need To Argue."
JS: 
Have you been back to Ho Chi Minh City/Saigon, Vietnam, since the last time you went?
AL : "I haven't been back

to

Saigon

since

my last trip. I took a much needed 3 year break from touring

and

music to record my new album, study, and enjoy married life but whenever I do make it back to Saigon there won't be any eating of Cobra snake or

drinking

of its blood either." 
Check out this clip of Lexie Lee in Vietnam.
JS: Speaking of the new

album

"Battle Like A Champion", what is this album all about, what is the overall theme?
AL : "The album is a

progression

from light to dark and everything in between. It's life

experiences

told from the perspective of a woman through the varying stages of

development

. It's about taking ownership of yourself, defining yourself and 

not

letting others do it for you. It's about individualism, telling and 

writing

your own story. 
        All types of themes are discussed on the album from

isolation

, sex tourism, girls night out, partying, sex, sexism, racism, abuse;

you

name it, it's on there. It's about life in general. There are a lot of

true

stories

on there, both from my own life and the experiences of people I know

personally

or through friends, and  of course general observations." 
JS: 
Who did you work with on this
album
? And how did it come together?  
AL: "I executive

produced

the album along with my husband, Kahlil (Lechelt), and  the majority of the

album

, with the exception of 2 tracks, was produced by

Mrcl

. Basically it came

together

because the three of us were really good friends, loved each

others

work

and it all just fell into place."
 JS: 
Any music video in the works?
AL : We definitely have
some
in the works, hopefully I'll release them this time. LOL
. I've had such
bad
luck with videos in the past, having spent a great deal of cash on them
only
to never release them. But I know a lot of people want to see me in a
video
and I want to give that to my fans. It's very important in this day and
age
because it's another way for my fans to interact with me. 
JS:  
I love the album, so far my favorite

songs

on the new album are " 

iRule

" , "Gorilla","Shot in the Dark", Caribbean" "Don't get me Started" "Turn it Back Around",  I

still

hear that Lexie Lee feisty attitude in those songs.  
Which song

did

you have the most fun recording?
AL : I'll always be

feisty

. It's in my DNA, at least on record.

haha

. I loved recording all the

songs

. I don't think the process was more fun for one vs.

the

other but if I

had

to choose one, I'd say Gorilla. 
I loved picking out all the different Gorilla sounds. That was awesome. It's a song represents displacement and the
effects
of being removed from your natural habitat and being thrown into an
unfamiliar
and hostile setting. As you know, Gorillas are native to the West Central Rainforests of Africa but there are quite a few in captivity in
other
areas
of the world. There
are
no Gorilla's in the Amazon except in captivity in
zoos
, like the Gorilla named Idi Amin at the Belo Horizonte zoo in Brazil. 
Gorillas are an endangered species worldwide because of things like poaching,
etc
,
and wouldn't be surprised if one day the only Gorillas that we see are
in
zoos. 
Gorilla
is also a play on words between Gorilla and Guerilla. 
This
made
me think a lot about how individualism is being replaced by group think
in
our
society. It's the kind of genocide that doesn't leave behind physical
bodies
but it kills nonetheless. I thought a lot about my experiences when I
first
moved to the States and how it made me feel being on the outside and  
how
other kids reacted to this little Jamaican girl that sat in the front of
the
class and answered questions, etc. I was a spectacle, much like a Gorilla
in
captivity, to a lot of kids. I didn't really fit it in and I was
ostracized
for it, simply because I was an individual. 
      It was the first time in
my
life I learned that being into science or doing well in class and speaking
proper
English was considered acting "white." I felt like I was
dropped
smack dab in a place that is completely foreign to me much like an
animal
in a zoo. And just like Gorilla's in captivity, I was now introduced to
a
way of living that was in complete contradiction to me as a person. Gorilla
allowed
me to express this quiet kind of rage and  

defiant spirit

that I think
a
lot of people who can't necessarily be themselves because of the confining
boundaries
of their environment feel. It allowed me to channel my inner Che

and

 live out the fantasy of a caged animal ready to wreak havoc. 
 JS

:
We should do a contest to see which

video

you should make. What do you think?
AL: That would be fun. I'm always keen to know what people think. 
Sidenote

: I think it should be "Carribean".
 JS : 
Planning on any collaborations in the near future?
AL : I'll be featured on

several

tracks from Smash Hifi's, Marten Hörger & Leeroy Thornhill's (

formerly

of the Prodigy) upcoming album. I'm also working on new music with a

couple people

that I want to surprise my fans with.
JS

:
What is your personal message to the fans?
AL :"Be Yourself. I know

it's

cliche but it's so important right now because so many people succumb to

group

-think and we're constantly being bombarded with images and ideas

of

what

we should be, what we are, and who we are. A transgender young man was

brutally

murdered by a heartless mob of people last month in Jamaica because he

didn't

fit into whatever role society prescribed for him(Click here for the story) Incidents like that

are

the consequences of group think. 80 percent of women in the U.S.

are

dissatisfied

with their appearance

(

Source). And more than 10 million are suffering from

eating

disorders(Source) 
        There's so much emphasis placed on appearances in our society

and

it's not just physical. Men must appear to be "masculine,"

people

are encouraged to project the idea of wealth so much so that girls in Jamaica and the states are painting the bottom of their shoes red just to

appear

to have on Louboutins

. 

(Source)  I mean it's clear that a lot of these messages

are

reinforced by the media but they pervade every aspect of our society. Just

look

at the bleaching epidemic in Asia and Jamaica. 
"I know we all get hit

with

this message that we're not good enough but we don't have to buy it."
          The

issues

mentioned above are just the tip of the iceberg when it comes to the

destructive

aspects of social programming. I know I'm going off on a tangent

here

but as a woman of color, from a

multiethnic

background, people are always

trying

to define me and I have to reinforce my identity on a daily basis. Instead of appearing to be what you're told you should be, be yourself. If

you

're busy being someone else, you're not living."
JS: 
Planning any promotional 
tours
?
AL : "We're planning a promotional tour for next year to support the album."
JS

:
What's next for Agent Lexie or Lexie Lee?
AL : Everything! I've only just begun.For information on Agent Lexie visit any one of these links below : 

Website : www.agentlexie.com


Soundcloud

: www.soundcloud.com/agentlexie
Facebook: www.facebook.com/agentlexie
MySpace: www.myspace.com/lexielee


Instagram

: www.instagram.com/agentlexiego
Twitter www.twitter.com/agentlexiego
That was one of the best interviews I have ever done. Thanks  Agent Lexie!