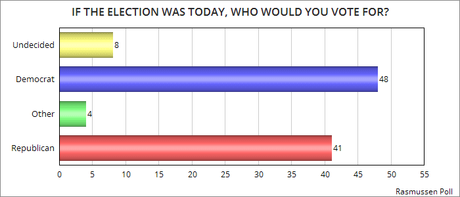 This chart reflects the result of a new Rasmussen Poll -- done between August 5th and 9th of a national sample of 2,500 likely voters, with a margin of error of 2 points. It shows the Democrats with a 7 point margin in the coming congressional election. That's very similar to the number supporting Trump's job performance (about 41%). It supports the notion that the election really is about Donald Trump.
The talking heads on the news media seem to think this is because Democrats want it that way, and they are continually warning Democrats against making the election about Trump. I think they misunderstand what is happening around the country.
Although the Democrats dislike Trump and will vote against him, it is not them trying to turn this congressional election into a referendum on Trump. It is the Republicans that are doing that.
How are they doing it? By eliminating any remaining moderate Republican candidates -- candidates that might oppose some of the things Trump is doing. A perfect example of this is Tim Pawlenty. He was a popular governor in Wisconsin (a purple state), and he decided to run for that office again. But he had made a serious mistake as far as the GOP base was concerned. He had opposed Donald Trump in the 2016 election.
In today's Republican Party, that's an unforgivable sin. Trump and his supporters own the Republican Party right now, and they are in the process of getting rid of moderates. You either support Trump in whatever he wants to do, or you lose your primary -- and get replaced by a true-believer that supports Trump. This is happening across the country. And it is turning the November election into an election on the approval or disapproval of Donald Trump.
In almost (if not all) of the congressional races this November, voters will have a choice of a Republican who will let Trump do whatever he wants or a Democrat. You either vote to support Trump or you vote for a Democrat (and a third party vote is just a vote to continue with a Trump-supporting GOP Congress).
Whether the talking heads and pundits on cable news like it or not, the election IS about Trump. And it's the Republicans who are making it that way.