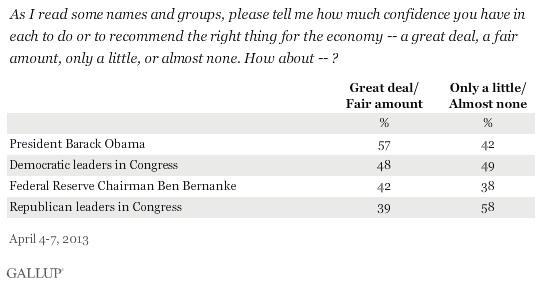 The Republicans haven't been very popular lately. Even though they talk of rebranding themselves, they continue to follow the same old failed policies, and find themselves at odds with the general public on most issues -- especially the social issues. The one area that they hoped would redeem them in the eyes of voters was the economy. It has been the one area in which they seemed to have a glimmer of support. Now it looks like even that has disappeared.
A new Gallup Poll (conducted between April 4th and 7th of a random national sample of 1,005 adults -- with a 4 point margin of error) shows that of the four people/groups that could help the economy, the Republicans are trusted the least. President Obama, congressional Democrats, and Fed Chairman Ben Bernanke are all trusted more than the congressional Republicans. Being less trusted than Bernanke has to be especially galling, since he served in both the Bush and Obama administrations (making him distrusted by members of both political parties).
President Obama is doing pretty well, being trusted either a great deal or a fair amount by 57% of the general public in his efforts to deal with the economy (although his latest offer to cut Social Security benefits by going to a chained CPI could lower that number somewhat). This survey is done annually, and for the last two years (2011 and 2012), about 50% of the public trusted the president to improve the economy -- so this year's 57% shows a significant rise in the number of people trusting the president.
The congressional Democrats also show a significant spike in trust this year, gaining 9 points. In 2012, they were trusted by only 39% of the public. This year they are trusted to improve the economy by 48% of Americans. Even Bernanke show a small , but statistically insignificant, rise in trust -- moving from 39% last year to 42% this year.
But the congressional Republicans remain mired in last place with only 39% of the public trusting them to improve the economy (a statistically insignificant rise of only 1 point from the 38% they garnered last year). Obviously their efforts to cut taxes for the rich and pay for that by drastically cutting help for hurting Americans has not endeared them with most Americans.