Hillary Clinton:
Has zero accomplishments as Obama's secretary of state.
Left four Americans to die in Benghazi, including two of her State Department employees - ambassador Chris Stevens and information officer Sean Smith.
Lied about the Benghazi attack as being a spontaneous protest against an obscure documentary, then made light of her lie as all water under the bridge before a Congressional hearing proclaiming, "What does it matter now?".
about landing in Bosnia under sniper fire.
the Secret Service agents who protect her with their lives, with rudeness and contempt.
Got millions of dollars in bribes from foreign 'entities' in exchange for State Dept favors.
Unlawfully used a private email account and email server to conduct business as secretary of state.
Is described by her closest friend as ruthless & vengeful.
Has a filthy potty mouth.
Is a hyper-liberal, indistinguishable from Obama.
Despite all that, the GOP establishment would support Hillary Clinton over a fellow Republican, businessman Donald Trump who, though imperfect, has not done any of the above.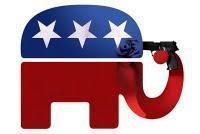 Patricia Mazzei reports for the , Dec. 4, 2015, that Miami healthcare magnate Mike Fernandez , one of Florida's biggest conservative Republican moneymen and a billionaire backer of Jeb Bush, said he would choose Hillary over Trump.
Fernandez told the Miami Herald on Dec. 4:
"If I have a choice - and you can put it in bold - if I have a choice between Trump and Hillary Clinton, I'm choosing Hillary. She's the lesser of two evils. [...]

My frustration is really with that sector of Republican voters that are so blinded by the demagoguery [of Trump]. I know the campaign - or any other campaign - is not going to say it.... This is not about Jeb. This is about us. This is about the voter."
Outraged by Trump's continuing popularity among rank-and-file Republicans in polls, Fernandez purchased a full-page ad in the upcoming Sunday edition of the Herald, calling Trump a "narcissistic BULLYionaire with a hunger to be adored" and likening Trump to some of history's worst demagogues, including Hitler , Mussolini and Peron (Argentina).
Contemptuous of ordinary Americans who support Trump, Fernandez said, "When people lose hope, they are susceptible to those who offer to think for them."
Fernandez, who also plans to run the ads in Des Moines and Las Vegas newspapers on Dec. 14, claimed he did not notify the Jeb Bush campaign of his plans. Fernandez was the single highest donor - more than $3 million - to the political committee backing Jeb, Right to Rise USA, as of the last financial disclosure report at the end of June.
Fernandez's move comes as some Republican donors have started to organize against Trump, though their efforts so far have been scattered. Trump has flummoxed the GOP bigwigs, who assumed Trump's popularity would eventually fade. But Trump has upended their expectation by leading polls nationally and in the early states of Iowa and New Hampshire for more than three months.
A CNN/ORC poll released last Friday, 58 days from the Feb. 1 Iowa caucuses, showed Jeb Bush with only 3% national support, although he and his allies have spent nearly $30 million on TV ads, more than any other contender.
In contrast, the poll shows Trump with 36% support, which is a whopping 20 points ahead of his nearest competitor, Texas Sen. Ted Cruz.
Dario Moreno, a Florida International University pollster backing Florida Sen. Marco Rubio for president, said confronting Trump will take a lot more than a few ads in local newspapers: "To make an impact on a national race in states, you have to buy TV or direct mail. This is an indication of how unsettled some of the Bush backers are. Fernandez is trying to be helpful, but I don't think it's going to be effective."
The Trump campaign did not respond to an emailed request for comment.
Fernandez, who chairs MBF Healthcare Partners, left Cuba for the U.S. at age 12 in 1964. Unclear on the concept of " illegal immigrants," Fernandez said Trump's rhetoric about illegal immigration pains him. "I'm just a freaking immigrant, so no one is going to listen to me. But this is like a kick in the teeth," Fernandez said of Trump's candidacy. "It just bothers me that Americans could be fooled this way."
Asked if Trump could win the general election, Fernandez was adamant: "Hell, no. He will not win, because he's unelectable. But he will cause some good people to lose."
See also " GOP operatives coordinate anti-Trump movement via ad blitz ".