Monday 18th July 2016
After a morning at the beach beside St. Michael's Mount and an afternoon spent reading at the camp site, I needed something to eat for dinner.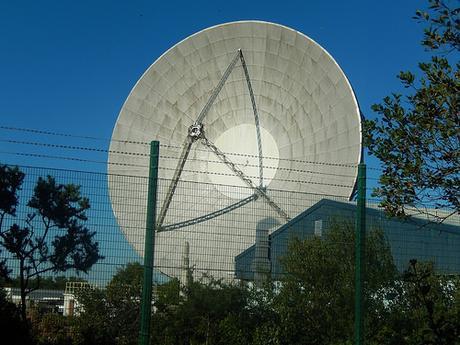 Another short drive in to Mullion and I bought a sausage bap [I hate that word] with chips before driving on towards Goonhilly Downs – the unmistakable site of radio telescopes (dishes) that I'd spotted on the drive down through Cornish countryside.
My curiosity in this place was initially peaked when I spotted the word 'Goonhilly' on an OS map. With further research, I soon realised that there was far more to this area than a lightly-humorous name.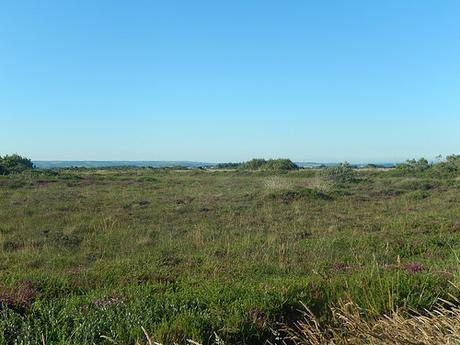 Having left the A3083, I followed a couple of B-roads until meeting a brown sign that indicated a right-turn for the national nature reserve… This car park doesn't feature on the OS maps, where the nearest is otherwise shown further south-east down the road and close to a junction. Where I parked, I was surprisingly close to Goonhilly Earth Station.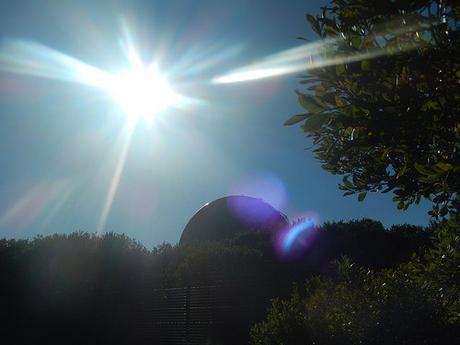 We'll get to the Earth Station later on. Now, let's go for a walk.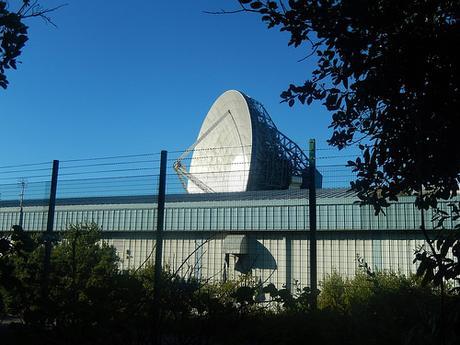 Being a nature reserve, I was still very surprised and somewhat delighted to find leaflets available for guided walks across the downs. I could see the top-half of one of the dishes before having even set off from my car.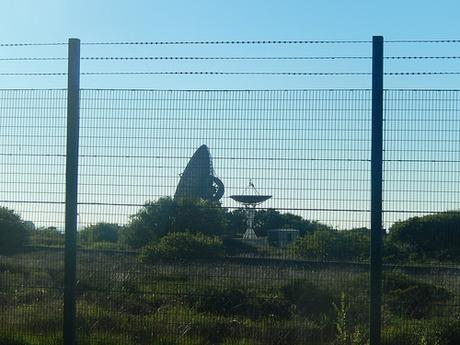 Following the longest of the trails on offer (naturally), I was soon walking alongside the tall security fence – about as close as you can rightfully get to them.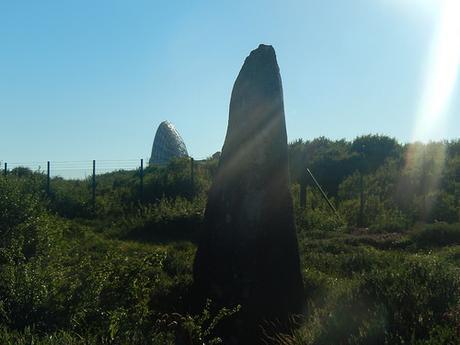 Diverting my attention away from all thoughts of science-fiction for a moment, I came upon this standing stone, which was close to 8ft (2.4m) plus, whatever was buried beneath the ground. A German man [yes, they really were everywhere, in Cornwall] said 'Hi' to me, as I chose to take my photos from a respectful distance.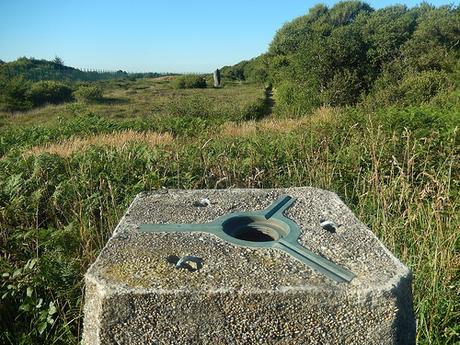 Continuing south-west along the footpath, I came to a burial mound (tumuli) with a trig point on top. At first it looked badly overgrown. But, as you can probably tell; I found my way to the top – by following a clearing made by walkers and explorers who had arrived before me.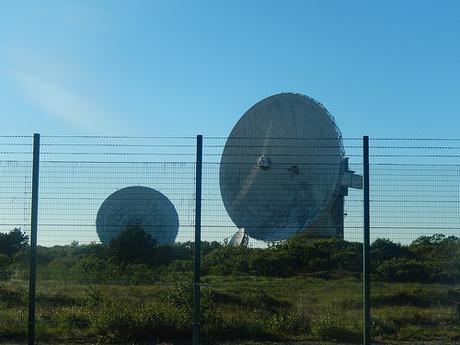 This part of Cornwall, on the Lizard Peninsula, has quite a reputation for having made history in the world of wireless transmissions… During my coastal walk on the previous day, I passed the Marconi Wireless Station in Poldhu. Here, at Goonhilly; Arthur was, at one time, the largest (and first) satellite dish of its kind… In the entire world.
Down there, in the south-west of England!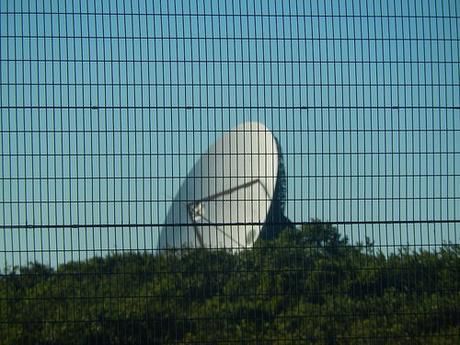 I've read numerous sites about how there used to be a visitor's center at Goonhilly Earth Centre; the fact that these satellites are no longer being used and are at risk of being dismantled; other stories contradict this… I felt an air of mystery across the downs, whilst wishing that I could get up close to them.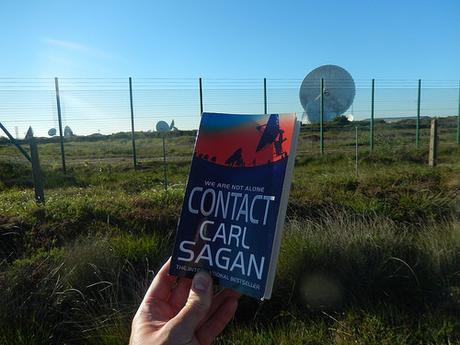 My timing of this visit was quite coincidental, as I finished reading Carl Sagan's Contact during the course of the long weekend away. Hence, the obligatory photo, above! If you've seen the film and loved it then, I highly recommend the book because it is different and not in the sense of its greater depth to characters and story lines. I'm still not sure why they changed so much for the film.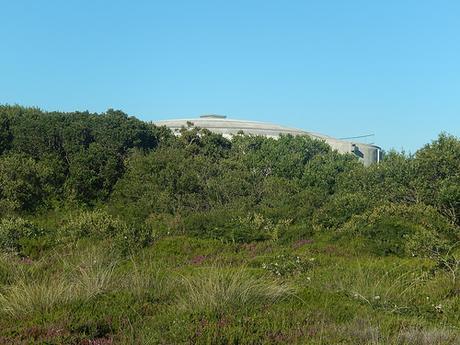 My walk, so far, was about to complete semi-circle, with this rather ominous, partially-secluded structure lying at the heart of my radius.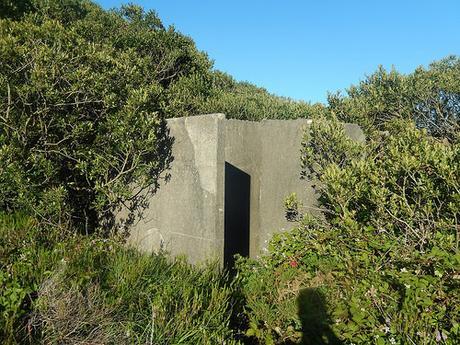 Several pillbox and bunker-like structures were visible across the downs. None of which, from the ones I viewed, had anything left inside to discover. With a Royal Navy base another short drive to the north, this area would've been a prime target for bombers, during the war.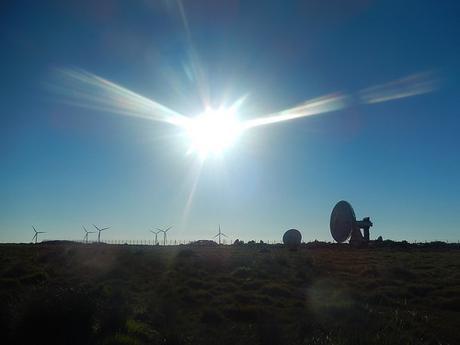 I'd left the main footpath to follow a track, whilst keeping an eye open for features that were highlighted in the guide.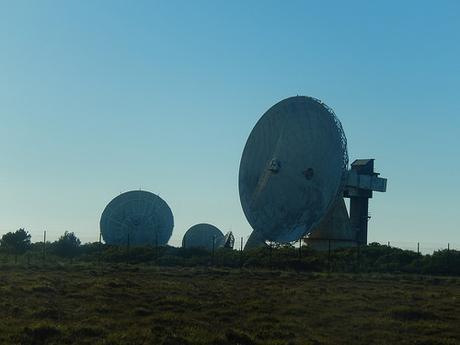 As I walked further away from the Earth Station, the clarity and scale of each satellite dish increased. There's something to be said for 'admiring from afar' – especially when the security fencing descends in your view.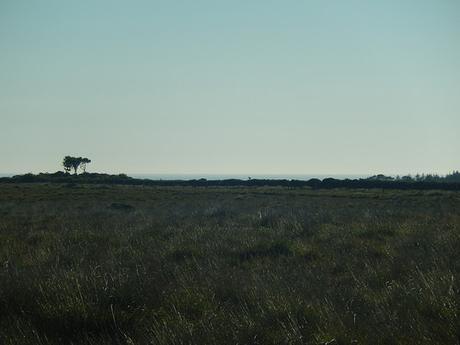 Elsewhere, there was little to be seen or found. I thought I could just make out the sea upon the distant horizon. Wind was blowing both strong and consistently.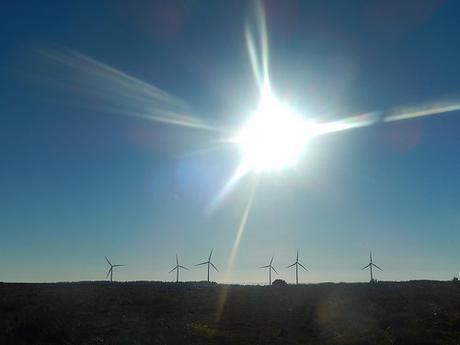 There's also a wind farm nearby (an ideal place, you might think). It did not caused any disruptive noise and I do not personally find them to be eyesores. From the drive down to Cornwall, I realised that the county is littered with them and I'm all for it.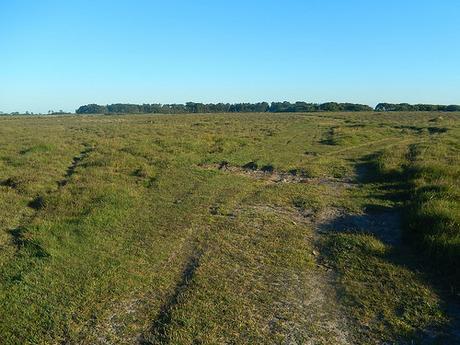 I followed a narrowing path between trees; ever wary that there could have been a cow lurking on the other side. Following a track on towards the next group of trees, a distant mooing would gradually become louder.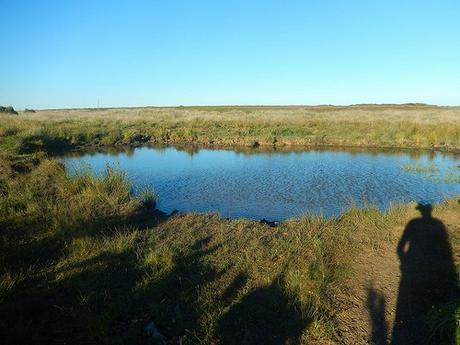 One of the herd met my eyes as I passed across the entrance to their field. There was no gate and I was concerned they might inspect a close interest, on such vast and isolated land… Over to my left, I saw a gate and, with my head down, I soon passed through without incident.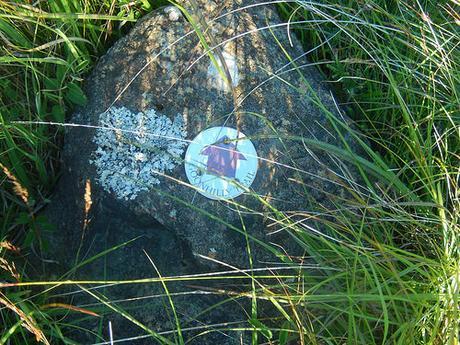 Now, suddenly following the Goonhilly Trail, I was on a boardwalk, crossing the wetlands part of this nature reserve. I imagine this is a prime spot for wildlife photographers, at the right time of year.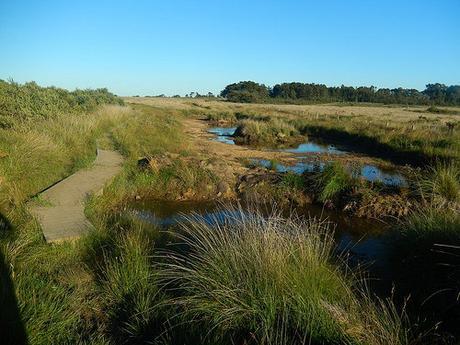 Conceding that I had probably lost my way from the intended path; I hoped that this new route would lead me back towards the car.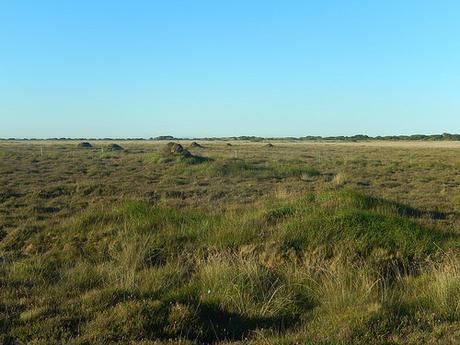 Making my way back towards the Earth Station, I felt confident that the car park wasn't far away.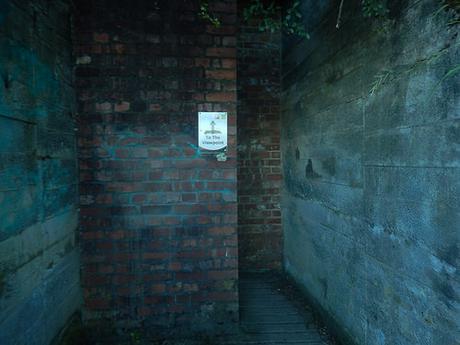 To my left, suddenly, I spied this sign upon the large walls of a previously unseen building.
Was this the building I'd seen earlier? What was its purpose?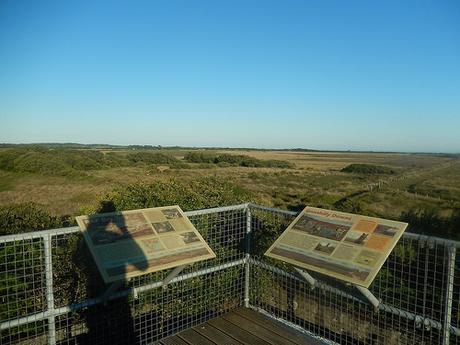 From the top, the views were very good. I wish I'd paid more attention to those two information boards.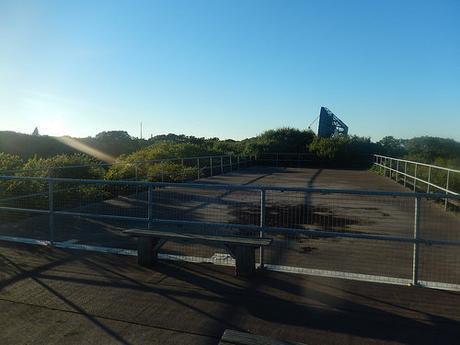 Although a large portion of the rooftop is fenced off, I found the location of the bench too irresistable not to hop on over…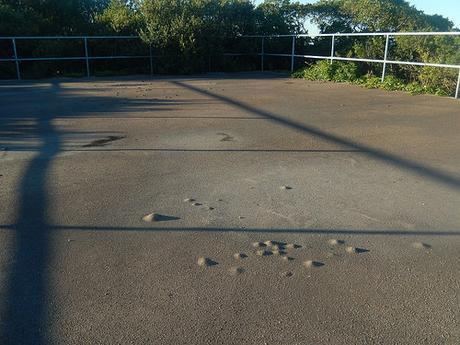 I can only speculate that this larger portion of the roof is deemed to be 'less safe' to walk upon, in the absence of warning signs. You can see where the tar or bitumen has bubbled under sunlight. Surrounding the fenced-off perimeter of this building was nothing more than a passageway consumed by overgrowth.
Heading back down the steps, I realised you could peer through the locked gate and in to the hollow interior of the structure, where nothing of note was to be seen. A strange thought of wild camping on this roof top occurred to me… It was time to return to my own tent, on safe green land!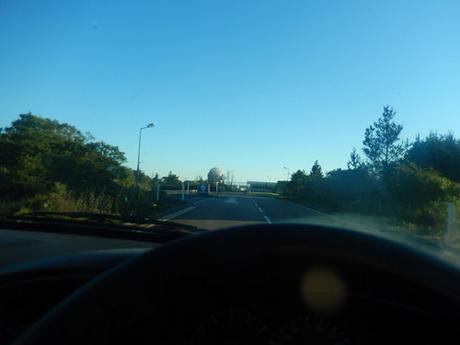 Before returning to the camp site, I turned north on to the road and then took the next left soon after, which was signed for Goonhilly Earth Station… That photo was a hurried snap of the entrance, which was closed in the evening. There were no 'welcome' signs for visitors, even with the roadside indication. Before drawing too close to the gates, I made a U-turn, as another Ford Focus suddenly emerged from the exit side of the driveway.
So, I notched up a few more miles post-dinner [takeaway food is not ideal preparation for any walk] was able to see radio satellites from as-close-as and afar. I'd read in a couple of places that camels, of all creatures, can be found roaming these downs… I've even seen their photos. Sadly, I did not see them wherever I walked… Maybe next time.

Thanks for reading.